For we know, brothers and sisters beloved by God, that he has chosen you.
Focus
The Bible celebrates the fact that God loves the world. But God's love is not just for the whole world. Scripture teaches us that God loves each individual, including you. As wonderful as it is to know God's love for the first time, we are also blessed to grow in that love, to experience in ever-deepening ways the love of God for each of us. What a marvelous gift!
Today's devotion is part of the series Encouragement from 1 Thessalonians.
Devotion
It's a wonderful thing to know that we are loved. This is true throughout our lives. If we were born into a healthy family, then we felt loved by our parents and other close family members. As we grew up, we came to appreciate the love of our friends. Many of us have been blessed to know the love of a husband or wife, and then the love of our children and maybe even grandchildren. Though churches can sometimes be sadly dysfunctional, Christians often experience love in the context of their Christian community.
The apostle Paul and his colleagues frequently communicated their love for their converts. In 1 Thessalonians 2:8, for example, they mention that the Thessalonians have become "very dear to us," using the Greek word meaning "beloved" (agapētos). You find this sort of language throughout the Pauline epistles. In the opening of 1 Thessalonians, however, the writers talk about the Thessalonians as being loved, but in a different way. Here, the letter recipients are loved, not by Paul and Co., but by God.
Think of how the Thessalonian Christians must have felt to know they were loved by God. Remember, these believers came from a pagan background, one in which there were plenty of gods. But the Greco-Roman gods weren't exactly into loving human beings, apart from an occasional instance of erotic love between one of the gods and a human. For most people in that time of history, the gods were to be feared, worshiped, and even celebrated in festivals. Sometimes people who participated in the mystery religions had what they believed to be close encounters with one of the gods. But just about no one would have believed that they were loved by any God, not to mention by the one true God. Thus, when the Thessalonians heard the good news of God's love in Jesus Christ, this must have been amazing to them. And once they received this good news by faith, they would've been astounded by the fact that they were personally beloved by God.
Perhaps there have been times in your life when you also have been astounded by God's love for you. I can point to several instances of such amazement and joy in my long life as a Christian. But, if you're like me, it can be all too easy to take God's love for granted. We're so familiar with John 3:16, for example, that we are not moved with wonder over the fact that "God so loved the world." When I was growing up, the central message of my pastor, Lloyd Ogilvie, was "Let God love you." I heard of God's love for me every week, not only in Pastor Ogilvie's preaching, but also in the songs and prayers of my church's worship. I'm not complaining about this, mind you. Some churches are branded by their legalism and judgmentalism. My church, you might say, wore the brand of God's love.
It's good and right for us to have confidence in God's love day in and day out. It's good to know that God loves us when we're working hard, sitting in traffic, or facing difficult challenges in our family. But, every now and then, it's also good to be once again amazed by God's love. This can happen in a variety of ways. It's a gift from the Spirit of God. The wonder of God's love can strike us when we're praying alone, or singing in church, or marveling at a sunset, or feeding someone who is hungry, or receiving Communion.
A couple of weeks ago during my morning devotions, I was reading Psalm 103. That's a familiar psalm. I've read it dozens of times before. But when I got to verse 11, all of a sudden the truth of God's love filled my heart. It was almost as if I encountered God's love for the first time. I'm not sharing this story to brag about my great spirituality. Quite to the contrary, what happened to me in that morning was a gift from God, given through Scripture by the power of the Spirit. I received it with much joy and gratitude. (Psalm 103:11 reads: "For as the heavens are high above the earth, so great is his steadfast love toward those who fear him.")
No matter where you are in your relationship with God today, the truth is the truth. You, like the Thessalonian Christians, are beloved by God. You are loved because of God's grace in Jesus Christ. This is true no matter what you're feeling. And this truth can be bedrock for your life.
If you find yourself wishing this truth inspired more wonder in your heart, you don't need to try and rev up feelings. Rather, ask the Lord to reveal to you his love once again. Be open and ready. Pay attention to ways God might reveal his love for you today, even in the most unexpected places in ways. But no matter what you experience, hang on tightly to the truth that as high as the heavens are above the earth, so great is God's love for you.
Reflect
Can you remember a time in your life when you experienced God's love for you in a particularly powerful way? If so, what happened? What did you think? What did you feel?
Apart from whatever emotions you might feel, do you live with a fairly consistent conviction that you are beloved by God? If so, why if not, why not?
If ever you doubt God's love for you, what reassures you of God's love?
Act
If it seems appropriate, ask the Lord to help you experience his love in a deeper way.
Pray
Gracious God, thank you for loving us in Jesus Christ. Thank you for the fact that there is nothing in all creation that can separate us from your love. Thank you for showing us your love in Scripture, in action, and most of all in the cross.
Even more specifically, thank you, God, for loving me. Thank you for loving me in spite of all the ways I am not lovely. Thank you for your grace and mercy, for your patience and persistence. Help me, I pray, to live each day with confidence in your love. And when the time is right, may I experience your love for me in an immediate and transforming way.
To you be all the glory! Amen.
Find all Life for Leaders devotions here. Explore what the Bible has to say about work at the unique website of our partners, the High Calling archive, hosted by the Theology of Work Project. Reflection on today's Life for Leaders theme can be found here: Best of Daily Reflections: The Lord Remembers We Are Only Dust

---
Subscribe to Life for Leaders
Sign up to receive a Life for Leaders devotional each day in your inbox. It's free to subscribe and you can unsubscribe at any time.
---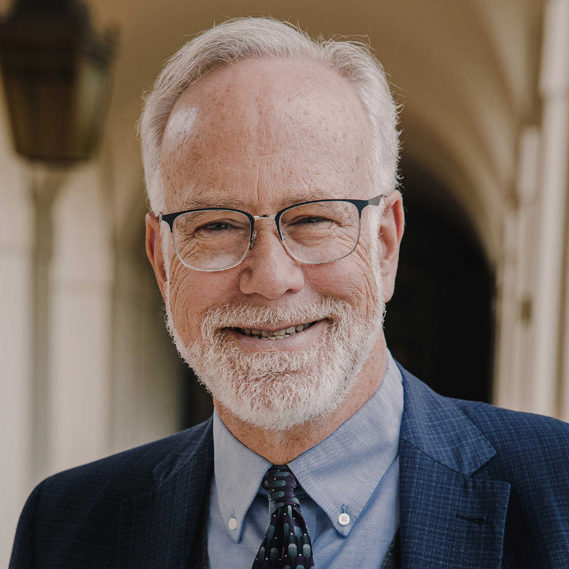 Dr. Mark D. Roberts is a Senior Strategist for Fuller's Max De Pree Center for Leadership, where he focuses on the spiritual development and thriving of leaders. He is the principal writer of the daily devotional, Life for Leaders, and the founder of the De Pree Center's Flourishing in the Third Third of Life Initiative. Previously, Mark was the Executive Director of the De Pree Center, the lead pastor of a church in Southern California, and the Senior Director of Laity Lodge in Texas. He has written eight books, dozens of articles, and over 2,500 devotions that help people discover the difference God makes in their daily life and leadership. With a Ph.D. in New Testament from Harvard, Mark teaches at Fuller Seminary, most recently in his D.Min. cohort on "Faith, Work, Economics, and Vocation." Mark is married to Linda, a marriage and family counselor, spiritual director, and executive coach. Their two grown children are educators on the high school and college level.