For it is by grace you have been saved, through faith—and this is not from yourselves, it is the gift of God—not by works, so that no one can boast. For we are God's handiwork, created in Christ Jesus to do good works, which God prepared in advance for us to do.
As you begin this week of work, how are you feeling about yourself? What do you think of yourself? Who are you, really?
Ephesians 2:10 answers that last question in an astounding and transformational way.
The first phrase of this verse reads, "For we are God's handiwork" (NIV). Other translations say that we are God's "accomplishment" (CEB), "workmanship" (ESV, KJV), or "masterpiece" (NLT). The Greek original uses the word poiema, which is related etymologically to our word "poem." But poiema, related to the verb poieo (to make), had a broad range of meaning in Greek, referring to many things made by a creative agent, usually a human being.
This verse is not underscoring the fact that our physical existence depends on God's creative power, though this is surely true in a way. Rather, Ephesians 2:10 emphasizes our new identity in Christ. Similarly, 2 Corinthians 5:17 reveals, "Therefore, if anyone is in Christ, the new creation has come: The old has gone, the new is here!" When we respond to God's grace through faith, not only do we receive assurance of our future salvation, but we are also remade by God's creative power. We become new people, even though we continue to live in our old bodies. In this sense, we are God's handiwork, accomplishment, workmanship, or masterpiece.
"Masterpiece," found in the New Living Translation, might exaggerate slightly the sense of the Greek original. But "masterpiece" rightly conveys something about the nature of our new creation in Christ. After all, God doesn't make damaged goods or mediocre products. Whatever God makes could, in a real sense, be called a masterpiece.
I realize that you might not feel like a masterpiece today. You may be feeling like something far less than this. Perhaps you had a hard time getting out of bed this morning to face a new week. Perhaps your body is aging and you're struggling to do things you once did without a second thought. Or you may be sensing your moral and relational failures. Or you might be struggling at work. Or, well, you name it. You wonder: How could I possibly be God's masterpiece?
The answer is that your status as a masterpiece is true, not because of how healthy you are, how accomplished you are, or how moral you are. You are a masterpiece because of what God has done in your life by his grace. You have been newly and wonderfully created through Christ, so that you might live in relationship with God and for his glory. This is God's work in you. How wonderful!
Something to Think About:
How do you respond to the idea that you are God's handiwork, accomplishment, workmanship, or masterpiece?
Do you ever think of yourself in this way?
If you were to do so, what difference might it make in the way you live?
Something to Do:
It probably isn't a good idea for you to wear a nametag at work today that says, "God's Masterpiece." Your colleagues may not appreciate this. But, as you go through the day, pause to remember that you have indeed been created anew in Christ. Let this truth affect how you think, feel, and act. But leave the nametag at home.
Prayer:
Gracious God, this news is almost too good to be true. I am your handiwork, even your masterpiece? Amazing!
Almost too amazing for me to believe. I am so aware, Lord, of my foibles and failings. My body is far from an obvious physical masterpiece. And you know the ways I miss the mark in my actions and in my soul.
Yet, I am your handiwork, even your masterpiece, not because of my effort, but because of your grace. How I thank you for what you have begun to do in me through Christ. May I see myself in light of this truth. May I live each day embodying this truth. May I be your masterpiece today, Lord, in all I do, think, say, and feel. To you be all the glory! Amen.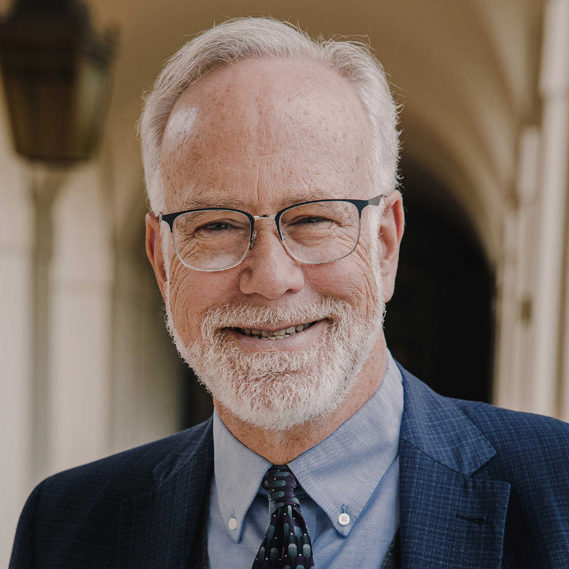 Dr. Mark D. Roberts is a Senior Strategist for Fuller's Max De Pree Center for Leadership, where he focuses on the spiritual development and thriving of leaders. He is the principal writer of the daily devotional, Life for Leaders, and the founder of the De Pree Center's Flourishing in the Third Third of Life Initiative. Previously, Mark was the Executive Director of the De Pree Center, the lead pastor of a church in Southern California, and the Senior Director of Laity Lodge in Texas. He has written eight books, dozens of articles, and over 2,500 devotions that help people discover the difference God makes in their daily life and leadership. With a Ph.D. in New Testament from Harvard, Mark teaches at Fuller Seminary, most recently in his D.Min. cohort on "Faith, Work, Economics, and Vocation." Mark is married to Linda, a marriage and family counselor, spiritual director, and executive coach. Their two grown children are educators on the high school and college level.