For this reason, ever since I heard about your faith in the Lord Jesus and your love for all God's people, I have not stopped giving thanks for you, remembering you in my prayers.
Do you ever find yourself in a situation where you need to love someone but find it very hard to do so? If your answer is "yes," then today's passage from Ephesians will be an encouragement and a challenge for you.
In Ephesians 1:15-16, Paul tells the recipients of the letter that he gives thanks for them, in part because of their "love for all of God's people." (The original language reads literally, "love for all of the saints.") You might be tempted to read this phrase quickly and move on. But if you stop for a moment and think about it, you might wonder about loving all of God's people. All? Really?
Of course, we can't actively love all people at once. There are human limits to our demonstrations of love. But, beyond these innocuous limits, we have a natural tendency to love some people and not to love others. We can fail to love our brothers and sisters in Christ for many reasons. Perhaps they haven't been kind to us. Perhaps they are boring. Perhaps they disagree with us about theology. Perhaps they have political views we despise. Perhaps they don't look like us physically. Perhaps they come from a socio-economic stratum different from our own. Perhaps they struggle with mental illness or homelessness or both.
We are not called to approve of all people, or even to like all people, but Scripture does call us to be like the recipients of Ephesians, who had "love for all God's people" (1:15). Yet, given our tendency to love those we find naturally lovable and not to love others, is loving all people even possible?
It is possible, I believe, but only with God's help. You can't love all people on your own. But you can, as God's love fills, guides, and inspires you. You can love beyond your limits.
As you can imagine, I've spent much of my life trying to love other Christians. That's what pastors do. Most of the time, this has been a pleasure. But, honestly, there have been times when love hasn't come easily to me. I think of certain people in my congregation in Irvine whom I did not especially like. They were demanding and critical, the kind of people I would naturally try to avoid. But as a Christian, not to mention a pastor, I knew I was supposed to love them.
I freely confess that I failed to do this consistently. There were times when my human inclinations won out, and I treated people poorly or, more often, just avoided them altogether. But there were other times when I could not escape. I remember praying silently, asking God for help as I encountered people who were hard to love. I asked that God would help me treat them with love no matter what I felt for them. Moreover, I sought from the Lord a deeper understanding of the people I found hard to love. If I could relate to them, not as obnoxious folk, but as broken, needy people, then I found it easier to have compassion for them in spite of their disagreeable behavior. And it helped me to remember that some people found me hard to love!
All of us have people in our lives whom we don't especially like, people we'd rather avoid than love. But the Lord calls us to love "all of God's people." This kind of love comes only from God through the Spirit who dwells within us and helps us to love when our human resources fail.
Something to Think About:
Who are the people in your life whom you find it difficult to love?
Will you ask God to help you love these people?
Something to Do:
Think of one person in your life whom you find hard to love. In prayer, consider how you might show love to this person in a tangible way. Ask for the Spirit's help to act in love toward this person and to have your heart softened. Yet, no matter what you feel, choose to act in love.
Prayer:
Gracious God, you love me with an everlasting, unbreakable love. You have demonstrated this love time and again, most of all through the death of Christ. Help me, I pray, to receive your love afresh, to dwell in your love.
As I do, help me also to love those around me. Today, I pray in particular for the grace to love those I don't especially like, even those who bug me or have wronged me. May I love others as you have loved me, by the power of your Spirit.
Show me, even now, how I might love in genuine and tangible ways those you have brought into my life. Help me, Lord, to be creative and compassionate in my love for others, all others. Amen.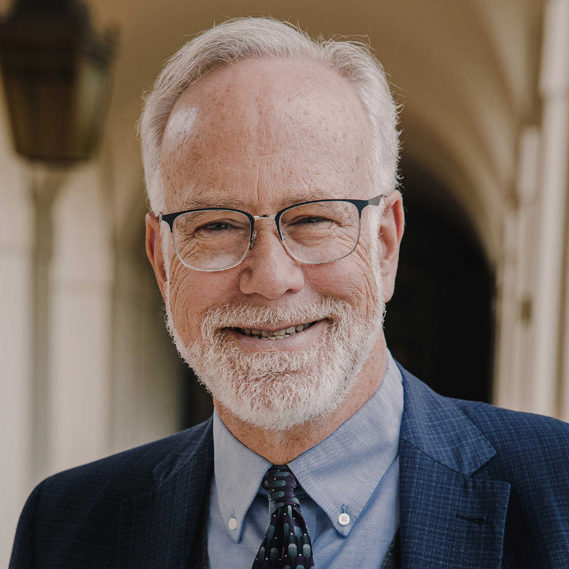 Dr. Mark D. Roberts is a Senior Strategist for Fuller's Max De Pree Center for Leadership, where he focuses on the spiritual development and thriving of leaders. He is the principal writer of the daily devotional, Life for Leaders, and the founder of the De Pree Center's Flourishing in the Third Third of Life Initiative. Previously, Mark was the Executive Director of the De Pree Center, the lead pastor of a church in Southern California, and the Senior Director of Laity Lodge in Texas. He has written eight books, dozens of articles, and over 2,500 devotions that help people discover the difference God makes in their daily life and leadership. With a Ph.D. in New Testament from Harvard, Mark teaches at Fuller Seminary, most recently in his D.Min. cohort on "Faith, Work, Economics, and Vocation." Mark is married to Linda, a marriage and family counselor, spiritual director, and executive coach. Their two grown children are educators on the high school and college level.