Hope is Born: An Advent Journal for Waiting & Working
In the last days of November, as fall gives way to winter, many people in the West radically orient their lives around Christmas. As Christians, we make an honest effort to keep Christ central in all of it. Yet, oftentimes the peace of the Christ child seems unattainable because we enter into the season weary, restless, or perhaps even in pain. Our traditions and celebrations can lift our spirits. But what we truly need is something altogether different. What we need is hope.
This Advent, we want to attend to the promise that God has for us in our work. Together, we will turn to passages of Scripture that echo our groans and remind us of our hope. Through an adaptation of the ancient practice of Lectio Divina, we will read or listen to passages of Scripture, reflect on them, ask God for wisdom and understanding, and respond to God's invitation to us.
We've developed this journal to help us engage in this practice each day. For the next four weeks, let's lean into the Word of God, listen for the gentle voice of God's Spirit, and pay attention to how God can meet us in the midst of our tiredness, uncertainty, hurt, and longing. And let's see how hope is born in our hearts.
This Advent journal is being offered as our gift to you. This is a digital download, not a physical product. Click the button below to fill out the download form!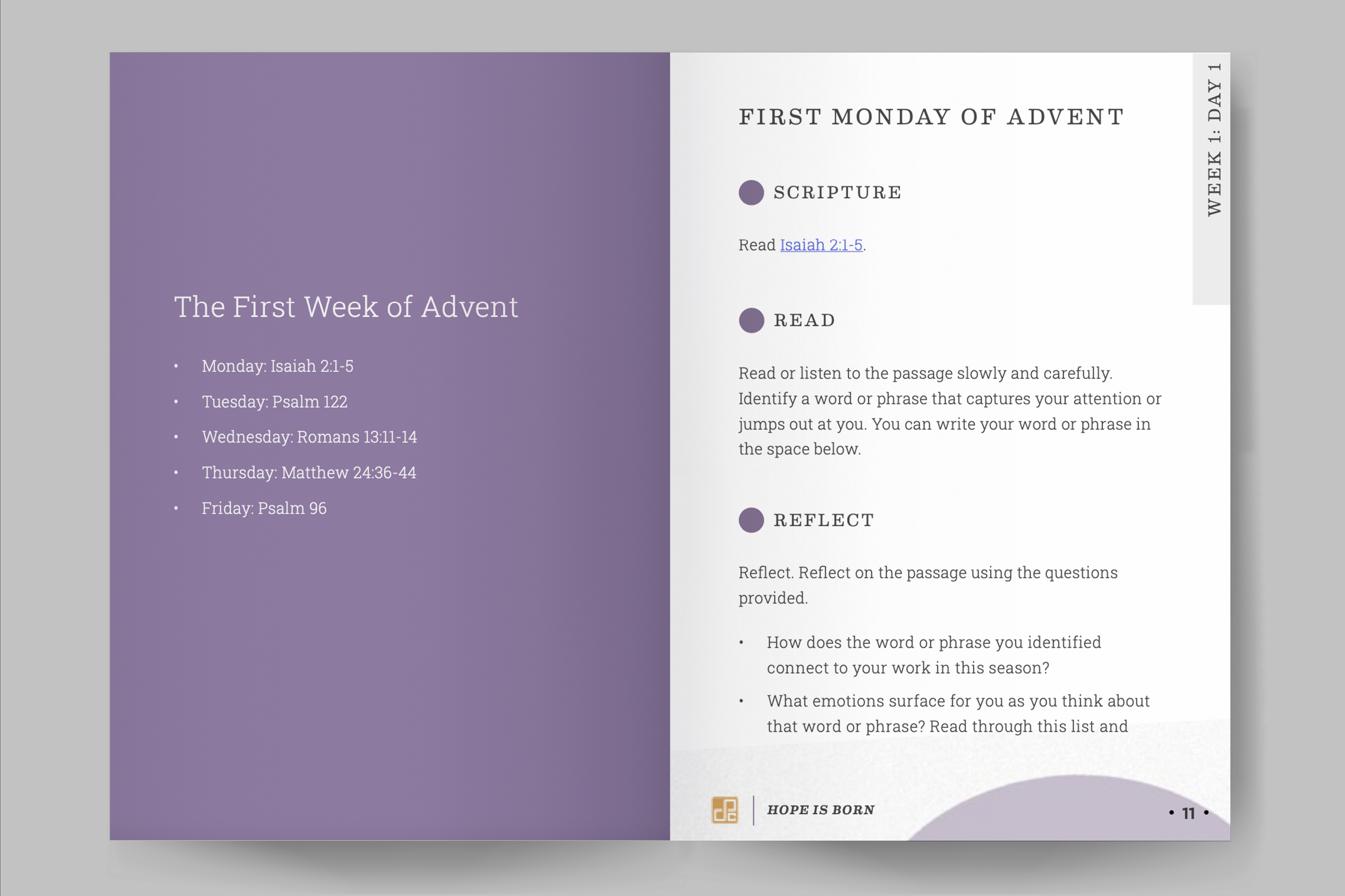 This journal guides you through the 28 days of Advent (plus Christmas Eve and Christmas Day) with a Lectio Divina-esque outline, prompting you to read, reflect, request, and respond while following a Bible reading plan.
An easily printable worksheet to record your thoughts as you go through the journal.
A printable grid where you can record the words or phrases that arise as you go through the journal. This could serve as a great tool for reflection and preparing for the coming new year.
The Scripture passages we've selected follow the Revised Common Lectionary. The lectionary contains four passages for each week of Advent. For the fifth passage for each week, we've selected alternate passages, prescribed by the lectionary or passages from the Christmas season, that focus on the second coming of Jesus.
Click the button below to download the Advent reading plan in an easily printable bookmark format!
A Special Partnership with Dwell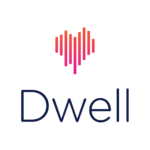 The reading plan is also available as a playlist on the Dwell Scripture listening app through a premium subscription. The Dwell app allows you to listen to and read the Scriptures in a variety of ways and translations. Upon downloading Hope is Born, you will receive a link to a page where you can get 30% off a one-year subscription to Dwell!
Once in the app, search for "De Pree" or "Hope is Born" to locate the playlist.
Advent Devotions: Working Well in a Season of Waiting
Devotional Guide written by Meryl Herr
Free Download
This devotional invite us to focus anew on what it means to live faithfully in the time between Christ's first and second comings and to consider how Christ's first and second comings make a difference in our work.
Devotions for Christmas
A Devotional Guide by Mark Roberts
Price: $6.99
Christmas is about the birth of Christ and his coming into the world, taking on human flesh. In this season, we remember God becoming incarnate, embodied.
She Is… Biblical Reflections on Vocation
Study Guide written by Various Authors
Price: $7.99
This study guide is designed to help people engage questions of vocation through the stories of various biblical women.
(For a Limited Time!) Leadership Prayers for Troubled Times Bundle
A Devotional Guide Bundle by Uli Chi 
Price: $9.99
For a limited time only, receive a free copy of Uli Chi's Leadership Vows and Becoming Lead Servants with the purchase of Leadership Prayers for Troubled Times.
Finding God: Hope is a Habit that Grows in the Dark
A 10-Week Devotional Guide by Inés Velásquez-McBryde 
Price: $7.99
I have never heard of a hope-filled person who did not have a story of hardship. Hope grew in the hardship. Our prayer is that this devotional guide would plant fruit-bearing seeds and water pre-existing seeds in your own life.
Stations of the Cross
A Devotional Guide for Lent and Holy Week by Mark D. Roberts
Price: $7.99
This guide helps us reflect with more intensity and emotion the events and meaning of Jesus's death. It invites us to draw near to the Lord in anticipation of Good Friday and Easter.
52 Workday Prayers
A Two-Part Devotional Guide Series by Mark D. Roberts
God has given us the Psalms for many reasons. One of the main ones is to teach us how to pray. From the Psalms we get to know more intimately the God with whom we speak. 
Calling in the Third Third of Life
A Devotional and Small Group Guide by Mark Roberts
Price: $9.99
This ten-part devotional and small group guide, centered on Genesis 12:1-5, encourages us to guide our lives by the callings we have from God, especially for those in or entering the third third of life.