Scroll down the page or click on the category from the list below to jump to what you're looking for:
Life for Leaders Devotions
Small Group Study Guides
Fuller Formation Resources
Mark's Books
Other Online Writings
Podcasts
Videos
Life for Leaders Devotions
Some examples of popular devotions:
• Living Fully, Living Gratefully: Gratitude and Your Daily Work
• Living Fully, Living Gratefully: Count Your Blessings
• Prayers for Workers: How to Pray for Your Leadership

Mark has written over 1,300 Life for Leaders devotions. If you're looking for to see if he's addressed a particular topic, your best bet is to scroll up and click on the small magnifying glass, which opens a search box. Enter "Mark Roberts" plus your particular topics.
View recent devotions or subscribe to Life for Leaders here.
View all of Mark's devotions in the "Prayers for Workers" series based on the Psalms. 
Life for Leaders Devotional Series, for personal growth or small group study:
Leading in a Crisis: The Difference God Makes – 12-part devotional series
Easter and COVID-19 – 10-part devotional series
Life in Lockdown – 6-part devotional series
Small Group Study Guides
Designed for use by small groups, these guides are also suitable for personal devotions.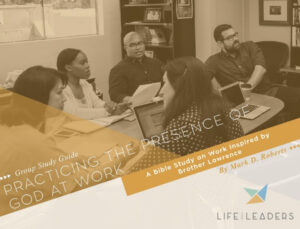 Practicing the Presence of God at Work: A Bible Study on Work Inspired by Brother Lawrence
Work, Worship, and the End of God's Story: A Bible Study on Work Based on the Book of Revelation
Your Work, Your Purpose, and God's Glory: A Bible Study on Work Based on the Book of Genesis
Fuller Formation Resources (part of the Fuller Leadership Platform)
Ordinarily, these resources are available for Fuller Formation subscribers who pay a monthly fee. Because of the COVID-19 crisis, however, Fuller is offering all of its Formation resources for free until June 30, 2020. Mark has created the following Formation resources:
• God and Work: Biblical Basics, Part 1 – based on Genesis 1-3
• God and Work: Biblical Basics, Part 2 – based on Genesis 1-3
• God and Work: Biblical Basics, Part 3 – based on Genesis 1-3
• Faithful Work in a Challenging World – the Old Testament examples of Ezra, Nehemiah, and Esther
• God's Presence in the Workplace – based on the Old Testament story of Jacob and Brother Lawrence's The Practice of the Presence of God
• Redefining Success and Failure – based on the story of Joseph in Genesis 30-50
• What Does God Want in a Leader? – based on the story of Noah in Genesis
Mark's Books
The following books are available for purchase from Amazon and other booksellers: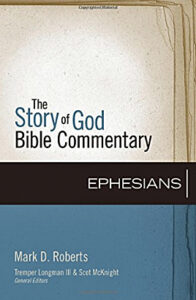 • Ephesians – A commentary written for thoughtful Christians as part of Zondervan's Story of God commentary series.
• Ezra, Nehemiah, Esther – A commentary in The Preacher's Commentary series of Thomas Nelson, but suitable for all thoughtful Christians.
• Can We Trust the Gospels? Investigating the Reliability of Matthew, Mark, Luke, and John
• Dare to Be True: Living in the Freedom of Complete Honesty
• No Holds Barred: Wrestling with God in Prayer
• Jesus Revealed: Know Him Better to Love Him Better
• Discovering Advent: How to Experience the Power of Waiting on God at Christmastime
• Jewels for Worship Leaders: 52 Devotions from the Psalms
Other Online Writings
• What Was the Message of Jesus? (Patheos.com)
• Faith-Work Integration: Trendy or Essential? (FULLER Studio)
• Celebrating Easter for Fifty Days (Baylor University Institute of Faith and Learning)
Podcasts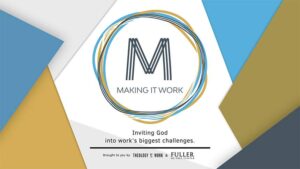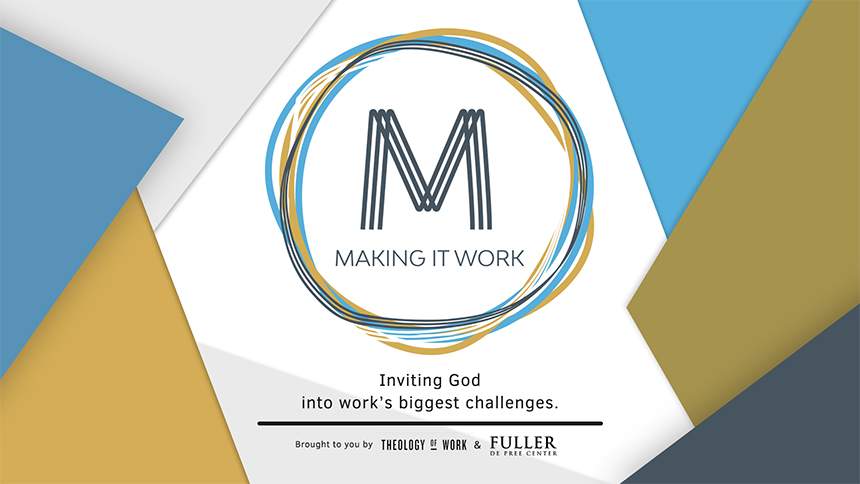 Mark is co-host of "Making it Work," with Leah Archibald of the Theology of Work Project. You can learn more about "Marking it Work" here.
Mark is a guest on Joseph Warren's Broken Catholic podcast, talking about leadership and self-awareness.
Mark talks about managing leadership anxiety on Steve Cuss's podcast.
"Ephesians in the Story of God" with Scot McKnight on Kingdom Roots.
Videos
Sermon: "Even More Good News" – Community Presbyterian Church, Danville, CA
Ephesians Video Study – 18-part video series. Popular presentations of learning from Ephesians commentary. For sale at Amazon.