Jesus went about all the cities and villages, teaching in their synagogues, and proclaiming the good news of the kingdom, and curing every disease and every sickness. When he saw the crowds, he had compassion for them, because they were harassed and helpless, like sheep without a shepherd. Then he said to his disciples, "The harvest is plentiful, but the laborers are few; therefore ask the Lord of the harvest to send out laborers into his harvest."
Then Jesus summoned his twelve disciples and gave them authority over unclean spirits, to cast them out, and to cure every disease and every sickness. These are the names of the twelve apostles: first, Simon, also known as Peter, and his brother Andrew; James son of Zebedee, and his brother John; Philip and Bartholomew; Thomas and Matthew the tax collector; James son of Alphaeus, and Thaddaeus; Simon the Cananaean, and Judas Iscariot, the one who betrayed him.
Focus
Imagine that you were reading this story for the first time and you didn't know how it ended. You'd be hearing the growing excitement of the spread of Jesus's movement, expecting more of the same, and then all of a sudden you would hear that among those commissioned to spread the excitement is one who will betray the Lord. Will that be the end of the story?
Devotion
Among the many other things I've done in my life, I was once an English major in college. I loved it. I read everything from Chaucer and Shakespeare to modern novels, I went on field trips to see plays, and I took classes on how to be a better writer. When you take such classes, you often learn literary techniques.
One of them, as you may have guessed if you've read today's Gospel passage, is foreshadowing. Somewhere at the beginning of a piece of writing, be it fiction or nonfiction, an author will drop clues about where the story is going. In the hands of the best authors, when you get to the end, you realize that you could and should have expected it all along.
This came home to me recently when I was in a production of Romeo and Juliet (I played Friar Lawrence, which seemed appropriate!). For the first part of the play—especially the first two "acts" as Shakespeare divided them—we could be witnessing one of Shakespeare's comedies such as A Midsummer Night's Dream or Twelfth Night. There are star-crossed young lovers, there are clowns and jokes, there are comic misunderstandings. But if you listen closely, Shakespeare is setting up the end in the beginning, with constant references to people dying for love and to the two main characters (especially Romeo) being or looking dead. I even got to say one of the most famous statements that foreshadow the end: "These violent delights have violent ends, And in their triumph die / Like fire and powder, Which as they kiss consume." Which is exactly what happens at the end of the play. (If you want a refresher on the plot of Romeo and Juliet, you can go here.)
Now, I believe the Gospel of Matthew—unlike Romeo and Juliet—is nonfiction. But that does not mean that Matthew can't use the techniques of good storytelling to recount the events of Jesus's life. And here, fairly near the beginning of the story, he foreshadows the end. Jesus is traveling and preaching with his disciples, spreading the good news of the kingdom, praying to God the Father that more would come to join them, and commissioning his disciples to cast out unclean spirits and heal the sick. Matthew has already told the calling story of several disciples, including his own (just a few sentences before in Matthew 9:9-13—you'll note he reminds the readers here that he used to be a tax collector). But now he decides, like a good storyteller, to summarize the names of all twelve. Besides Matthew, only a few get any sort of description, and one of those is the last: "Judas Iscariot, the one who betrayed him."
Imagine that you were reading this story for the first time and you didn't know how it ended. You'd be hearing the growing excitement of the spread of Jesus's movement, expecting more of the same, and then all of a sudden you would hear that among those commissioned to spread the excitement is one who will betray the Lord. This story that you thought would end happily now takes on a new shadow. Somewhere down the line, there will be betrayal. This will not end well. Judas's violent delights will have violent ends.
And, in fact, it doesn't end well. Or at least it looks like it will not end well. It appears to end with betrayal at the hands of Judas—just as foreshadowed—and death. The healing, the miracles, the preaching—all are silenced.
There was one other line that I got to say as Friar Lawrence which I dearly loved. It comes at the end when Romeo is dead and Juliet, who has faked her own death, awakens in the tomb, about to discover that her husband has died. She wakes up, thinking everything will be as planned, and asks Friar Lawrence where Romeo is. And my character says to her: "A greater power than we can contradict hath thwarted our intents."
In the context of the play, it is a tragic statement that seems to blame God for all the death that has occurred. I think this is a little hard on God—most of the people involved, including Friar Lawrence, had plenty of chances to stop the bloodshed and did not. Yet, out of this great tragedy, healing does occur. Romeo and Juliet's feuding fathers reconcile and embrace each other. A greater power than they can contradict is at work.
And, if we return to the Gospel story, the foreshadowed tragedy there is not the end either. Someone with far greater power than Juliet awakens in the tomb that Judas condemned him to. All along, Jesus was foreshadowing a different end, one where a greater power than Judas could contradict has thwarted even Judas's worst intentions. And ours.
Reflect
Where do you see tragedy around you?
Where do you see hope?
Act
Many wonderful songs about Easter capture the joy of Jesus's resurrection, but this is one of my favorite ones which captures the surprise: "Early in the Morning" by David Meece. As a bonus, its picture of how Jesus defeats the power of Satan echoes ways in which the early church loved to talk about this.
Pray
(Prayer for the Third Sunday after Pentecost in the Book of Common Prayer) Keep, O Lord, your household the Church in your steadfast faith and love, that through your grace we may proclaim your truth with boldness, and minister your justice with compassion; for the sake of our Savior Jesus Christ, who lives and reigns with you and the Holy Spirit, one God, now and forever. Amen.
Banner image by Klemens Kopfle on Unsplash.
Find all Life for Leaders devotions here. Explore what the Bible has to say about work at the unique website of our partners, the Theology of Work Project's online commentary. Reflection on today's Life for Leaders theme can be found here: Jesus Heals Many (Matthew 8-9).
---
Subscribe to Life for Leaders
Sign up to receive a Life for Leaders devotional each day in your inbox. It's free to subscribe and you can unsubscribe at any time.
---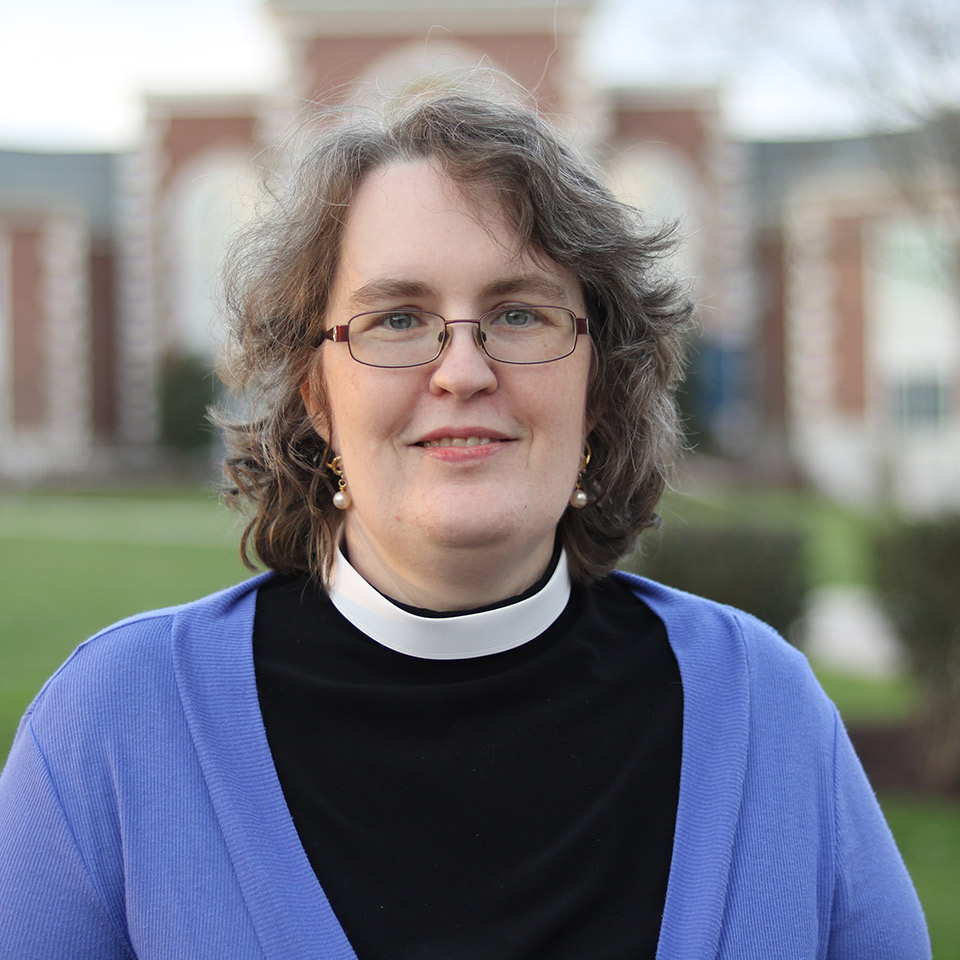 Jennifer Woodruff Tait (PhD, Duke University) is the editor of and frequent contributor to Life for Leaders. She is also the managing editor of Christian History magazine and web editor for the Theology of Work Project, and a priest in the Episcopal Church. She has written a book of poetry, Histories of Us. Jennifer lives in Berea, Kentucky, with her husband, Edwin, and their two daughters.
Click here to view Jennifer's profile.