You Can Help Leaders
Respond to God's Calling
The De Pree Center is where we are today because of the generous financial support of donors and foundations. When you invest in our work, you enable such programs as: The Road Ahead (vocational discernment groups), Life for Leaders daily devotions (Mark Roberts and others), Flourishing in the Third Third of Life, Resources for women in leadership (Michaela O'Donnell Long), Leading in Uncharted Territory (Tod Bolsinger), Innovation for Vocation (Scott Cormode), Faith and entrepreneurship (Michaela O'Donnell Long), and more.
The De Pree Center, as a part of Fuller Seminary, is supported mainly by the gifts and grants of those who believe in our mission. If you would like to talk to one of our leaders about supporting the work of the Center, please email us. We are grateful for your support, both for the De Pree Center and for Fuller Seminary. Thank you for your support!
Donation Instructions:
When giving a financial gift to the De Pree Center, please select Other in the "Gift Designation" field and type De Pree Center in the "I would like my gift to support" field.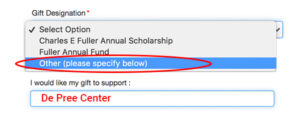 Donate Now!