Get rid of all bitterness, rage and anger, brawling and slander, along with every form of malice. Be kind and compassionate to one another, forgiving each other, just as in Christ God forgave you.
Forgiveness is hard to come by these days, to say the least. When people in the public eye make mistakes, they are instantly savaged on social media and in the press. Increasingly, this kind of viral destruction happens also for those whose private errors catch the attention of Google, Facebook, or Twitter. On these platforms you almost never hear people offer forgiveness to others or seek forgiveness for their misdoings.
Ephesians envisions a very different kind of living for the community of Jesus's followers. Ephesians 4:32 reads, "Be kind and compassionate to one another, forgiving each other, just as in Christ God forgave you." Of course this verse speaks to each of us individually, calling us personally to kindness, compassion, and forgiveness. Yet we must remember that this verse—like the rest of Ephesians—is not addressed to a single individual, but rather to a community, to the members of the body of Christ, to brothers and sisters in the family of God. You can see this corporate context in the phrases "to one another" and "each other" in verse 32. This verse envisions not just a bunch of separate Christians who forgive but also a forgiven and forgiving community.
Wherever the people of God are joined together, their fellowship should be characterized by forgiveness. This doesn't mean minimizing sin, by the way. In fact, quite the opposite is true. Forgiveness is needed only when a wrong has been done. So a community of forgiveness isn't the same as a "make nice" fellowship that overlooks wrongdoing so as to "live and let live." Rather, in a forgiving community, sin is taken seriously as a precursor to true forgiveness and reconciliation.
Yet a forgiving community also doesn't focus on sin as an opportunity to judge, condemn, or ostracize those who have done wrong. A forgiving community doesn't reward the proud who see themselves as less in need of forgiveness than others. Instead, a forgiving community is one in which all members are aware of their failures, in which all realize that they are lost apart from God's grace, and in which all who have been forgiven by God extend that forgiveness to others who have wronged them. A forgiven community is, first of all, a forgiven community.
Throughout my five decades as a Christian, I have seen some churches exemplify this kind of forgiving community. I have also seen some churches demonstrate anything but forgiveness. Our track record as the body of Christ is mixed, to be sure. But, no matter how well or poorly we are doing at the moment, Ephesians 4:32 holds up to us a vision of a forgiven and forgiving community, a family of people who fail as all people inevitably do but who experience a fellowship where failure is not dismissed, but rather where failure is a prelude to forgiveness. Again—let me emphasize—such a community does not minimize the wrongness of sin. Rather, through its practice of forgiveness it actually encourages people to acknowledge their sin so they might receive the fullness of forgiveness, both from God and from other people.
As we seek to live out the biblical vision of a forgiving community, you and I have the opportunity to shape, not only our churches, but also our other communities. In our marriages and families, in our neighborhoods and friendships, in our workplaces and cities, we can choose to forgive as God has forgiven us in Christ, thus creating in the relationships of our lives what God intends for all of his people.
Something to Think About:
Have you ever been part of a forgiven and forgiving community? When? What did you experience?
How might you help the communities of which you are a member become more forgiving?
What could you do in your family, workplace, classroom, sports team, or church so as to live out the vision of Ephesians 4:32?
Something to Do:
Did you come up with an answer for the last question? If so, ask the Lord for the courage to do whatever came to mind.
Prayer:
Gracious God, today I pray for my Christian community that we might become a fellowship of forgiveness, based upon and modeled after your forgiveness in Christ. Help me, Lord, to be one who contributes to and helps to shape the forgiving quality of our fellowship. May our life together as your people be characterized by the receiving and giving of forgiveness. In this way, may we demonstrate the gospel to the world. Amen.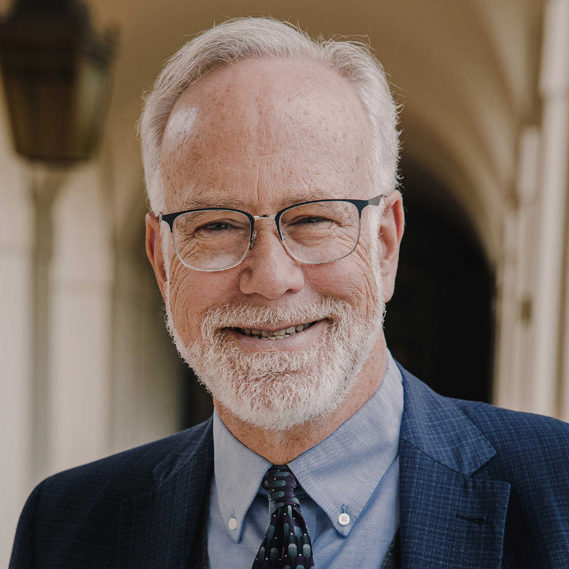 Dr. Mark D. Roberts is a Senior Strategist for Fuller's Max De Pree Center for Leadership, where he focuses on the spiritual development and thriving of leaders. He is the principal writer of the daily devotional, Life for Leaders, and the founder of the De Pree Center's Flourishing in the Third Third of Life Initiative. Previously, Mark was the Executive Director of the De Pree Center, the lead pastor of a church in Southern California, and the Senior Director of Laity Lodge in Texas. He has written eight books, dozens of articles, and over 2,500 devotions that help people discover the difference God makes in their daily life and leadership. With a Ph.D. in New Testament from Harvard, Mark teaches at Fuller Seminary, most recently in his D.Min. cohort on "Faith, Work, Economics, and Vocation." Mark is married to Linda, a marriage and family counselor, spiritual director, and executive coach. Their two grown children are educators on the high school and college level.