He also told this parable to some who trusted in themselves that they were righteous and regarded others with contempt: "Two men went up to the temple to pray, one a Pharisee and the other a tax collector. The Pharisee, standing by himself, was praying thus, 'God, I thank you that I am not like other people: thieves, rogues, adulterers, or even like this tax collector. I fast twice a week; I give a tenth of all my income.' But the tax collector, standing far off, would not even look up to heaven, but was beating his breast and saying, 'God, be merciful to me, a sinner!' I tell you, this man went down to his home justified rather than the other; for all who exalt themselves will be humbled, but all who humble themselves will be exalted."
Focus
Sometimes our effort to be "good" backfires. Our sense of our own goodness can keep us from receiving God's mercy and grace. The truth is, we'll never be good enough for God. And we don't have to be. God embraces us, not because we're so good, but because of his mercy revealed and given through Jesus Christ.
Today's devotion is part of the series Following Jesus Today.
Devotion
Most of the time I've tried to be "good" throughout my life. When I was young, I wanted to be a "good boy," to obey my parents and please them with my accomplishments. In school, I strove to be a good student, especially when it came to getting good grades. Since my student days, I've sought to be a good husband and father, a good pastor and leader, a good friend and citizen. Being good matters to me.
I'd imagine that you can relate to what I'm saying. I expect that you've tried hard to be good and that you're still trying. That can be a "good" thing, if you'll pardon the obvious play on words. But there are many problems with trying hard to be good. One of them, ironically, is the problem of success, or apparent success, at any rate. If I succeed in my effort to be good, then I can easily get caught up in my wonderful goodness. I can become puffed up with undue pride. Plus, I can think that I'm good because I'm somehow better than other people. I can compare myself to others favorably, enjoying the fact that I'm better than "those people."
If you can relate at all to what I'm saying here, then, like me, you'll find Jesus's parable in Luke 18:9-14 to be challenging if not disturbing. Now, let me be clear, I've never actually prayed something like the Pharisees in the parable. I've never said, "God, I thank you that I am not like other people: thieves, rogues, adulterers, or even like this tax collector" (18:11). Part of my goodness, you must understand, is that I would never actually say something like this. I'm a good Christian, after all. I know better than that. But when I search my heart honestly, I find that there is a part of me that builds up myself by looking down on others. And this, according to Jesus, is a problem.
Why is it a problem? For one thing, it's a bad spiritual strategy. Jesus explains that "all who exalt themselves will be humbled, but all who humble themselves will be exalted" (18:14), So, if I'm exalting myself, even in the secret places of my heart, I'm actually going in the wrong direction. But self-exaltation is also problematic because it keeps us from experiencing the mercy of God. The self-acknowledged sinner in Jesus's parable who desperately prayed, "God, be merciful to me, a sinner!" was actually able to experience God's mercy. He was exalted in his humility, not by his own accomplishments, but by God's gift of mercy and grace.
What happens when we are able to admit our lack of goodness both to ourselves and to the Lord? What happens when experience God's mercy in spite of our sin? Many things happen. We are free to be honest. We can stop pretending that we're so great. We can see ourselves clearly and fully without fear. Moreover, when we experience the transforming power of God's mercy in our lives, we can be set free from the need to impress, the need to be perfect, and from the shame that accompanies our inability to be everything we pretend to be.
What would it be like for you to acknowledge before God who you truly are, warts and all? What would it be like for you to experience God's riches of God's mercy (Ephesians 2:4)? What would your life be like if you knew, in every fiber of your being, that God justified you, not on the basis of your works, but on the basis of God's own righteousness revealed and given through Jesus Christ?
I don't know exactly how to answer those questions for you. But I do know that if you're one who tends to be self-justifying like the Pharisee in Jesus's parable, becoming more self-aware and honest like the self-aware tax collector would lead to new freedom and joy in living. You'd know for sure that you belong to God because of God's own grace in Jesus Christ. And that, I believe, makes all the difference in the world.
Reflect
In what ways have you tried to be "good" in your life?
Have you ever enhanced your own goodness by looking down on others?
When have you experienced God's mercy?
In what ways do you need to experience God's mercy today?
Act
Set aside some time for prayer. As you pray, tell the Lord where and why you need his mercy today.
Pray
Gracious God, though I would never pray like the Pharisee in this parable of Jesus, I confess that there is part of me that takes pride in the fact that I am better than others. O Lord, forgive me for exalting myself in this way.
Help me, Lord, to be honest as I come before you. May I express to you my need for you, my brokenness, my sin. May I open to a fresh experience of your grace and mercy today.
All praise be to you, O God, for your mercy that reaches out to me, forgives me, accepts me, and embraces me in your love. Amen.
Find all Life for Leaders devotions here. Explore what the Bible has to say about work at the unique website of our partners, the Theology of Work Project. Commentary on today's Life for Leaders theme can be found here: "Blessed Are the Poor in Spirit, for Theirs is the Kingdom of Heaven" (Matthew 5:3)

---
Subscribe to Life for Leaders
Sign up to receive a Life for Leaders devotional each day in your inbox. It's free to subscribe and you can unsubscribe at any time.
---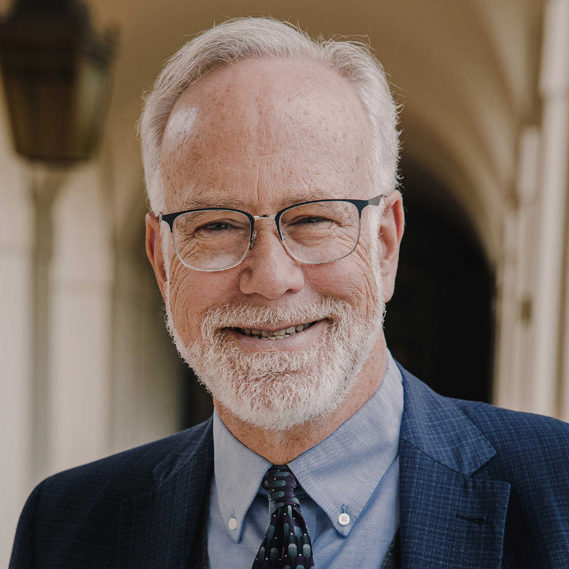 Dr. Mark D. Roberts is a Senior Strategist for Fuller's Max De Pree Center for Leadership, where he focuses on the spiritual development and thriving of leaders. He is the principal writer of the daily devotional, Life for Leaders, and the founder of the De Pree Center's Flourishing in the Third Third of Life Initiative. Previously, Mark was the Executive Director of the De Pree Center, the lead pastor of a church in Southern California, and the Senior Director of Laity Lodge in Texas. He has written eight books, dozens of articles, and over 2,500 devotions that help people discover the difference God makes in their daily life and leadership. With a Ph.D. in New Testament from Harvard, Mark teaches at Fuller Seminary, most recently in his D.Min. cohort on "Faith, Work, Economics, and Vocation." Mark is married to Linda, a marriage and family counselor, spiritual director, and executive coach. Their two grown children are educators on the high school and college level.