*This post is part of De Pree Center's Finding Our Bearings in a Crashing Economy series. 
Dr. Denise Daniels and Dr. Elaine Howard Ecklund are currently running a large empirical study on how people integrate their faith at work. Earlier in this series, they offered wisdom for business owners and managers. Today, they're going to use their same data pool to offer pastors some guidance for our times.
---
Michaela: Denise and Elaine, I've talked with a lot of people in the last few weeks who are scared. I've tried to capture all that I've heard into some different scenarios. Though you have wisdom for many scenarios, I'm hoping you'll speak directly to this one: 
I'm a pastor. If people aren't coming to church, they probably aren't giving. I'm worried about my own job security and my team's. Plus, I've got all these people who are dealing with layoffs and having to close their businesses. How does our faith inform this moment and my decisions?
Denise and Elaine: It's sometimes hard to lose sight of the ways in which pastors are relevant in society—nearly 120 million people attend church at least weekly and there are more than 350,000 congregations in US society.
Michaela: Wow, that's a lot. Especially when the usual narrative is about declining church attendance. Ok, this is a message that's probably for at least half a million people. What does this time mean for them? 
Denise and Elaine: This is a time for pastors and congregations to reimagine their relevance. We know from our recent research on Faith at Work: An Empirical Study that 69% of people say that they never talk with their pastor about faith at work, and very few Christians experience their work as having any spiritual meaning.
Michaela: So, most people don't talk to their pastor about their work. I wonder if that will change now. Do you think people think about their work as spiritual?
Denise and Elaine: Only 33% of evangelical Protestants, 27% of Mainline Protestants, and 19% of Catholics see their work as a spiritual calling.
Michaela: Oh, wow. You could say that those aren't high numbers. But the entrepreneur in me says, "Wow, that's a lot of opportunity!"
Denise and Elaine: Right. This is a time for pastors to reimagine with their congregants how to see work and faith come together. More people have moved their work into their homes. For those of us who can do this, we might not be affected financially by the COVID19 virus. But for those of us who can't move our work to our homes—we face devastating losses. Pastors will have the whole spectrum in our congregations.
Michaela: In light of all the inevitable loss, what is the big thing pastors should be helping their people focus on?
Denise and Elaine: Pastors can encourage their parishioners to fight for justice during this time and to give sacrificially to those who will be hit with economic devastation.
Michaela: I appreciate how you're pushing us to care for the people who will no doubt be disproportionately affected by waves of economic fallout from this crisis. God's priority for justice is clear in the bible.  Therefore, this crisis gives the church an extraordinary opportunity to join in God's work of justice in the world. Thanks, y'all for this helpful framing.
---
Want to learn more about their study? Watch this presentation that Elaine and Denise did in conjunction with Rice's Religion and Public Life Program.
---
Denise Daniels is a Professor of Management and Executive Producer of the Faith & Co film series (www.faithand.co) at Seattle Pacific University; she recently coauthored Working in the Presence of God: Spiritual Practices for Everyday Work (Daniels & Vandewarker).
Click HERE to read her bio.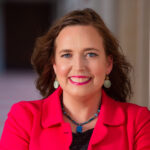 Elaine Howard Ecklund is Herbert S. Autrey Chair in Social Sciences and Director of the Religion and Public Life Program at Rice University; her forthcoming book (in May) is Why Science and Faith need Each Other: Eight Shared Values that Move Us Beyond Fear.