Follow God's example, therefore, as dearly loved children and walk in the way of love, just as Christ loved us and gave himself up for us as a fragrant offering and sacrifice to God.
It seems that every time I'm walking around in San Francisco I come upon a mime. Dressed in simple clothing with their faces painted white, mines are actors who communicate only with the motions of their bodies. They tell stories with their hands, faces, and agile limbs. By their movements, they create impressions and emotions. If you watch an accomplished mime pretending to be in a box, something that seems common in mime culture, pretty soon your mind begins to "see" an invisible box caging in the poor mime as it gets smaller and smaller.
According to Ephesians 5:1, we are to be mimes of God. The NIV translation begins, "Follow God's example . . . ." This captures the sense of the original Greek, though a more literal translation would read, "Be imitators of God" (as in the NRSV and ESV). The Greek word for "imitators" is mimetes (mim-AY-tays), which is related etymologically to our word "mime." Originally, a mimetes was an actor who imitated someone else.
How are we to be mimes of God? The point here is not that we're never to speak about God, like the silent mimes on the streets of San Francisco. Rather, Ephesians 5:1 calls us to be imitators of God, people who live in such a way that others can see God present in our lives, even though God is not actually visible to their eyes. In our deeds and our words, people observing us should be able to "see" God much as we might "see" a box surrounding a mime.
Of course there is a major difference between today's mimes and being mimes of God. When a mimes act as if a box is closing in around them, we understand that there isn't a real box present. The mime is helping us to see what's not actually there. In the case of miming God, however, the opposite is true. Through our godlike actions, we help others to see the God who is there. We make real for people that which they might not comprehend through words alone.
In tomorrow's Life for Leaders devotion we'll consider in more detail how we are to be "mimes of God." For now, let me encourage you to reflect upon how God is visible to others through your life.
Something to Think About:
Do those who observe you each day "see" God present through your life? Do your colleagues at work? How about your family members or close friends?
Would those who interact with on the street or in the grocery store see you "miming" God?
Something to Do:
As you think about the day ahead (or about tomorrow, if you're reading this devotion in the evening), consider how you might "mime" God. How might your actions show people that God is present in your life (and in theirs!)? As you come up with some ideas, decide to implement one of them today.
Prayer:
Gracious God, what an amazing imperative: Be imitators of God. I find this encouraging and overwhelming. Help me to know what it means for me to imitate you (and what it doesn't mean). As people observe my life, as they see my deeds, may they sense your presence in me. May they know that even though they cannot see you with their physical eyes you are real and your Spirit dwells in me. May my life honor you in all that I do no matter where I am. Amen.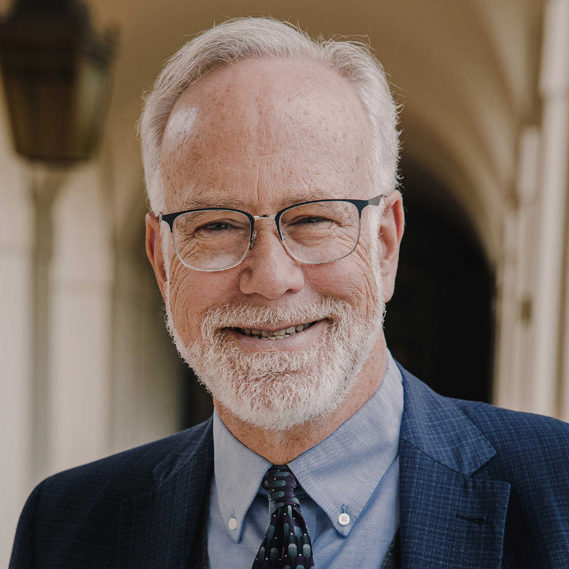 Dr. Mark D. Roberts is a Senior Strategist for Fuller's Max De Pree Center for Leadership, where he focuses on the spiritual development and thriving of leaders. He is the principal writer of the daily devotional, Life for Leaders, and the founder of the De Pree Center's Flourishing in the Third Third of Life Initiative. Previously, Mark was the Executive Director of the De Pree Center, the lead pastor of a church in Southern California, and the Senior Director of Laity Lodge in Texas. He has written eight books, dozens of articles, and over 2,500 devotions that help people discover the difference God makes in their daily life and leadership. With a Ph.D. in New Testament from Harvard, Mark teaches at Fuller Seminary, most recently in his D.Min. cohort on "Faith, Work, Economics, and Vocation." Mark is married to Linda, a marriage and family counselor, spiritual director, and executive coach. Their two grown children are educators on the high school and college level.