Do not quench the Spirit. Do not despise the words of prophets, but test everything; hold fast to what is good; abstain from every form of evil.
Focus
The Bible urges us to be open to the presence and power of the Spirit. But, at the same time, we are to discern wisely what is of God and what is not. Such wise discernment happens best in community with others who are committed to the truth.
This devotion is part of the series: Encouragement from 1 Thessalonians.
Devotion
In last Thursday's Life for Leaders devotion, we began examining 1 Thessalonians 5:19-22. According to this verse, we are not to "quench the Spirit." To put it positively, we are to be open to all that the Holy Spirit wants to do in us and through us. But, as we shall see in a moment, this doesn't mean accepting anything that someone claims to be inspired by the Spirit as genuine. We need to learn how to exercise spiritual discernment as we become more open to the Spirit's work and power.
When I was in college, some of my Christian friends were members of a church that embraced all the gifts of the Holy Spirit. As one who had been raised in a Presbyterian church, I was unfamiliar with this openness to all the gifts. Presbyterians tended to like gifts of preaching, teaching, and administration. We weren't so sure about things like tongues and prophecy. Nevertheless, I was drawn to what my friends reported about their experiences with the Holy Spirit.
But I also had hesitations. As my friends talked about how spiritual gifts functioned in their community, they would sometimes speak of people getting prophetic messages for others, instructions from God about how other people should be living. It seems to me that if somebody claimed to have a prophetic word for someone else, it was always assumed that word was from God. This worried me. What if the person with a purported word from the Spirit had gotten things mixed up?
Though my friends often invited me to come to their church, I hesitated because of what seemed to be their unquestioning acceptance of any claim to spiritual inspiration. Instead of going to church with them, I ended up joining a different church that was open to all spiritual gifts. Yet, in that church, the exercise of gifts was scrutinized by the community and governed by biblical teaching. This seemed to me a better way forward.
Though I didn't realize it at the time, the church I joined was applying the teaching of 1 Thessalonians 5:19-22 quite faithfully. They were not quenching the Spirit. They did not despise the words of prophets. And they did test everything, holding on to what was good and letting go of what was not.
In 1 Thessalonians 5, the imperative "test everything" applies directly to the exercise of spiritual gifts. It is a good reminder to us that we should always discern what is true and not true when it comes to the work of the Spirit. It is so easy for us, even when we're well-intentioned, to confuse our own thoughts and desires with those that come from the Holy Spirit. Thus, as we are open to the power of the Spirit in our lives, we must also exercise spiritual discernment so that we might hold on to what is true.
I believe that the imperative "Test everything" can also be applied to situations beyond the functioning of spiritual gifts in the church. (Of course, you are correct to test my interpretation of this verse. I think I am applying it faithfully, but this judgment needs spiritual discernment. I'm not joking.) Whether we're at church or at home, whether we're doing our "secular" work or serving in some mission project, we need to learn how to test everything so that we might accurately recognize God's presence, power, and guidance.
This raises an obvious and interesting question: How can we test everything? I'd like to work with you on that question in the next few devotions. Today, I'd like to make a fairly obvious but essential point. Here it is: We are to test everything as members of the community of Christ. Spiritual discernment happens best in Christian community. Yes, there will be times when we will need to test certain things when we're on our own. But even then we would be well served to check out our judgments with wise sisters and brothers in the faith.
There have been times in my life when I have made difficult moral or strategic decisions without the input of others. Some of these have no doubt been good decisions. But I'm also quite sure that many of the worst decisions I've made in life are ones I made all by myself. As I have become more mature, I have learned how important and helpful it is to talk through major decisions with wise people whom I trust. Recently, for example, I was working on a particularly challenging strategic decision in my work. I talked about this several times with my boss and colleague, Michaela. She, in turn, brought up the issue with a couple of our most trustworthy advisers. The result of this process was a decision that felt stronger and wiser than anything I would have come up with on my own. I'm so glad that my effort to "test everything" was happening in community with my sisters and brothers in Christ.
In tomorrow's Life for Leaders devotion, I'll continue to work with you on what it means to test everything. For now, you may wish to consider the following questions.
Reflect
Can you think of times in your life when you exercised spiritual discernment? If so, what happened?
Have you experienced the help of Christian community in the exercise of spiritual discernment? If so, what happened?
How open are you to seeking wisdom from others when it comes to decisions you make in life? If you are quite open, why is this? If you are hesitant, why is this the case?
Act
Talk with a good friend, your small group, or your spiritual director about how you might grow together in "testing everything."
Prayer
Gracious God, thank you for the encouragement of 1 Thessalonians 5:19-22. In particular, today I thank you for the instruction to "test everything."
Teach me, Lord, how to test everything. Guide me by your Word and Spirit. Help me to learn how to discern your guidance in community with other believers.
May the decisions I make this week be guided by your Spirit. May they honor you and contribute to your work in the world. Amen.
Find all Life for Leaders devotions here. Explore what the Bible has to say about work at the High Calling archive, hosted by the unique website of our partners, the Theology of Work Project. Reflection on today's Life for Leaders theme can be found here: Discernment in Community.
---
Subscribe to Life for Leaders
Sign up to receive a Life for Leaders devotional each day in your inbox. It's free to subscribe and you can unsubscribe at any time.
---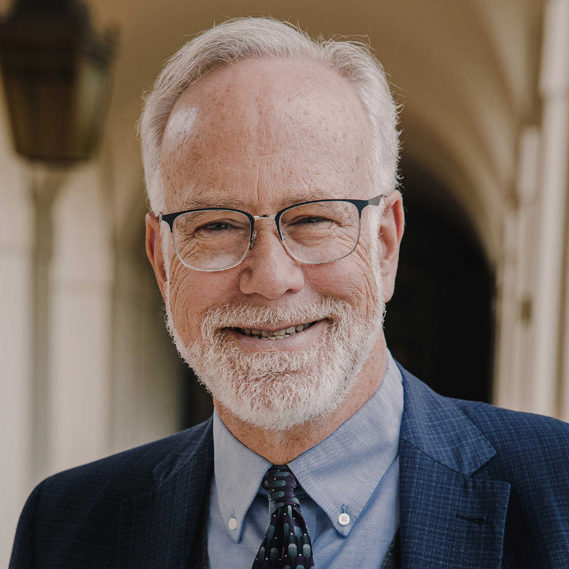 Dr. Mark D. Roberts is a Senior Strategist for Fuller's Max De Pree Center for Leadership, where he focuses on the spiritual development and thriving of leaders. He is the principal writer of the daily devotional, Life for Leaders, and the founder of the De Pree Center's Flourishing in the Third Third of Life Initiative. Previously, Mark was the Executive Director of the De Pree Center, the lead pastor of a church in Southern California, and the Senior Director of Laity Lodge in Texas. He has written eight books, dozens of articles, and over 2,500 devotions that help people discover the difference God makes in their daily life and leadership. With a Ph.D. in New Testament from Harvard, Mark teaches at Fuller Seminary, most recently in his D.Min. cohort on "Faith, Work, Economics, and Vocation." Mark is married to Linda, a marriage and family counselor, spiritual director, and executive coach. Their two grown children are educators on the high school and college level.