Do not quench the Spirit. Do not despise the words of prophets, but test everything; hold fast to what is good; abstain from every form of evil.
Focus
The Holy Spirit who inspires us to minister in power also helps us "test everything" so that we might know what God is doing and saying. We look to the Spirit to give us gifts of discernment when we are gathered as the church and when we are deployed into the world.
This devotion is part of the series: Encouragement from 1 Thessalonians
Devotion
In yesterday's Life for Leaders devotion, I continued to reflect on the teaching of 1 Thessalonians 5:19–22. This passage encourages us to be open to the ministry of the Holy Spirit. We are not to quench the Spirit's fire by restricting the Spirit's genuine work (for example, by rejecting prophetic utterances out of hand). But this does not mean we should be accepting of everything that anyone claims to come from the Holy Spirit. Rather, we should test all things, embracing the good while rejecting the bad.
Yesterday I began to wrestle with the question of how we test everything. How can we discern what is true and what is not, what is from the Spirit and what is not? I suggested one foundational answer to that question: we are to discern such things in the context of Christian community. We need the wisdom of our sisters and brothers in Christ if we are going to know with confidence what God is saying to us and through us.
For the rest of this week, I'd like to think with you a little more about how we can "test everything." (1 Thessalonians 5:21). The Greek verb translated here as "test" is dokimazō. It has a variety of meanings including, "test, examine, discern, demonstrate, prove." One Greek-English lexicon defines it this way: "to try and determine the genuineness of something by examination and testing" (Louw &  Nida). So, when we or someone else claims to have spoken or acted under the inspiration of the Spirit, our job is to find out whether or not this was a genuine case of spiritual empowerment. How should we do this?
One essential part of our answer to this question points to the multifaceted ministry of the Holy Spirit. When it comes to matters of spiritual discernment, the same Spirit who empowers people for ministry also empowers people for discernment. We see this in 1 Corinthians 12:8-10. There Paul enumerates a number of the miraculous gifts of the Spirit. One of these is "the discernment of spirits" (12:10). As the gathered church ministers in the power of the Spirit, the Spirit helps the body to "test everything" so as to determine its spiritual authenticity. (It's also quite possible that the gifts of wisdom and knowledge mentioned in this passage from 1 Corinthians would assist in the "test everything" task.)
This passage from 1 Corinthians also reiterates the point I made yesterday about community. We are to test everything along with our sisters and brothers in Christ. That's how Paul envisioned the right functioning of the Spirit in 1 Corinthians 12. Of course, there may be times when we are alone and need to serve others in the power of the Spirit. Yet, as I have said before, even then it would be wise to check out what we have done or discerned with other believers. Though a major use of spiritual gifts comes when the Christian community has gathered, the gifts can also function when the community is deployed into the world.
The ways in which gifts of discernment actually function in churches can vary greatly. In my experience, one way comes through the consensus of mature believers. When someone claims to have a word from the Lord, for example, and shares this message with the community, if it is from the Spirit there will be quiet affirmation from wise church leaders and congregants. Of course, in other communities that affirmation might be much more expressive than quiet.
Tomorrow I'll continue to reflect with you on spiritual discernment. For now, you may wish to reflect on the following questions.
Reflect
Can you think of a time when you received a gift of discernment from the Holy Spirit? If so, what happened? (Note: It's quite likely that you have sometimes received this gift without being aware of it.)
In your church, how does spiritual discernment happen?
When you're facing a difficult decision, how often do you intentionally ask the Lord to guide you? What happens when you do this?
Act
Talk to God about where you sense the need for spiritual discernment in your life.
Prayer
Gracious God, thank you for being present with us through the Holy Spirit. Thank you for all the different ways your Spirit ministers to us and through us.
Today, I thank you, especially for the gift of discernment. How grateful I am for all the ways you have guided me, my family, my church. Help me, Lord, to be open to stewarding gifts of discernment. May I be open and attentive to you at all times and in all places. Amen.
Find all Life for Leaders devotions here. Explore what the Bible has to say about work at the High Calling archive, hosted by the unique website of our partners, the Theology of Work Project. Reflection on today's Life for Leaders theme can be found here: Spiritual Gifts: They're Not Just For Church.
---
Subscribe to Life for Leaders
Sign up to receive a Life for Leaders devotional each day in your inbox. It's free to subscribe and you can unsubscribe at any time.
---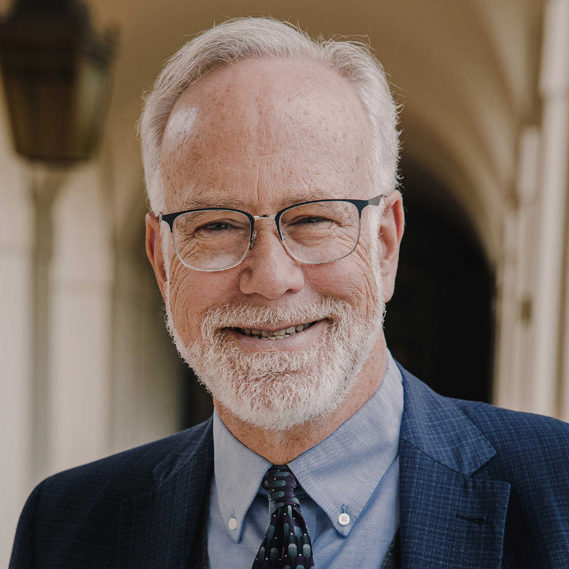 Dr. Mark D. Roberts is a Senior Strategist for Fuller's Max De Pree Center for Leadership, where he focuses on the spiritual development and thriving of leaders. He is the principal writer of the daily devotional, Life for Leaders, and the founder of the De Pree Center's Flourishing in the Third Third of Life Initiative. Previously, Mark was the Executive Director of the De Pree Center, the lead pastor of a church in Southern California, and the Senior Director of Laity Lodge in Texas. He has written eight books, dozens of articles, and over 2,500 devotions that help people discover the difference God makes in their daily life and leadership. With a Ph.D. in New Testament from Harvard, Mark teaches at Fuller Seminary, most recently in his D.Min. cohort on "Faith, Work, Economics, and Vocation." Mark is married to Linda, a marriage and family counselor, spiritual director, and executive coach. Their two grown children are educators on the high school and college level.