The righteous will flourish like a palm tree,

they

will grow like a cedar of Lebanon;
planted in the house of the LORD,


they

will flourish in the courts of our God.
They will still bear fruit in old age,


they

will stay fresh and green.

It seems like every week these days I end up in a conversation with somebody about retirement. I'm sure this has to do, in part, with the fact that many of my peers are entering the season of life when retirement is an option. (I'm sixty years old, though hoping I've got many years of good work left in me!) But people also talk with me about retirement because they know how much I believe our work matters to God and how much I want people to discover and live their vocation. "How can I serve God when I'm no longer working?" they wonder. "How can I make a difference in the world if I retire? What will be my vocation then?"
I believe we need to think about so-called retirement in very different ways than is common in our culture and the church. I've been inspired in this belief by the former Executive Director of the De Pree Center, my friend Walter Wright. Walt has done some groundbreaking thinking and writing about what he calls the "third third" of life. The last third of life, according to Walt, can be a time of exceptional fruitfulness and joy. But, for this to happen, we need to stop thinking of our lives and even our work as stopping when we retire. "It really should be called 'refirement' or 'entrepretirement,'" Walt suggests.
The writer of Psalm 92 would agree with Walt. In verses 12-13, we read that "the righteous will flourish like a palm tree… they will flourish in the courts of our God." This season of flourishing is not limited to when the righteous are young and physically vital. In fact, verse 14 notes that the righteous "will still bear fruit in old age, they will stay fresh and green." The Hebrew phrase translated here as "old age" literally means "gray hair." Even though the hair of the righteous may turn gray, they are still "fresh and green" when it comes to vitality and productivity.
What accounts for this unusual display of flourishing in the "third third"? Surely, it is, in part, a result of living a godly life. Those who walk in God's ways live more meaningful and effective lives. But Psalm 92:13 adds another reason for the long-lived fruitfulness of the righteous: they "are planted in the house of the LORD, they will flourish in the courts of our God". In other words, they have been planted so that their roots grow deeply into God's soil. They draw nutrition from a divine source that is never exhausted. Living productively, even into old age, isn't just a matter of doing the right thing, however important this may be. It is, above all, a result of living in a deep, growing, formative relationship with God.
I have had the privilege of knowing many "third third" people who have lived this way, who have borne fruit well into their "third third," even their "tenth tenth." I think, for example, of Howard E. Butt, Jr., and his wife, Barbara Dan Butt. Though they are now with the Lord, they lived with extraordinary fruitfulness well into their 80s. They provided spiritual leadership, godly wisdom, and exceptional encouragement to me and so many others even when their hair was completely gray (or, as in Barbara Dan's case, brilliantly white). If the Lord gives me a long life, I hope and pray that I can be as fruitful in my "third third" as they were. And I know from their example, as well as from Psalm 92, that the secret to such gray-haired flourishing is being planted in the house of the Lord—that is, having a deep, intimate, transforming relationship with the triune God.
Something to Think About:
Do you think much about your "third third"? If so, what do you think?
Do you know people who have been extremely fruitful in the last third of their life? What has made them so fruitful?
Something to Do:
Talk with someone who is in the "third third" of life and who is living fruitfully. Learn how they think about their vocation in this season of life.
Prayer:
O Lord, as I think about my life, and as I see the hairs on my head turning gray (the ones that are left, that is), I realize how much I want to be like the godly people in Psalm 92. I want to be fruitful, even in old age. I want my life to count over the long haul.
Help me, gracious God, to be a godly person, to live according to your standards, to follow your guidance, and to place you at the center of my life. May I be like a tree planted in your courts, drawing nutrition for life from you.
Thank you, Lord, for those who exemplify such godly living, well into old age. Continue to use and bless them, so that we might draw inspiration and wisdom from them.
All praise be to you, O God, because you enable us to be fruitful throughout our lives. Amen.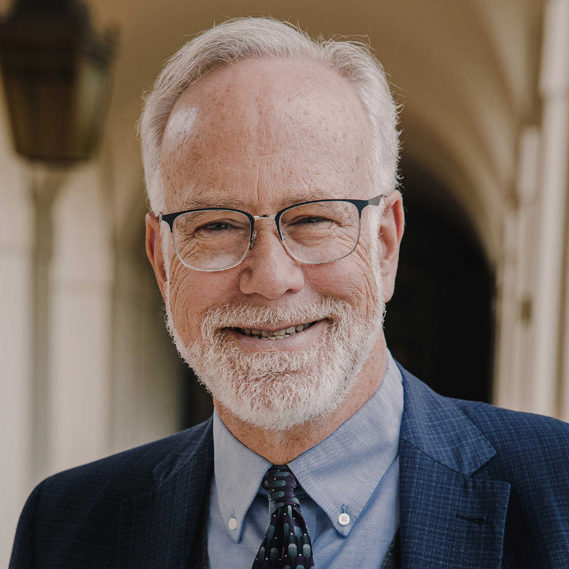 Dr. Mark D. Roberts is a Senior Strategist for Fuller's Max De Pree Center for Leadership, where he focuses on the spiritual development and thriving of leaders. He is the principal writer of the daily devotional, Life for Leaders, and the founder of the De Pree Center's Flourishing in the Third Third of Life Initiative. Previously, Mark was the Executive Director of the De Pree Center, the lead pastor of a church in Southern California, and the Senior Director of Laity Lodge in Texas. He has written eight books, dozens of articles, and over 2,500 devotions that help people discover the difference God makes in their daily life and leadership. With a Ph.D. in New Testament from Harvard, Mark teaches at Fuller Seminary, most recently in his D.Min. cohort on "Faith, Work, Economics, and Vocation." Mark is married to Linda, a marriage and family counselor, spiritual director, and executive coach. Their two grown children are educators on the high school and college level.