"What do you think? If a man owns a hundred sheep, and one of them wanders away, will he not leave the ninety-nine on the hills and go to look for the one that wandered off? And if he finds it, truly I tell you, he is happier about that one sheep than about the ninety-nine that did not wander off."
Yesterday, we reflected on Jesus as a revolutionary communicator who used storytelling as an essential means to share his message. Today, we'll consider how we can become better storytellers to influence for the good those whom we lead.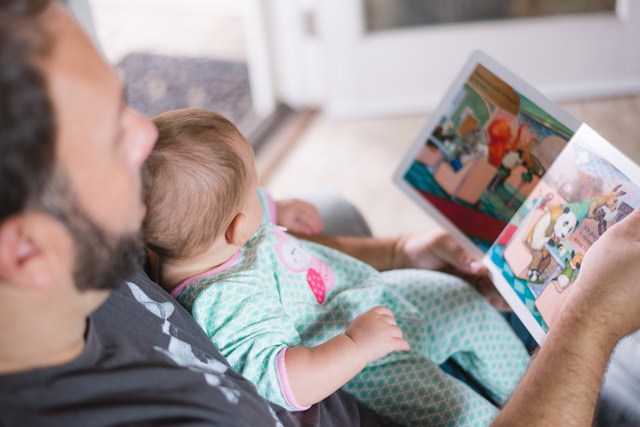 Jesus uses a parable to help his listeners reimagine how they view God. If a shepherd will go after the one lost sheep and rejoice over its recovery, wouldn't God rejoice so much more? Jesus uses a total of three stories in Luke (the lost sheep, the lost coin, the lost son) to paint this fresh picture of a loving God who fervently searches for lost people and rejoices in their recovery.
Just about every night, my four-year-old daughter asks, "Daddy, would you please read me a story?" I've purchased a book, 5 Minute Star Wars Stories, for just these occasions. After whisking her away into a tale of another epic battle between the dark side and the forces of good, I close the book—to her objections—and kiss her goodnight. In just five minutes she has been transported to another world, and I've connected deeply with her in ways that I might never know.
Why do stories captivate kids so much? Here's something to consider: Have adults somehow wrongly categorized storytelling as "kid stuff"? Isn't it true that we never hear the local library advertising story time for adults? And yet storytelling continues to be a significant part of our lives as we read books, watch movies, stream Ted Talks, and follow our favorite Instagram influencers. Perhaps, in our work, we are storytellers by trade: an author, a movie producer, a presenter, or a social media personality. It seems that storytelling isn't just for kids. It's an essential part of our lives, even in a digital age, and we can embrace the model Jesus gives us to be great storytellers.
Here are a few tips from Jedd Medefind and Erik Lokkesmoe's book, The Revolutionary Communicator, to improve our storytelling (p. 110):
Succinctness is a virtue: Make the central theme clear. Less is more.
Despite the value of brevity, details and descriptions are critical: Help listeners feel like they are there by sketching out the scene vividly.
Show, don't tell: Use descriptive language instead of just the facts and data.
Engage all the senses, not just the eyes: Do your words help to elicit smells, sounds, tastes, and physical sensations that help the story come alive?
Your audience needs to wonder, "What happens next?": Keep people listening by utilizing built up tension in the flow of the story.
Use every tool at your disposal: Voice inflection, hand gestures, music, on screen visuals… don't limit yourself to just one mode of good storytelling.
Like the good shepherd who goes after the one lost sheep, good communicators go to great lengths to share stories that captivate audiences, engage listeners, and invite people toward change. Even though your efforts might only reach a small number of people, we serve a God who cares about the one lost person that we might reach through our sincere efforts to be a great communicator like Jesus.
Something to Think About:
"[Your listeners] have enough information. They have all the facts and statistics they could ever want. In fact, they are drowning in information. Depression is at epidemic levels because of all this information simply leaves us feeling incompetent and lost. We don't need more information. We need to know what it means. We need a story that explains what it means and makes us feel like we fit in there somewhere." (Quoting Annette Simmons, The Revolutionary Communicator, 109).
Something to Do:
Watch Bobette Buster talk about the rise of the storytelling industry in Los Angeles and how all stories ultimately fall into one of two categories.
Prayer:
Jesus, you have given me the gift and responsibility to be a leader of people, so help me grow in my ability to tell stories like you. Whether I use spoken words, music, art, film, or other forms of media, use storytelling as a way to point people toward knowing you. Remind me of the bigger story you have called me to live each day as one who has been called by you to be an ambassador for you. May you use me today to touch even just one person's life for the glory of your kingdom. Amen.