And I heard a loud voice from the throne saying, "Look! God's dwelling place is now among the people, and he will dwell with them. They will be his people, and God himself will be with them and be their God."
In yesterday's Life for Leaders devotion, we saw that Revelation 21:3 uses camping metaphors to depict God's dwelling with us in the future. The Greek word translated as "dwelling place" has a basic meaning of "tent." "Dwell with them" could be more literally translated as "set up camp with them." Of course, we're not supposed to think that God will actually pitch a tent when he dwells with us in the age to come. Rather, as he once was present with Israel in the Tabernacle (an actual tent), so God will be truly, gloriously, and fully present with us in the new Jerusalem.
As you may recall, I began yesterday's devotion by sharing some memories of camping with my family of origin. I mentioned that my parents, siblings, and I all slept in a single tent, all six of us. Now that was a rather intimate experience.
Interestingly enough, John's vision of God's presence in the new Jerusalem also conveys a strong sense of intimacy. Verse 3 begins: "God's dwelling place is now among the people, and he will dwell with them. They will be his people." This echoes several passages from the Old Testament. In Ezekiel 37:27, for example, God says, "My dwelling place will be with them; I will be their God, and they will be my people" (see also Exodus 19:5; 25:8; Leviticus 26:11-12; Jeremiah 7:23; Zechariah 2:10-12). But, if you look carefully, you see something else in Revelation 3:21. Not only will God's dwelling place be with us, but also "God himself with be with [us]" (3:21). This intensifies the relational dynamic implied in the camping/dwelling imagery. The time is coming when God will be with us and we will be with God. Now there's something to hope for!
Yet, while we look forward to a new experience of intimacy with God in the future, we rejoice in the fact that God is with us in the present. God was with us in the person of Jesus, who is "Immanuel," meaning "God with us" (Matthew 1:23). God is with us still through the Holy Spirit, who lives in us (1 Corinthians 6:19; 2 Timothy 1:14; 1 John 4:13) and among us (1 Corinthians 3:16). Thus, as we wait for a deeper and fuller relationship with God, who will be with us, we are thankful for how much we can experience of God right now because he has chosen to be with us through Christ, through the Spirit, and through the community of God's people.
As you go about your work today, remember, God is with you. May you live in fellowship with him throughout the day, no matter the tasks before you. May God's presence encourage you, challenge you, and embolden you as you seek to serve him in all you do.
Something to Think About:
When you think of God dwelling with us, what images, thoughts, or feelings come to mind?
When have you experienced God's presence in a particularly powerful way?
If, throughout the day, you kept in mind the fact that God is with you, how might your life be different?
Prayer:
Gracious God, we thank you for the wonderful promise that you will be with us one day, living among us as our God. What an inspiring vision!
Yet, we also thank you for being with us now. Thank you for being present in Jesus, in your Spirit, and in your people. Thank you for making yourself known to us in so many different ways. Help us, we pray, to live in fellowship with you, remembering you and your presence throughout the day. Amen.
This post was originally published on April 12, 2016.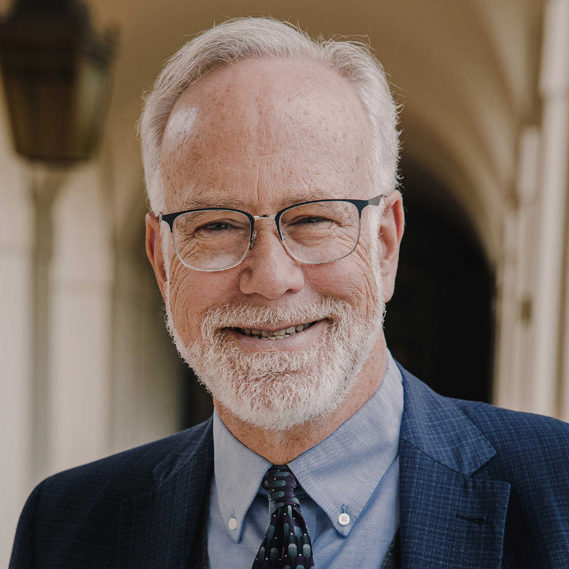 Dr. Mark D. Roberts is a Senior Strategist for Fuller's Max De Pree Center for Leadership, where he focuses on the spiritual development and thriving of leaders. He is the principal writer of the daily devotional, Life for Leaders, and the founder of the De Pree Center's Flourishing in the Third Third of Life Initiative. Previously, Mark was the Executive Director of the De Pree Center, the lead pastor of a church in Southern California, and the Senior Director of Laity Lodge in Texas. He has written eight books, dozens of articles, and over 2,500 devotions that help people discover the difference God makes in their daily life and leadership. With a Ph.D. in New Testament from Harvard, Mark teaches at Fuller Seminary, most recently in his D.Min. cohort on "Faith, Work, Economics, and Vocation." Mark is married to Linda, a marriage and family counselor, spiritual director, and executive coach. Their two grown children are educators on the high school and college level.