God put this power to work in Christ when he raised him from the dead and seated him at his right hand in the heavenly places, far above all rule and authority and power and dominion, and above every name that is named, not only in this age but also in the age to come. And he has put all things under his feet and has made him the head over all things for the church.
Focus
Ephesians makes a bold claim. God has made Christ "head over all things for the church" (1:22). Everything in this world ultimately exists under the sovereignty of Christ. Of course the world, its people and institutions, may not know this yet. But God is in the process of extending God's own reign so that ultimately everything in the universe finds its rightful, peaceful, and fruitful place under the rule of Christ.
This devotion is part of the series: Why Easter Matters.
Devotion
In yesterday's Life for Leaders devotion, we focused on the glorious sovereignty of Jesus Christ, whom God the Father has enthroned "far above all rule and authority and power and dominion, and above every name that is named, not only in this age but also in the age to come" (Ephesians 1:21). Verse 22 elaborates further on the authority of Christ: "And he has put all things under his feet and has made him the head over all things for the church."
If we read this verse quickly, we might miss its distinctive picture of the headship of Christ. Ordinarily, we speak of Christ as the head of the church. Indeed, this language will be found later in Ephesians (5:23). But, in 1:22, Paul says something different. Translating very precisely, this verse reads, "[God] gave him [Christ] as head over all things for the church [or through the church]." Here, the point is not Christ's headship over the church, but rather his headship over all things for the church. How are we to understand this verse and its relevance to us?
The word "head" (kephale in Greek) can mean "authority" or "source" or "preeminent part" in addition to the literal "head of a body." In our passage, Paul is clearly using kephale in the sense of authority. He has just said that God the Father has enthroned Christ above everything else in all creation. Expanding on this, Paul uses bodily imagery to illustrate the superior authority of Christ. All things are under his feet and he is the head over all things.
When we look at our world, it is hard to envision Christ as head over everything. So much seems to be out of control—not submitted to a just, wise, reconciling, and loving Sovereign. We are surrounded by so much sickness, brokenness, unrighteousness, and injustice. We might surely wonder: If Christ is head over everything, why is everything so messed up? The quick biblical answer is that things are such a mess because of human sin. But Scripture also teaches us that God is in the process of making everything right through Christ. Earlier in Ephesians it says that in the future, God will "gather up all things in [Christ], things in heaven and things on earth" (1:10).
Meanwhile, we live in the tension between the fact that Christ is head over all things and the fact that all things are not as God intends them to be. Many things and many people in our world reject the sovereignty of Christ, and God allows them to have this freedom. Yet we who know Christ as Savior and Lord have the opportunity, not only to live under Christ's headship in our personal lives, but also to bring parts of our world under Christ's authority. We do this each day as we serve Christ in our workplaces, our relationships, our neighborhoods, our churches, and our cities. We do this whether we're feeding our children, teaching classes of students, painting a mural, managing a staff, or envisioning a new future for our city. In all we do, we seek to live under the authority and for the purposes of Jesus Christ.
Reflect
How does the headship of Christ over all things make a difference in your life?
In your workplace, where you have other "heads," such as your boss, your investors, your board, etc., how might you live out the headship of Christ in an appropriate way?
Act
Take a few minutes to imagine having a conversation with Jesus Christ at the beginning of your workday. Ask him what he wants you to do in the day. Ask him how he'd like you to act. Discover what difference it makes to think about Christ as the "head" over your work.
Pray
Lord Jesus Christ, head over all things, may your authority be honored today. May your will be done on earth as in heaven.
Help me to live today under your authority, working for you and your purposes. Give me wisdom to know what this means in my work, my family, my friendships, and in everything I do.
All praise, glory, and honor be to you, O Christ, head over all things. Amen.
Banner image by Jaco Pretorius on Unsplash.
Find all Life for Leaders devotions here. Explore what the Bible has to say about work at the High Calling archive, hosted by the unique website of our partners, the Theology of Work Project. Reflection on today's Life for Leaders theme can be found here: Grow Up: Is Your Church Becoming More and More Like Jesus?
---
Subscribe to Life for Leaders
Sign up to receive a Life for Leaders devotional each day in your inbox. It's free to subscribe and you can unsubscribe at any time.
---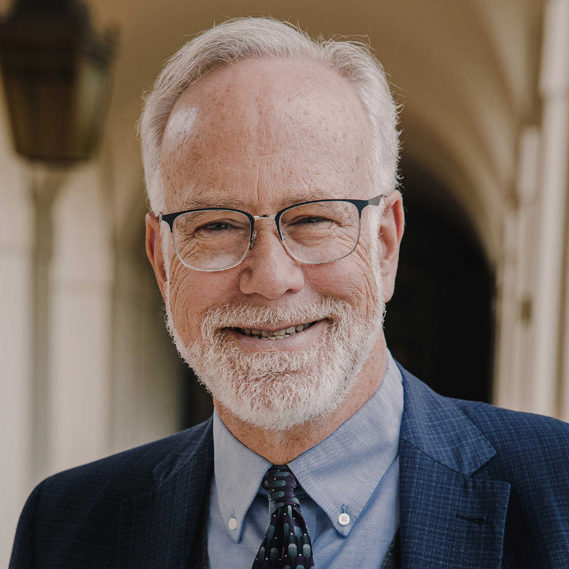 Dr. Mark D. Roberts is a Senior Strategist for Fuller's Max De Pree Center for Leadership, where he focuses on the spiritual development and thriving of leaders. He is the principal writer of the daily devotional, Life for Leaders, and the founder of the De Pree Center's Flourishing in the Third Third of Life Initiative. Previously, Mark was the Executive Director of the De Pree Center, the lead pastor of a church in Southern California, and the Senior Director of Laity Lodge in Texas. He has written eight books, dozens of articles, and over 2,500 devotions that help people discover the difference God makes in their daily life and leadership. With a Ph.D. in New Testament from Harvard, Mark teaches at Fuller Seminary, most recently in his D.Min. cohort on "Faith, Work, Economics, and Vocation." Mark is married to Linda, a marriage and family counselor, spiritual director, and executive coach. Their two grown children are educators on the high school and college level.