This is Part 3 of a multi-part series of articles on the theme: Clarifying Your Purpose in the Third Third of Life. (See Part 1, Part 2.)
I began this series when a friend asked if there is a process by which someone can figure out their purpose as they enter the third third of life. I explained in previous articles that I don't believe there is a "one-size-fits-all" process by which everyone comes to clarify their purpose. Having listened to dozens of older adults talk about what their purpose is and how they came to know it, I'm convinced that many different avenues can lead you to clarify your purpose.
But there are, I believe, several things that can contribute to such clarity. So far I have offered three suggestions:
Suggestion 1: Be committed to God's purpose for all things, including your life. (See Part 1.)
Suggestion 2: Seek the Lord in prayer and surrender to God's will. (See Part 1.)
Suggestion 3: Pay attention to how God has made and gifted you. (See Part 2.)
In this article I will offer two more suggestions:
Suggestion 4: Pay attention to what God is putting on your heart.
Suggestion 5: Pay attention to where you are bearing fruit.
Suggestion 4: Pay attention to what God is putting on your heart.
I expect you've heard it said, especially to young adults, that we need to discover our passion in life and then do it. In his 2005 commencement speech at Stanford University, Apple co-founder Steve Jobs said, "[The] only way to do great work is to love what you do. If you haven't found it yet, keep looking. Don't settle. As with all matters of the heart, you'll know when you find it." Jobs once told his employees at Apple, "We believe that people with passion can change the world for the better. That's what we believe."
There are certainly times when that about which we are passionate, that which we love, is also that to which we should devote our lives. For example, I love my children dearly and have been passionate about being their father. But there are times when God puts on our hearts a concern, a conviction, or a vision that isn't something for which we are intuitively passionate. Thus, clarifying our purpose involves more than discovering our passion. It requires paying attention to what God is putting on our hearts, even when our hearts aren't naturally inclined in that way.
Let me share a personal example. Six years ago, as I met with marketplace leaders served by the De Pree Center, I began to hear a familiar refrain: "I know I need to retire at some point. But I'm certainly not done making a difference with my life. I don't know how to think about retirement as a Christian. My church is no help at all in this matter. You folks at the De Pree Center should do something about it." When people said something like this, I'd thank them for their input and respond, honestly, that if we ever received some seed money for this work we'd be able to start doing it. At that time I recognized that there was a great need and huge opportunity for a third third initiative, but I was not particularly interested in starting or leading this initiative. When people, even my trusted friends, would encourage me to get into third third work, my response was hesitant. "But I love working with younger people," I'd say. "I can't see myself focused on older folks." Clearly, I did not have some hidden passion for third third work. (And, to be fully honest, I had some ageist assumptions, which are all too common even among older adults.)
But, as time passed, God began to put third third work on my heart. This happened in a variety of ways. As I listened to older adults, I felt a desire to help them sort out their third third opportunities. Plus, I learned about the extraordinary potential for social impact from the growing population of older adults. Yet, at the same time I observed most churches missing this potential completely.
Still, I was hesitant to take on this work personally. How did I know God was putting this on my heart? Input from people who knew me well and cared about me helped me in the discernment process, as did my spiritual director. (Note: If you're not familiar with the practice of spiritual direction, let me say that a spiritual director isn't actually a director so much as a discerner, someone who helps a person recognize what God is doing and saying in their lives. My spiritual director, with whom I meet once a month, now via Zoom, helped me pay attention to what God was putting on my heart.)
So, I am suggesting that you should pay close attention to what God is putting on your heart if you want to clarify your third third purpose. I should mention that often what God puts on your heart isn't a what but a who. As the Spirit moves within you, you may begin to feel a particular concern for a particular person or group of people. For example, you may feel God's guidance to invest your life in caring for a new grandchild or in tutoring underserved students in your local elementary school. When a woman I know retired from a long career in the insurance business, she felt a powerful desire to serve immigrants to the United States. God had put them on her heart. So, perhaps I should expand Suggestion 4 in this way: Pay attention to what or whom God is putting on your heart.
Suggestion 5: Pay attention to where you are bearing fruit.
As you seek to clarify your purpose for the third third of life, take a close look at what you've been doing in the second third. In particular, where have you been fruitful? Where has your work – either paid or unpaid or both – made a difference in the world? It's possible, even likely, that your purpose in the third third will allow you to be fruitful in a similar way, even if the context or details are different.
For example, my grandfather was a civil engineer. He oversaw the construction of some of the largest buildings in Los Angeles in the 1950s and 1960s. When he retired in 1969, my grandfather continued his engineering work for more than a decade, offering his services pro bono to a variety of non-profit organizations, including his church, a local seminary, the Braille Institute, and the YWCA. He once joked to me that he worked just as hard in retirement as when he had a full-time job. But my grandfather wasn't complaining. What he did as an engineer was fulfilling to him and he loved helping deserving organizations. He was glad to be fruitful in retirement.
During that season of my grandfather's life, he was being fruitful in another way as well. Because I live just up the street from him, I was able to spend hundreds and hundreds of hours with "Poppy." Often, as I watched him do his engineering work, he'd explain the challenges he faced and how he overcame them. I learned a great deal about planning, organizing, and building, not to mention engineering. Plus, I learned from Poppy how to be a person of integrity in business as well as in the rest of life. I am some of the fruit that grew on his third third vine.
Often, when people retire, they are not able to keep on doing the same sort of work for which they had been paid. But they can often use skills they developed in their careers to be fruit in retirement. For example, an accomplished manager may use some or her skills to become a coach or mentor. An accountant might become the treasurer at church, and so forth.
Conclusion
So far I have offered the following suggestions for those who are seeking purpose in the third third of life:
Suggestion 1: Be committed to God's purpose for all things, including your life.
Suggestion 2: Seek the Lord in prayer and surrender to God's will.
Suggestion 3: Pay attention to how God has made and gifted you.
Suggestion 4: Pay attention to what God is putting on your heart.
Suggestion 5: Pay attention to where you are bearing fruit.
I have several more suggestions to share in Part 4 of this series.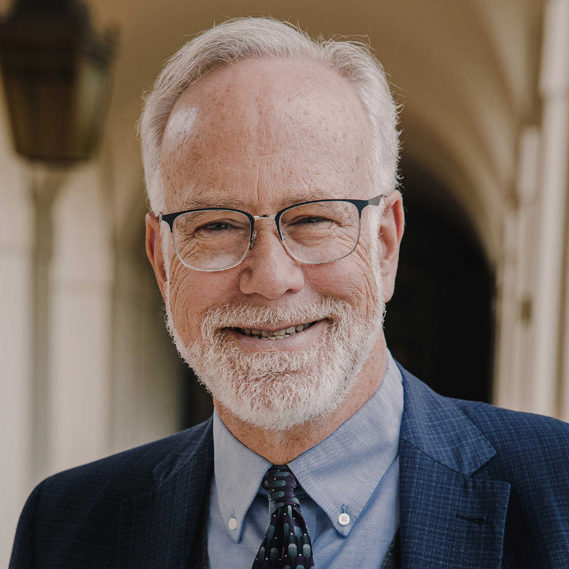 Dr. Mark D. Roberts is a Senior Strategist for Fuller's Max De Pree Center for Leadership, where he focuses on the spiritual development and thriving of leaders. He is the principal writer of the daily devotional, Life for Leaders, and the founder of the De Pree Center's Flourishing in the Third Third of Life Initiative. Previously, Mark was the Executive Director of the De Pree Center, the lead pastor of a church in Southern California, and the Senior Director of Laity Lodge in Texas. He has written eight books, dozens of articles, and over 2,500 devotions that help people discover the difference God makes in their daily life and leadership. With a Ph.D. in New Testament from Harvard, Mark teaches at Fuller Seminary, most recently in his D.Min. cohort on "Faith, Work, Economics, and Vocation." Mark is married to Linda, a marriage and family counselor, spiritual director, and executive coach. Their two grown children are educators on the high school and college level.