Then Jacob woke from his sleep and said, "Surely the LORD is in this place—and I did not know it!"
In the previous Life for Leaders devotion, we examined the story in Genesis 28, in which Jacob has an encounter with the Lord in an unexpected place. After this experience of God, Jacob says, "Surely the LORD is in this place — and I did not know it!" (28:16). As I reflected on this verse, I suggested that one place God surprises us with his presence is our workplace. We may assume that God is really present only in obviously religious contexts, but the truth is that God is present when we're at work every bit as much as when we're gathered for congregational worship.
Today, and in several days to come, I want to spend more time considering with you how God is present in our lives, especially in our workplaces. You may work in an office, a store, a warehouse, a field, a classroom, a kitchen, your home office, or, you name it. No matter your workplace, God is there.
Sometimes the language we use to describe God's presence can actually keep us from being aware of God's presence. For example, I used to hang out with Christians who often spoke of God "showing up." If we had a particularly moving worship experience, or if we prayed for somebody who was healed, or if we were able to share our faith with someone, then God "showed up." What we meant was that God made his presence known in a particularly powerful way. Yet, by labeling these times as God "showing up," we ran the risk of implying that in most of life God had not "shown up." God was not present in ordinary life, including the workplace.
In truth, I think my fellow believers and I did associate God's presence with unusual displays of power rather than recognizing that God was truly present in all of life. Not everyone who uses the phrase "God showed up" thinks this way, of course. But I wonder sometimes if this manner of describing God's activity can lead us to limit God's presence, even as it might encourage us to expect God to act in dramatic and powerful ways.
The answer to the question "Does God show up in your workplace?" is "Yes. All the time. Every day."
We might also recognize that God, who is always present with us, did once "show up" in a unique and astounding way. I'm referring to the Incarnation, when God took on human form in Jesus. If we want to use the language of God "showing up," then we might want to save this for talking about God's presence in Jesus Christ, the Son of God, who is truly human and truly divine.
The fact of the Incarnation reminds us that God cares deeply about human life, about his creation, about what we might consider "ordinary life." Remember, the Word of God made flesh didn't only preach, do miracles, and die on the cross for our salvation. In fact, the Son of God spent the majority of his waking hours on Earth working as a craftsman. The image of Jesus in his workshop reminds us that God is also present in our workplace.
QUESTIONS TO CONSIDER:
How do you respond to the language of God "showing up"? Do you use this? What do you mean when you do? How does this way of speaking help you in your faith? How might it limit you?
If God is truly present in our workplaces, how might we speak of his presence there?
PRAYER:
Gracious God, thank you for "showing up" all the time. Thank you for occasions when you make your presence known with power and glory. Thank you for the times when you speak in a still, small voice. Thank you for being with us always.
Help me, Lord, to learn to think of you as being present with me at all times. In particular, may I remember your presence when I'm at work, no matter the task or the setting. May I seek to honor you in all that I do. May I be a channel of your grace in my daily work. Amen.
This post originally published on November 5, 2015.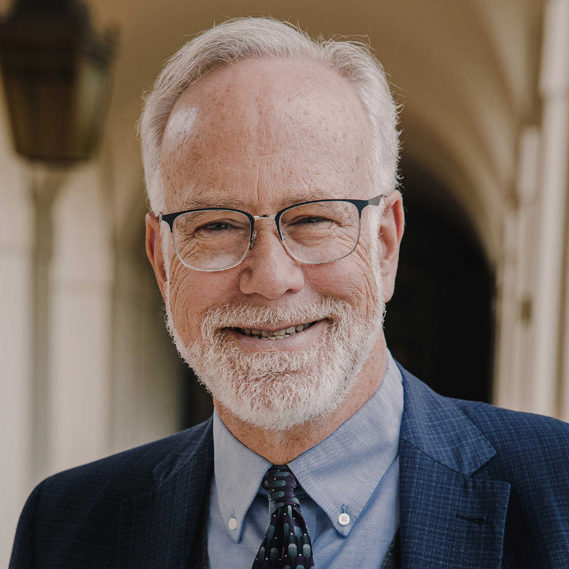 Dr. Mark D. Roberts is a Senior Strategist for Fuller's Max De Pree Center for Leadership, where he focuses on the spiritual development and thriving of leaders. He is the principal writer of the daily devotional, Life for Leaders, and the founder of the De Pree Center's Flourishing in the Third Third of Life Initiative. Previously, Mark was the Executive Director of the De Pree Center, the lead pastor of a church in Southern California, and the Senior Director of Laity Lodge in Texas. He has written eight books, dozens of articles, and over 2,500 devotions that help people discover the difference God makes in their daily life and leadership. With a Ph.D. in New Testament from Harvard, Mark teaches at Fuller Seminary, most recently in his D.Min. cohort on "Faith, Work, Economics, and Vocation." Mark is married to Linda, a marriage and family counselor, spiritual director, and executive coach. Their two grown children are educators on the high school and college level.