Then Jesus said, "There was a man who had two sons. The younger of them said to his father, 'Father, give me the share of the property that will belong to me.' So he divided his property between them. A few days later the younger son gathered all he had and traveled to a distant country, and there he squandered his property in dissolute living."
Focus
If you live in a place where the trees change colors in the fall, you are indeed blessed. What a joy it is to drink in the beauty of autumn leaves! Sometimes it's also good to "drink in" the beauty of Scripture. Even though Jesus's parable of The Prodigal Son is familiar to many of us, it's still wonderful to read slowly through this story, savoring and delighting in it. As we do, the Spirit of God will touch our hearts.
Today's devotion is part of the series Following Jesus Today.
Devotion
My son, Nathan, is in Vermont today. After a business trip to Boston, he decided to head up north to enjoy the fall leaves. So, he and a buddy headed off to Vermont. They're in a section of the state that is in the fall foliage peak. I know, not only because I'm following various online fall foliage trackers, but also because Nathan just sent me a "Here's where we are" photo. So, at this moment I'm caught between being happy for my son, living vicariously through him, and feeling terribly envious. (I'll share Nathan's photo so you can join me in this emotional tension.)
I love the colors of fall more than most things in life. This love affair began when I was four years old. My parents took me on a vacation to New England in October. There, for the first time, I saw brilliantly colored fall leaves, and I was mesmerized. I spent much of my time looking for trees that were completely red and found hundreds as we drove through the forested hills of Vermont and New Hampshire. My love for fall foliage was renewed in 1975 when I was a freshman at Harvard. I'd take the subway out into the suburbs of Boston so I could walk along quiet streets, immersing myself in the glories of autumn.
When I find myself in a panoply of brilliant autumn leaves, I like just to sit and look. I bask in the diversity of colors and shapes. I marvel at the artistry of God—who, by the way, made trees to be "pleasant to the sight," according to Genesis 2:9. To that I say an enthusiastic "Amen." It's God's gift to us to drink in the colors of fall.
In today's Life for Leaders devotion, I'd like to suggest that you drink in something besides autumn leaves (though if you're in a place to see some vibrant leaves, by all means enjoy them!). But even if, like me, you're sipping coffee alongside a busy city street, you can still do some figurative "drinking in." Let me encourage you to drink in the beauty and wonder of one of Jesus's most famous parables, the one we call The Prodigal Son. Not only is this parable the longest Jesus told, thus offering lots to observe, but it's also one of the richest when it comes to plot, character, and soul-stirring good news.
I've read this particular parable or had it read to me at least a hundred times throughout my life. Yet even though it's so familiar I still marvel when I read it. Sometimes I see things I haven't seen before. At other times things I have noticed previously touch my heart in a new way.
So, if you have several minutes right now, I'd suggest that you take time to read the parable of The Prodigal Son (Luke 15:11-32). You can find it here online. If you don't have time right now for a relaxed reading of the passage, I'd encourage you to plan to do this exercise later in the day.
In tomorrow's Life for Leaders devotion, I'll reflect with you on things in the Parable of the Prodigal Son that have struck me. For now, though, I hope you'll find time to drink in this amazing story. Savor the words, the images, the feelings. Allow Jesus to inspire your imagination. Pay attention to what you're thinking and feeling. See if you relate to any of the characters in the story. Note any questions you might have. Most of all, be open to whatever the Spirit of God might want to say to you through this unrushed reading of Scripture.
Reflect
These questions are meant to follow the "Act" suggestion below.
As you read slowly through the parable of The Prodigal Son, what stood out to you?
Did you see anything you have not seen before?
Do you relate to any of the characters in the story? If so, why?
Do you sense the Spirit of God saying anything to you through this parable? If so, what is it? (If not, don't force it. Just be open to whatever God might be stirring in your heart.)
Act
Set aside several minutes for a slow, thoughtful reading of the parable of The Prodigal Son (Luke 15:11-32). As you read, take time to appreciate the phrases of this story, allowing the Spirit of God to speak to you.
Pray
Lord Jesus, thank you for this amazing parable. Though it's so familiar to me, it still fills me with wonder and gratitude.
As I reflect on this story, I find myself like both brothers in different ways. Oh, how much do I need the Father's grace!
As I continue to meditate upon this parable during the week ahead, may my heart be open to whatever you want to say to me, and to do whatever you want to do in me. Amen.
Find all Life for Leaders devotions here. Explore what the Bible has to say about work at the unique website of our partners, the Theology of Work Project. Commentary on today's Life for Leaders theme can be found here: The Shrewd Manager and the Prodigal Son (Luke 16:1-13; 15:11-32)

---
Subscribe to Life for Leaders
Sign up to receive a Life for Leaders devotional each day in your inbox. It's free to subscribe and you can unsubscribe at any time.
---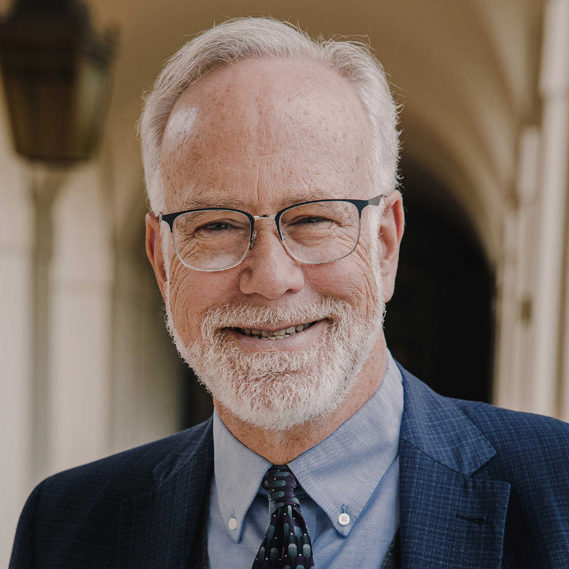 Dr. Mark D. Roberts is a Senior Strategist for Fuller's Max De Pree Center for Leadership, where he focuses on the spiritual development and thriving of leaders. He is the principal writer of the daily devotional, Life for Leaders, and the founder of the De Pree Center's Flourishing in the Third Third of Life Initiative. Previously, Mark was the Executive Director of the De Pree Center, the lead pastor of a church in Southern California, and the Senior Director of Laity Lodge in Texas. He has written eight books, dozens of articles, and over 2,500 devotions that help people discover the difference God makes in their daily life and leadership. With a Ph.D. in New Testament from Harvard, Mark teaches at Fuller Seminary, most recently in his D.Min. cohort on "Faith, Work, Economics, and Vocation." Mark is married to Linda, a marriage and family counselor, spiritual director, and executive coach. Their two grown children are educators on the high school and college level.