While they were eating, Jesus took bread, gave thanks and broke it, and gave it to his disciples, saying, "Take and eat; this is my body." Then he took the cup, gave thanks and offered it to them, saying, "Drink from it, all of you." 

As I've been reflecting on the meaning of the Lord's Supper, I have enjoyed finding deeper meanings of this Passover meal that Jesus reinterprets to place himself at the center of the biblical story. Another insight can be found from one name of this shared sacrament. Some Christians refer to Communion or the Lord's Supper as the Eucharist, from the Greek word meaning "thanksgiving". When we partake of the bread and the cup, we are saying thanks to God the Father for sending Jesus and for securing us in his family. I know for many, as they take the Lord's Supper, they are thanking God for bringing great joy in their lives as well as comforting them in times of deepest sadness.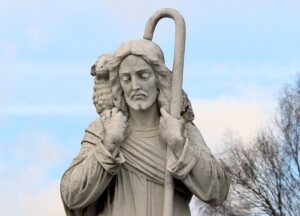 Consider the sad story of young girl who lost her father in the tsunami that hit Japan in 2011. Grieving the loss of her father, she told a news reporter that she wished she could do just one thing: "I just want to ride on the back of my father again." As a father of two young girls, I love to hear the laughter of my little one as she holds me tightly around my neck. One of the deepest longings of the human soul is to experience this kind of secure love that every child needs. In the aftermath of the Japanese tsunami, hundreds of Christian workers responded to cries like this little girl's by offering their own lives as a thanksgiving offering to the God who had given them so much in Christ. They shared their lives, sometimes literally their backs and their necks, to love others. We demonstrate our gratitude to God as we partake in the Eucharist and then bless others who need a tangible experience of the hope found in Christ.
The Eucharist reminds us that Christ took the cross so that we could have hope amidst our hopeless situations. On the cross, Jesus takes weak and weary people like us and carries us on his back. When you are too tired to walk, Jesus carries you. He knows that, on our own, we can't carry the weight of the world that burdens us with deep losses, constant temptations, and persistent divisions. The Lord's Supper reminds us that God takes us on his back and carries us when we can't walk anymore. The Eucharist is a table of thanks that is meant to propel us toward a life of gratitude to God, expressed through our grateful service to others. We can do this every day, with our neighbors, our colleagues, and those whom we meet when shopping or walking along the street. The God who carries us on his back invites us to offer our backs to others.
Questions to Consider
Do you find it hard to be grateful in your current circumstances?
Are there some deep losses that burden you so much that you realize you need someone strong to carry you?
Has God put on your heart a great need that you would gladly like to respond to, perhaps specifically blessing someone in distress?
How easily does worship elements like the Lord's Supper help you live your daily life as a thank-offering to God?
Prayer of Thanks
Thank you Jesus for loving us enough to absorb my sin and giving me your goodness. Thank you for wanting to be with me for eternity.
Thank you for giving me hope for the difficulties I face today. Thank you for empowering me to look beyond myself, and my selfish desires so that I can find joy in serving others.
Thank you, Lord, for choosing me to be in your family forever, which gives me hope to live fully today. Thank you that you're coming back one day to fully restore this world that needs your healing touch. Thank you for the new community of imperfect people in your Church that exists to join your daily work.
Thank you that we are privileged to bring light in the darkness, bread to the hungry, and comfort to the afflicted. Amen.