As God's chosen ones, holy and beloved, clothe yourselves with compassion, kindness, humility, meekness, and patience. Bear with one another and, if anyone has a complaint against another, forgive each other; just as the Lord has forgiven you, so you also must forgive. Above all, clothe yourselves with love, which binds everything together in perfect harmony. And let the peace of Christ rule in your hearts, to which indeed you were called in the one body. And be thankful. Let the word of Christ dwell in you richly; teach and admonish one another in all wisdom; and with gratitude in your hearts sing psalms, hymns, and spiritual songs to God. And whatever you do, in word or deed, do everything in the name of the Lord Jesus, giving thanks to God the Father through him.
Focus
Scripture calls us to do everything in the name of Jesus, not just the "spiritual stuff," not just the things we do at church, but everything. When we take seriously this calling, it transforms our lives. It offers new meaning and purpose. It allows us to worship God, not just in worship or our devotions, but in every part of life, in everything we do.
Today's devotion is part of the series Live Who You Are.
Devotion
Today we press on to the final verse in our passage from Colossians. It reads: "And whatever you do, in word or deed, do everything in the name of the Lord Jesus, giving thanks to God the Father through him" (Colossians 3:17, NRSV). This is a fine rendering of the Greek into English, though it's a little less repetitive than the original. Translating the Greek more literally we get, "And everything, whatever you do, in word or in deed, do everything in the name of the Lord Jesus." We have two "everythings" there, as well as two other phrases that mean more or less the same thing. Paul wants to be sure that we do everything, yes, everything, in the name of the Lord Jesus.
Before we talk about the implications of "everything," we need to examine briefly what it means to do something "in the name of the Lord Jesus." This doesn't mean, by the way, that we are always saying the name of Jesus. You can act in the name of someone without mentioning their name.
So what does it mean to act in the name of someone? First of all, it means you're operating under the authority of that person. It assumes that you don't have the right, all by yourself, to do or say something. Rather, your authorization comes from another person. Second, to do something in the name of someone means to act for that person's purposes. Consider, for example, the case of an ambassador of a country. The ambassador acts under the authority of their country. They are not a free agent. Moreover, the ambassador is charged with advancing the purposes of their country. They should not be seeking their own benefit or that of their friends, but rather the benefit of the country they represent. So, to act in the name of Jesus is to act under his authority and for his purposes.
Colossians 3:17 says, therefore, that we're to do everything under the authority of Lord Jesus and for his kingdom's purposes. Actually, as I noted earlier, the verse says we're to do "everything, whatever we do, in word or deed, everything" under Jesus's rule and for his benefit. Why, we may wonder, was Paul being so redundant here? Why not just one "everything"? Or a solitary "whatever we do"?
I expect Paul knew how easy it would be for the Colossians to do for Christ only those things they considered to be religious. In the first-century Roman world, people divided up their lives into different parts, with the worship of the gods as one part of life, but not its ordering principle. The Christians in Colossae might have assumed that they were to do "religious" things for Christ, but not everything. Paul, however, following in the Jewish tradition, knew that all of life was to be lived for God, every last bit.
Today, we also find it natural to divide our lives up into God's part and our part, into the sacred and the secular. The Christian life is mostly about doing spiritual things: praying, studying the Bible, evangelizing, supporting the mission of the church, being a good parent, seeking justice, and so forth. Those are essential elements of our new life in Christ, to be sure. But they aren't "everything, whatever you do, in word or deed, everything." Colossians 3:17, along with the whole narrative of Scripture, challenges us to see all of life as sacred, all of life as the context in which we're to speak and act for Christ. We live out our new life as Christians in every facet of our experience: at work and at play, in our families and among our friends, at church, and in the community.
For many of us, the idea of doing everything in life for the Lord is a new one. What if your work is what you might call "secular"? What if it's ordinary work, not something you associate with the kingdom of God? If you relate to these "what if" questions, then Colossians 3:17 invites you into a whole new way of thinking, living, and working, one filled with deeper meaning and joy.
For example, consider the experience of a friend of mine. Travis had hoped to become a high school teacher when he was young. He saw this as a way to serve the Lord through his daily work. But when Travis got married in college and his wife became pregnant, he had to quit school to support his family. So he started a window-washing business. Travis, as it turned out, was an excellent window washer. His business thrived and he was able to support his family well. But he always felt frustrated by what seemed to him to be the superficial and "unspiritual" nature of his work. Like so many Christians, he divided up his life into the spiritual stuff (church, family) and the secular stuff (daily work). He feared that he had missed his calling to serve God in his daily work.
But then Travis became aware of Christian teaching that took the biblical worldview seriously. Verses like Colossians 3:17 showed him that God cares about everything we do. Every sort of work matters to God. Travis came to believe that he could serve the Lord even as a window washer. He lived out his discipleship in the way he treated his clients, in the fairness of his prices, in the excellence of his performance. By cleaning windows for people, he was effectively adding to the beauty of the world by letting them see clearly what was outside of their windows. His new understanding of God's care for everything transformed Travis's way of thinking about what he did during the week. It energized him, excited him, and gave him a new vision for his life. He was now eager to do everything, yes, everything, in the name of Jesus.
You might already be seeking to do everything in the name of Jesus. If so, wonderful. Keep it up! But the idea that you should do everything . . . yes, everything, in the name of the Lord might be new for you. It might also cause you to wonder how this will work out in your life. For many of us, the shift from thinking about doing "spiritual things" for Jesus to doing "everything" involves a major change in how you think, feel, and act. If you find yourself in this "major change" group, I'll suggest some possible action steps below.
For all of us, the call of Scripture remains clear: "And whatever you do, in word or deed, do everything in the name of the Lord Jesus." By God's grace, may you live this way today.
Reflect
Do you already think of your life as doing everything in the name of the Lord? If so, where did you get this idea? If not, why not?
Do you tend to divide your life up into sacred and secular portions, with the sacred as the part that God cares about? If so, where did this way of thinking come from? If not, why not?
Are there parts of your life that you find difficult to imagine as being "in the name of the Lord"? If so, what parts are these? Why is it difficult to see these are something God cares about?
Act
If the notion of doing everything in the name of Jesus is new for you, let me suggest some things you might do:
Read an excellent book on faith and work. I'd suggest three: Work Matters, by Tom Nelson; Every Good Endeavor, by Tim Keller; and Make Work Matter, by Michaela O'Donnell.
Keep on reading Life for Leaders. My fellow writers and I are consistently seeking to encourage a "do everything for the Lord" approach to life and faith.
Talk with your small group or other wise Christians about how they do "everything" in the name of the Lord. We have much to learn from each other here.
Begin each day by offering yourself to the Lord. Ask for his help as you seek to do everything in his name that day.
Pray
Gracious God, thank you for the challenging imperative of Colossians 3:17. I certainly need to be reminded to do everything, yes, everything in your name.
I confess, Lord, that it's easy for me to segment my life into "your part" and "all the rest." I do the "spiritual" things for you, but not the other things. Forgive me, Lord, for failing to see how much you care about all of life.
Help me, I pray, to do everything, yes, every single thing, in your name. My I live my whole life under your authority and for your purposes. And if I'm not sure what this really means for my life, help me to grow in my understanding.
Be glorified, I pray, in my life today, in all I do and say. Amen.
Find all Life for Leaders devotions here. Explore what the Bible has to say about work at the unique website of our partners, the High Calling archive, hosted by the Theology of Work Project. Reflection on today's Life for Leaders theme can be found here: Secular Work vs. Sacred Work: The Greek Distortion of Work

---
Subscribe to Life for Leaders
Sign up to receive a Life for Leaders devotional each day in your inbox. It's free to subscribe and you can unsubscribe at any time.
---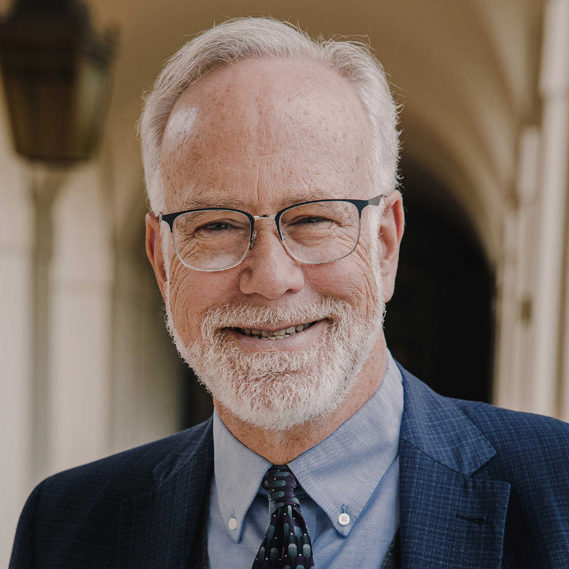 Dr. Mark D. Roberts is a Senior Strategist for Fuller's Max De Pree Center for Leadership, where he focuses on the spiritual development and thriving of leaders. He is the principal writer of the daily devotional, Life for Leaders, and the founder of the De Pree Center's Flourishing in the Third Third of Life Initiative. Previously, Mark was the Executive Director of the De Pree Center, the lead pastor of a church in Southern California, and the Senior Director of Laity Lodge in Texas. He has written eight books, dozens of articles, and over 2,500 devotions that help people discover the difference God makes in their daily life and leadership. With a Ph.D. in New Testament from Harvard, Mark teaches at Fuller Seminary, most recently in his D.Min. cohort on "Faith, Work, Economics, and Vocation." Mark is married to Linda, a marriage and family counselor, spiritual director, and executive coach. Their two grown children are educators on the high school and college level.