And there were shepherds living out in the fields nearby, keeping watch over their flocks at night. An angel of the Lord appeared to them, and the glory of the Lord shone around them, and they were terrified. But the angel said to them, "Do not be afraid. I bring you good news that will cause great joy for all the people. Today in the town of David a Savior has been born to you; he is the Messiah, the Lord. This will be a sign to you: You will find a baby wrapped in cloths and lying in a manger." Suddenly a great company of the heavenly host appeared with the angel, praising God and saying, "Glory to God in the highest heaven, and on earth peace to those on whom his favor rests." When the angels had left them and gone into heaven, the shepherds said to one another, "Let's go to Bethlehem and see this thing that has happened, which the Lord has told us about." So they hurried off and found Mary and Joseph, and the baby, who was lying in the manger.
Today is my final Christmastime devotion on work and Christmas. I want to reflect with you on the shepherds in Luke 2 and their experience of God in their work. Perhaps the shepherds might encourage you to be more aware of God's presence in your own work.
For the most part, the work of shepherds in first-century Judea was predictable. Sure, there might have been tense moments when animals or thieves threatened the sheep and shepherds had to act quickly and decisively. But, for the most part, shepherds did what we read about in Luke 2:8. They watched. They kept their eyes open, looking for predators or for a sheep who were wandering off. Watching was at the core of the work of shepherds. They had to pay attention.
One night, some shepherds outside of Bethlehem found their routine of careful watching interrupted by a most astounding sight. A glorious angel appeared to the shepherds, scaring them half to death. But the angel brought good news: "Today in the town of David a Savior has been born to you; he is the Messiah, the Lord" (Luke 2:11). Then, the angel invited the shepherds to go to the baby "wrapped in cloths and lying in a manger" (Luke 2:12). If this were not enough, after that an army of angels appeared, offering glory to God and peace on earth. Talk about experiencing God at work!
Most of us won't have an experience like this in our ordinary work. The closest I've come is during Christmas pageants in churches where I've served. But, as much as I love seeing children dressed up as angels, that's not quite the same as what happened to the biblical shepherds. In their case, God's presence and power was revealed unmistakably, shockingly, gloriously. In my case, God's presence came more quietly, masked in the costumes, smiles, and memorized lines of children.
But the fact that you and I don't get to see hosts of angels, at least not very often, doesn't mean God is not present in our ordinary work. God is there, watching, helping, guiding, delighting. But we can easily miss God's presence unless we do as the shepherds did. We need to watch, to pay attention. We need to note when God helps us think through a solution to a difficult problem, or when we have a chance to care for a colleague, or when we feel the joy of stewarding our gifts well. We need to learn to hear what God is saying to us at work and how he is moving in our hearts. By paying attention, we can learn and be encouraged. We can also be used in unexpected ways for God's purposes.
So our watching isn't the exactly the same as that of the shepherds. Rather, we are watching for a God who is present and active even if we cannot see him with our eyes or hear him with our ears. God's own Spirit will help us pay attention, so that we might marvel at the presence of God, even as did the shepherds outside of Bethlehem, and so that we might follow God as he guides us in our daily work.
Something to Think About:
As you consider the experience of the shepherds in Luke 2, what is evoked in you? What thoughts do you have? What feelings?
In what ways have you experienced God in the context of your work? What was this like for you?
How might you become more attentive to what God is doing in you as you work?
Something to Do:
At the end of the day, take some moments of quiet to consider how God has been present to you during the day. You might find it helpful to practice the Examen, an ancient Christian approach to paying attention to God's presence in our ordinary lives. You can learn more about the Examen in this Life for Leaders devotional.
Prayer:
Gracious God, I admit there is part of me that is envious of the shepherds. I would love to see your angels with my own eyes, to hear them speak, to attend to their call. I suppose that, like the biblical shepherds, I'd be terrified. But you'd urge me not to be afraid. And I'd experience your glory as never before.
Whether I ever see an angel or not, Lord, I ask that you help me to see you more clearly, to watch for your presence, to pay attention to what you're doing and saying in my life, including my work. Amen.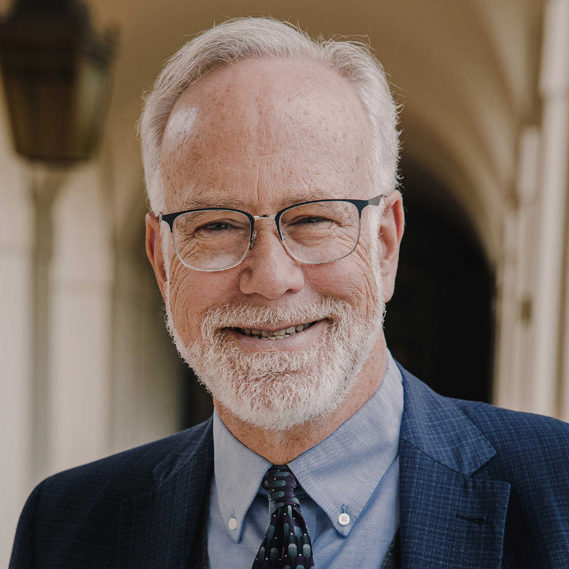 Dr. Mark D. Roberts is a Senior Strategist for Fuller's Max De Pree Center for Leadership, where he focuses on the spiritual development and thriving of leaders. He is the principal writer of the daily devotional, Life for Leaders, and the founder of the De Pree Center's Flourishing in the Third Third of Life Initiative. Previously, Mark was the Executive Director of the De Pree Center, the lead pastor of a church in Southern California, and the Senior Director of Laity Lodge in Texas. He has written eight books, dozens of articles, and over 2,500 devotions that help people discover the difference God makes in their daily life and leadership. With a Ph.D. in New Testament from Harvard, Mark teaches at Fuller Seminary, most recently in his D.Min. cohort on "Faith, Work, Economics, and Vocation." Mark is married to Linda, a marriage and family counselor, spiritual director, and executive coach. Their two grown children are educators on the high school and college level.