For it is by grace you have been saved, through faith—and this is not from yourselves, it is the gift of God—not by works, so that no one can boast. For we are God's handiwork, created in Christ Jesus to do good works, which God prepared in advance for us to do.
According to yesterday's Life for Leaders devotion, we have been saved by grace through faith. God extends salvation to us as a gift. We receive this gift in faith. This seems straightforward enough. What could be confusing about this?
Unfortunately, the English word "faith" can sometimes be misleading. If someone were to ask you, "Do you have faith in God?" chances are that person is asking a question about your belief. "Do you have faith in God?" can mean "Do you believe that God exists?" Similarly, the faith that allows us to receive God's gracious salvation is sometimes portrayed as merely a matter of believing that salvation comes from God through Christ. Faith is reduced to cognitive assent, to saying, "Yes, I acknowledge that is true."
Now, let me be clear. Biblical faith surely includes such assent. If you are going to accept God's gift of salvation, you need to believe that there is a God who graciously saves through Jesus Christ. But biblical faith is more than intellectual affirmation. Biblical faith is acting on what you believe. It is trusting God to save you on the basis of his grace. The word translated here as "faith" (pistis in Greek) might be more accurately rendered in English as "trust." Trust includes believing certain facts, but it conveys a personal choice to rely on those facts, to put your confidence in what you believe.
Consider a commonplace illustration. As I write this devotion, I am flying on an Alaska Airlines plane, heading for some meetings on the East Coast. I have certain beliefs that help to explain why I'm sitting in a long, enclosed cylinder some 31,000 feet above Michigan. I believe, for example, that a heavy, solid object can indeed fly through the air if the aerodynamic properties are right. I believe that the plane has been carefully maintained. I believe that those who are flying this plane have ample skill and are of sound mind, otherwise Alaska Airlines wouldn't have hired them. I believe that the plane will actually fly to the destination I plan to visit. These and many other beliefs got me to the gate at the crack of dawn this morning. But I didn't actually have real faith in the plane, its systems, and its pilots while I was sitting in the airport. My faith became complete and active when I got on the plane. At that point, I put my life on the line, trusting personally on the basis of what I believed.
Similarly, you can believe that salvation comes by God's grace, yet without actually trusting God to be your Savior. You can affirm all of the truths of Christian orthodoxy, but still hold back from entrusting your life to God's grace. The salvation that God offers can only be received through trusting God to save you, through putting your life on the line. When you acknowledge that you need saving, that you cannot save yourself, and that there is no other way to be saved apart from God's grace, then you are ready to receive salvation by trusting God and God alone to save you. Then you are ready for what the Bible calls faith.
Something to Think About:
Do you trust God as your Savior? Why? If not, what holds you back?
If you were to live each day trusting God as your Savior, how might your life be different?
Something to Do:
As you go about your day today, think about where you exercise faith, not so much in God, but in the ordinary elements of your life. For example, you might have faith that the brakes in your car will actually work or that the elevator in your office building won't crash to the ground. How is the faith that gets you through the day like (or unlike) your faith in God?
Prayer:
Gracious God, you are my Savior. You have reached out to me in love. You have done what I could never do. You have done what nothing else could accomplish. You have taken my sin through Jesus Christ, giving me his life in return. You offer me salvation, not because I deserve it, and surely not because I have done anything to earn it, but because you are abounding in grace. Thank you.
Today, Lord, I reaffirm my trust in you as my Savior. I trust my life to you, both in this world and in the world to come. I lean fully upon your grace to save me, both now and forever. Amen.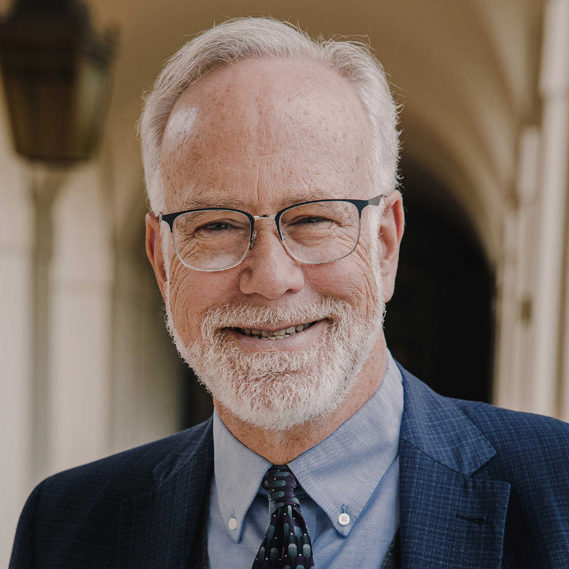 Dr. Mark D. Roberts is a Senior Strategist for Fuller's Max De Pree Center for Leadership, where he focuses on the spiritual development and thriving of leaders. He is the principal writer of the daily devotional, Life for Leaders, and the founder of the De Pree Center's Flourishing in the Third Third of Life Initiative. Previously, Mark was the Executive Director of the De Pree Center, the lead pastor of a church in Southern California, and the Senior Director of Laity Lodge in Texas. He has written eight books, dozens of articles, and over 2,500 devotions that help people discover the difference God makes in their daily life and leadership. With a Ph.D. in New Testament from Harvard, Mark teaches at Fuller Seminary, most recently in his D.Min. cohort on "Faith, Work, Economics, and Vocation." Mark is married to Linda, a marriage and family counselor, spiritual director, and executive coach. Their two grown children are educators on the high school and college level.