[Jesus] said also to the one who had invited him, "When you give a luncheon or a dinner, do not invite your friends or your brothers or your relatives or rich neighbors, in case they may invite you in return, and you would be repaid. But when you give a banquet, invite the poor, the crippled, the lame, and the blind. And you will be blessed, because they cannot repay you, for you will be repaid at the resurrection of the righteous."
Focus
Jesus exhorts us not to be motivated by self-interest in how we treat others. We should serve people and extend hospitality to them, not because of what's in it for us, but because of what's in it for them . . . and for the kingdom of God.
Today's devotion is part of the series Following Jesus Today.
Devotion
When you first read Luke 14:12, you may have wanted to say, "Really, Jesus? I shouldn't invite my friends or relatives to dinner? Really?" On the surface that's what Jesus appears to have said. But it's unlikely this is what he meant. Let me explain what I think is going on in this passage.
What Jesus is really getting at is your motivation for your actions. If you invite someone to a meal for the purpose of being with them, for the chance to serve them, that's one thing, and it's not wrong. But if your invitations are mainly self-motivated and strategic, if you invite someone to dinner in order to reap a reward from them, then you're missing the mark. Rather than hosting those who can host you back, you should "invite the poor, the crippled, the lame, and the blind" (Luke 14:13). Why these people in particular? Because "they cannot repay you" (14:14). Your reward for showing kindness to such people will come later, "at the resurrection of the righteous" (14:14).
As I reflect on this passage, many thoughts come to mind. I'll share two of them with you, one today and one tomorrow.
First, I'm struck by the relevance of this passage for much more than meal invitations. Jesus is critiquing a natural human tendency to act mainly out of self-interest in a wide variety of settings. I've witnessed this sort of behavior in my professional life, among both business leaders and non-profit leaders. It's natural for those of us who lead organizations to seek to build relationships with people who can help our organizations in some way. We invite to dinner those who are potential customers, clients, connectors, or donors. This practice makes sense in a variety of professional settings. However, I've found that such behavior can easily corrupt my heart. I can begin to see people mainly or only in terms of what they can do for me and my work. Those who have something to offer have value because of what they can do for me, not because they are people who bear God's image. And those who can't do something for me have little value in my selfish calculus. Jesus clearly warns against such self-serving behavior and attitude.
Let me provide a specific, recent example. In my work with the De Pree Center's Flourishing in the Third Third of Life initiative, I've been reading a lot about mentoring. I believe that serving as a mentor to others is often an essential element of third third flourishing and I want to grow in wisdom related to mentoring. One of the books I read was written by a well-known Christian leader and author. He had many fine things to say about mentoring. But, at points, it seemed that one of his strongest arguments in favor of mentoring was self-serving. If you mentor successful people, then you'll be more successful yourself. Now, I expect this is often true. But I wish it didn't figure so prominently in this author's rationale for mentoring. Wouldn't it be better for someone to choose to mentor in order to serve another person, rather than to serve himself or herself?
Even for those who are engaged in "for profit" business, focusing exclusively on the financial bottom line seems out of sync with Jesus's counsel in Luke 14:12-14. You can endeavor to serve others and still have a profitable business. In fact, know many excellent and thriving businesses whose owners and/or leaders care truly for the customers and their well-being. The businesses are built to serve their communities well by offering good products, good services, and good jobs. By emphasizing service to others, these businesses have been able to be financially solid as well.
So, Jesus exhorts us not to be motivated by self-interest in how we treat others. We should serve people and extend hospitality to them, not because of what's in it for us, but because of what's in it for them . . . and for the kingdom of God. Tomorrow I'll share another thought in response to Jesus's teaching on self-interested invitations. For now, let me encourage you to consider the following questions.
Reflect
How do you respond to what Jesus says about invitations?
Do you ever worry that your "strategic" thinking about relationships might lead you to treat people mainly in light of how they can benefit your and/or your organization?
When do you serve others freely, without expecting something in return?
Act
Do something today for someone else without expecting anything in return.
Pray
Lord Jesus, thank you for bringing up the subject of our motivations. It is so easy for us to do even good things because of how they will benefit us.
Help us, we pray, to seek to serve others most of all. May we be generous, not for our sake, but for the sake of others . . . and for the sake of the kingdom.
In particular, Lord, teach us to reach out those on the margins, to those who are not able to respond to our efforts. Give us generous, open, giving hearts. Amen.
Find all Life for Leaders devotions here. Explore what the Bible has to say about work at the unique website of our partners, the Theology of Work Project. Commentary on today's Life for Leaders theme can be found here: Generosity: The Secret to Breaking Wealth's Grip (Luke 10:38-42; 14:12-14; 24:13-15)

---
Subscribe to Life for Leaders
Sign up to receive a Life for Leaders devotional each day in your inbox. It's free to subscribe and you can unsubscribe at any time.
---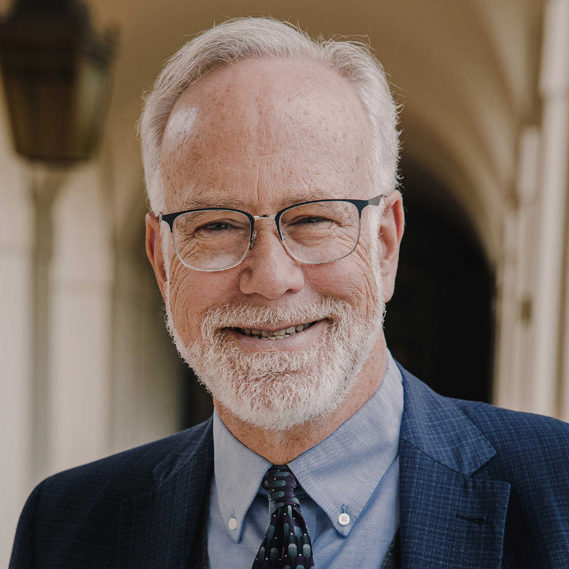 Dr. Mark D. Roberts is a Senior Strategist for Fuller's Max De Pree Center for Leadership, where he focuses on the spiritual development and thriving of leaders. He is the principal writer of the daily devotional, Life for Leaders, and the founder of the De Pree Center's Flourishing in the Third Third of Life Initiative. Previously, Mark was the Executive Director of the De Pree Center, the lead pastor of a church in Southern California, and the Senior Director of Laity Lodge in Texas. He has written eight books, dozens of articles, and over 2,500 devotions that help people discover the difference God makes in their daily life and leadership. With a Ph.D. in New Testament from Harvard, Mark teaches at Fuller Seminary, most recently in his D.Min. cohort on "Faith, Work, Economics, and Vocation." Mark is married to Linda, a marriage and family counselor, spiritual director, and executive coach. Their two grown children are educators on the high school and college level.