Praise be to the God and Father of our Lord Jesus Christ, who has blessed us in the heavenly realms with every spiritual blessing in Christ. For he chose us in him before the creation of the world to be holy and blameless in his sight. In love he predestined us for adoption to sonship through Jesus Christ, in accordance with his pleasure and will—to the praise of his glorious grace, which he has freely given us in the One he loves. In him we have redemption through his blood, the forgiveness of sins, in accordance with the riches of God's grace that he lavished on us. With all wisdom and understanding, he made known to us the mystery of his will according to his good pleasure, which he purposed in Christ, to be put into effect when the times reach their fulfillment—to bring unity to all things in heaven and on earth under Christ.
In him we were also chosen, having been predestined according to the plan of him who works out everything in conformity with the purpose of his will, in order that we, who were the first to put our hope in Christ, might be for the praise of his glory. And you also were included in Christ when you heard the message of truth, the gospel of your salvation. When you believed, you were marked in him with a seal, the promised Holy Spirit, who is a deposit guaranteeing our inheritance until the redemption of those who are God's possession—to the praise of his glory.
The commentary I recently wrote on Ephesians appears in The Story of God series published by Zondervan. My basic assignment was to write an academically-respectable commentary for all thoughtful Christians, not just scholars. But as the name of the series suggests, I was to pay special attention to the story of God found in Ephesians. How does this book tell God's story? How is it shaped by the larger story of God found throughout Scripture? How does Ephesians draw us into God's story, such that our stories are chapters in God's grand story?
Though Ephesians is a challenging and complicated book, in a way, I had one of the easiest assignments of all the commentary writers in the series. You see, Ephesians begins with what could quite literally and accurately be called The Story of God. Perhaps more than any other book in the Bible, Ephesians tells God's story and then shows how we can live into this story in our daily lives.
Ephesians 1:3-14 is the story of God in two main ways. First, it is a story that is authored by God, who, through Paul, "made known to us the mystery of his will" (1:9). In Chapter 3, Paul explains that "the mystery" was "made known to [him] by revelation" (3:3). So, God is the primary author of the story even though Paul wrote down the words of the letter. Everything that happens in this story is an expression of God as its main author (1:6, 9).
God is also the primary actor in the story. Thus it is, in a sense, God's autobiography. God is the one who, in Ephesians 1:3-14, blessed us, chose us, predestined us for adoption, freely gave us his grace, redeemed us, forgave us, made known his will to us, sealed us with the Holy Spirit, and gave us our purpose for living. As the chief author and chief actor of this story, God gets all the credit, all the "glory" for it (1:12-14).
You and I live in a day of many competing stories. There are political stories and personal stories, regional stories and global stories. There are stories that seek to be faithful to the truth and stories that blatantly dispense with the truth. The stories we hear have the power to shape us or to shame us. If we're going to live integrated and meaningful lives, we need to be guided by stories full of truth and grace. Most of all, we need to comprehend the biggest and most influential story of all, the story of God. God's story, when it becomes our primary story, has the power to transform our lives and to summon us into God's transformation of the world.
Something to Think About:
When you hear the phrase "the story of God," what comes to mind?
In what sense is God the author of Scripture? In what sense is Scripture authored by human beings? How can both of these "authorings" be true?
What story or stories give shape and meaning to your life?
Something to Do:
Take some time to see if you can write down the "story" of your life. What are the big events in your story? Who are the major characters, in addition to you? Then, if you feel comfortable doing so, share your story with someone else.
Prayer:
Gracious God, thank you for revealing your story to us through the letter we know as Ephesians. Thank you for inspiring Paul to tell this story so that it is both profoundly true and truly profound.
Help us, we pray, to know your story. May we hear your story in Ephesians with open hearts. May we grasp new truths about who you are and who we are as your people. May we sense in a new way what you are doing in this world and how we can be part of your work.
Transform us, Lord, through your story, so that we might become agents of transformation. To you be all the glory! Amen.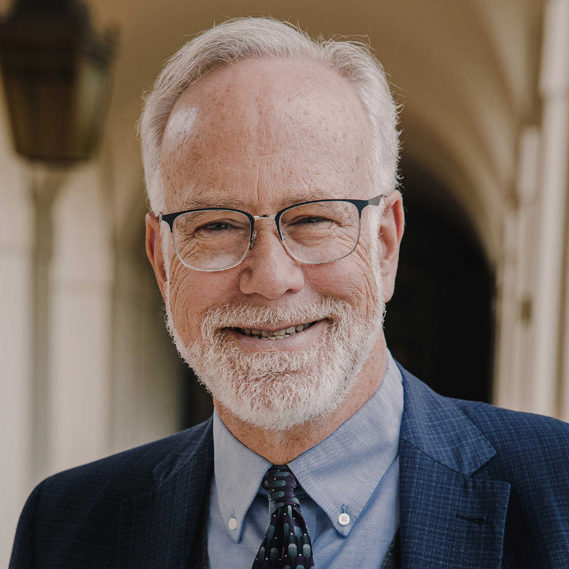 Dr. Mark D. Roberts is a Senior Strategist for Fuller's Max De Pree Center for Leadership, where he focuses on the spiritual development and thriving of leaders. He is the principal writer of the daily devotional, Life for Leaders, and the founder of the De Pree Center's Flourishing in the Third Third of Life Initiative. Previously, Mark was the Executive Director of the De Pree Center, the lead pastor of a church in Southern California, and the Senior Director of Laity Lodge in Texas. He has written eight books, dozens of articles, and over 2,500 devotions that help people discover the difference God makes in their daily life and leadership. With a Ph.D. in New Testament from Harvard, Mark teaches at Fuller Seminary, most recently in his D.Min. cohort on "Faith, Work, Economics, and Vocation." Mark is married to Linda, a marriage and family counselor, spiritual director, and executive coach. Their two grown children are educators on the high school and college level.