In our prayers for you we always thank God, the Father of our Lord Jesus Christ, for we have heard of your faith in Christ Jesus and of the love that you have for all the saints.
Focus
Feeling truly grateful is a wonderful thing. But gratitude is more than a feeling. According to Scripture, it is a disposition, a way of thinking, feeling, and living. Moreover, gratitude is choosing to thank the Lord for all of his good gifts, no matter how we're feeling at any given moment. Feelings of gratitude often follow from expressions of gratitude.
This devotion is part of the series: Thanksgiving Preseason.
Devotion
When I was a sophomore in college the band Boston released its hit single "More Than a Feeling." I can still hear that catchy tune ringing in my memory. Because the song was about how music can bring back strong memories, you might almost say that my remembrance of "More Than a Feeling" might, indeed, be more than a feeling. (You can watch the official Boston video of the song here.)
Gratitude is also more than a feeling. Of course, when we refer to gratitude we often speak of "feeling thankful." We may even think of gratitude mainly as a positive emotion. In this view, I am grateful when I feel particularly glad or joyful about something I've received as a gift or a favor. But, in reality, gratitude is more than just this kind of feeling.
Robert Emmons and Michael McCullough, scholars who have done extensive research on gratitude, envision gratitude as a two-step process: 1) "recognizing that one has obtained a positive outcome" and 2) "recognizing that there is an external source for this positive outcome" (see "The Science of Gratitude" by Summer Allen). This recognition may well inspire positive feelings. But the feelings aren't the sum total of gratitude. Rather, according to Emmons and McCullough, gratitude is more a matter of recognition than of emotion; it has to do with what we perceive and think as well as what we feel.
The biblical notion of gratitude falls in line with this "recognition" perspective. Though we might certainly feel thankful when we recognize how God's grace is at work in our lives, the main point is that we pay attention to what God has done and express our thanks to God. As Paul says in Colossians 1:3, "In our prayers for you we always thank God." No matter what Paul happens to be feeling, he chooses to acknowledge God's goodness through his prayers. Giving thanks is an action based on Paul's recognition of God's good gifts.
Robert Emmons, in "How Gratitude Can Help You Through Hard Times," encourages us to see being grateful as a choice: "[I]t is vital to make a distinction between feeling grateful and being grateful. We don't have total control over our emotions. We cannot easily will ourselves to feel grateful, less depressed, or happy. Feelings follow from the way we look at the world, thoughts we have about the way things are, the way things should be, and the distance between these two points. But being grateful is a choice, a prevailing attitude that endures and is relatively immune to the gains and losses that flow in and out of our lives."
In my experience, often feelings of gratitude actually follow from my choice to be grateful. For example, a few months ago I had to get a serious medical test. It turned out fine, by the way, but I didn't know that as I was getting ready for the test. I felt sad, afraid, and quite grumpy. As I was waiting for the test to begin, however, I chose to thank God for many things: for a talented and caring doctor, for amazing medical technology, for a caring nurse, for medical insurance, for the prayers of many, and so forth. When I began praying, I did not feel especially grateful. But as I thanked the Lord, I found my heart filling up with thanks. Most of all, I was thankful for God's presence and for the fact that God holds my life in his own strong, tender hands. If I had waited to pray until I felt grateful, I would have been waiting a long time.
Scripture teaches us to choose to be grateful, first of all, by acknowledging God's grace as we pray. We thank God in prayer no matter what we're feeling. We tell God what he has done, recognizing his grace at work in our lives and acknowledging our dependence on him. As we do this consistently, we develop a "prevailing attitude that endures," to quote Robert Emmons. Our regular expression of gratitude shapes our thinking, acting, feeling, and being. We become grateful people in the full sense of the word as we practice saying thanks to God in prayer.
I am in no way disparaging feelings of gratitude. They are wonderful when they come. But let's remember that biblical gratitude is more than a feeling. It is a disposition, a way of thinking, feeling, and living. Moreover, it's choosing to say thank you to the Lord for all of his good gifts, no matter how we're feeling at any given moment.
Reflect
How would you define gratitude? Do you think of gratitude more as a feeling, an attitude, or an activity?
What helps you to express your thanks to God in prayer?
Do you think of yourself as a grateful person? If so, why? If not, why not?
Act
Even if you're going through a difficult time right now, choose to thank God for the good things you are receiving from him. Write at least three good things in today's entry in your gratitude journal.
Pray
Gracious God, I certainly enjoy the feeling of gratitude. It gladdens my heart and enhances my living. But it is right for me to thank you no matter what I'm feeling at this moment. So I thank you for the gift of life, for people who love me and whom I can love, and for those who have made a real difference in my life. I thank you for good work, good rest, and good play. I thank you for your activity in the world, for gifts of beauty, peace, and justice. Most of all, I thank you for your love in Jesus Christ, for the gifts of salvation, community, and peace. Amen.
Find all Life for Leaders devotions here. Explore what the Bible has to say about work at the unique website of our partners, the Theology of Work Project. Reflection on today's Life for Leaders theme can be found here: Practicing Gratitude (Devotional).
---
Subscribe to Life for Leaders
Sign up to receive a Life for Leaders devotional each day in your inbox. It's free to subscribe and you can unsubscribe at any time.
---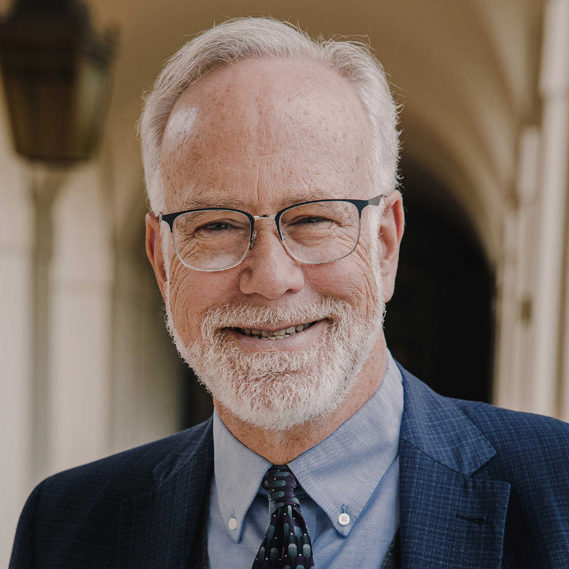 Dr. Mark D. Roberts is a Senior Strategist for Fuller's Max De Pree Center for Leadership, where he focuses on the spiritual development and thriving of leaders. He is the principal writer of the daily devotional, Life for Leaders, and the founder of the De Pree Center's Flourishing in the Third Third of Life Initiative. Previously, Mark was the Executive Director of the De Pree Center, the lead pastor of a church in Southern California, and the Senior Director of Laity Lodge in Texas. He has written eight books, dozens of articles, and over 2,500 devotions that help people discover the difference God makes in their daily life and leadership. With a Ph.D. in New Testament from Harvard, Mark teaches at Fuller Seminary, most recently in his D.Min. cohort on "Faith, Work, Economics, and Vocation." Mark is married to Linda, a marriage and family counselor, spiritual director, and executive coach. Their two grown children are educators on the high school and college level.