While they were there, the time came for her to deliver her child. And she gave birth to her firstborn son and wrapped him in bands of cloth, and laid him in a manger, because there was no place for them in the inn.
Focus
In one way, the birth of Jesus was surely not silent. Birthing mothers and newborn babies tend to make noise. So do animals in a stable. But, in another way, the birth of Jesus was quite "silent," in the sense that it happened with almost no fanfare or human attention. The only people who heard the news were culturally insignificant shepherds. The "silence" of Christmas increases our wonder as we celebrate the entry of God into the world.
Today's devotion is part of the series Following Jesus Today.
Devotion
"How silently, how silently, the wondrous gift is giv'n!"
The fourth verse of the beloved Christmas carol "O Little Town of Bethlehem" begins with the line I just quoted, "How silently, how silently, the wondrous gift is giv'n!" This carol shares with others a particular fascination for silence associated with the birth of Jesus. There's "Let All Mortal Flesh Keep Silence" and the "no crying he makes" line in "Away in a Manger." And, of course, there's the all-time favorite, "Silent Night."
Though I love these carols, I must confess that I have mixed feelings about the silence motif. In part, I think it misses the point dramatically. Yet, in part, I also think it gets the point profoundly. Allow me to explain what I mean.
If we think about the birth of Jesus realistically, it's hard to imagine everything was silent. Women giving birth often cry out in pain—quite understandably, I might add. Then, just when they finish the birthing process, they've brought into the world a little human being whose main talent is crying. So, the human dimensions of Jesus's birth were surely not silent. Plus, if this happened in a stable with animals present, it's likely that the cattle were lowing and some sheep added their bleating. And if there's any truth to the rumor that "heav'n and nature" sang when Jesus was born, then silence is ruled out, of course. Thus, with all due respect to the poetry of "O Little Town," I rather doubt that the wondrous gift was giv'n in literal silence. Actually, it was probably giv'n quite noisily. (When I would lead Christmas Eve worship at Irvine Presbyterian Church, with hundreds of children present, I would remind folks of this fact so they didn't fret about the inevitable noisiness of the younger folk. Those who hoped for silence were encouraged to come to our midnight communion service.)
Now you know my hesitations about the silence motif in "O Little Town" and so many other Christmas carols. But I'd like to explain why I'm drawn to and moved by the "silence" associated with the birth of Jesus.
Though his birth was not literally silent, it was certainly silent in an analogous way. Consider the contrast with Emperor Augustus and other powerful people. In the first-century Roman Empire, when Augustus acted or spoke, it was anything but silent. When "a decree went out from Emperor Augustus" (Luke 2:1), for example, it came with loud fanfare. It got plenty of attention. Local officials could also make plenty of "noise" through their words and deeds. Leaders like Herod the Great didn't sneak around quietly. They craved attention. That's the way it almost always is with prominent people. It was like that in the first century and it's like that today, of course with the megaphone of technology now amplifying the racket.
The birth of Jesus, however, was silent in the sense that it was way off the radar screen, out of the limelight, and unheard by everybody in the world who had power, influence, or status. Bethlehem was truly a "little town," a small outpost off the beaten track. If God had wanted the birth of the Son of God to be "loud," Jerusalem, Ephesus, or Alexandria would have been preferable, not to mention Rome. Moreover, if God had wanted his entrance into the world to be more booming, surely he could have sent angels to the halls of power, to kings, governors, and priests, rather than to culturally insignificant shepherds.
So, while there certainly was noise in the stable where Jesus was born, his birth was silent in terms of the wider world. God managed to slip into this world almost completely unnoticed and unheard.
This truth adds to the mystery and wonder of Christmas. I mean, the Incarnation itself is mind-blowing. God becoming human! Who can fathom it? The fact that God became human so invisibly, so humbly, and yes, so silently adds to our wonder.
The "silence" of God also reminds us that we can share in God's kingdom work without regard to our status, power, or "noisiness." You don't have to dominate social media to embody and extend the reign of God into the world. Remember, the God who chose to be born silently is the one who, thirty years later, called fishermen to be his main followers, spoke to crowds of commoners, hung out with sinners, invited women to join his retinue, and taught that the kingdom of God was like a tiny mustard seed. So, even today, you don't have to make a lot of racket to embody and extend the kingdom of God. Just be faithful in your own silent way. God will take care of the "heav'n and nature" singing part.
Reflect
What are your thoughts and feelings about the "silence" associated with the birth of Jesus?
Why do you think God chose to enter human life so "silently," that is, without fanfare or attention?
In what "silent" ways are you able to embody and extend God's kingdom in your part of the world?
Act
Today is Christmas Eve. Find a way to join a service of Christian worship. You might do this in person. Or you might join an online worship service. There will be plenty.
Pray
How silently, how silently,
the wondrous gift is giv'n!
So God imparts to human hearts
the blessings of his heav'n.
No ear may hear his coming,
but in this world of sin,
where meek souls will receive him, still
the dear Christ enters in.
O holy Child of Bethlehem,
descend to us, we pray,
cast out our sin and enter in,
be born in us today.
We hear the Christmas angels
the great glad tidings tell;
O come to us, abide with us,
our Lord Immanuel! Amen.
Verses 3 & 4 of "O Little Town of Bethlehem" by Phillips Brooks, 1868. Public domain.
Find all Life for Leaders devotions here. Explore what the Bible has to say about work at the unique website of our partners, the High Calling archive, hosted by the Theology of Work Project. Reflection on today's Life for Leaders theme can be found here: Christmas Eve: O Little Town of Bethlehem

---
Subscribe to Life for Leaders
Sign up to receive a Life for Leaders devotional each day in your inbox. It's free to subscribe and you can unsubscribe at any time.
---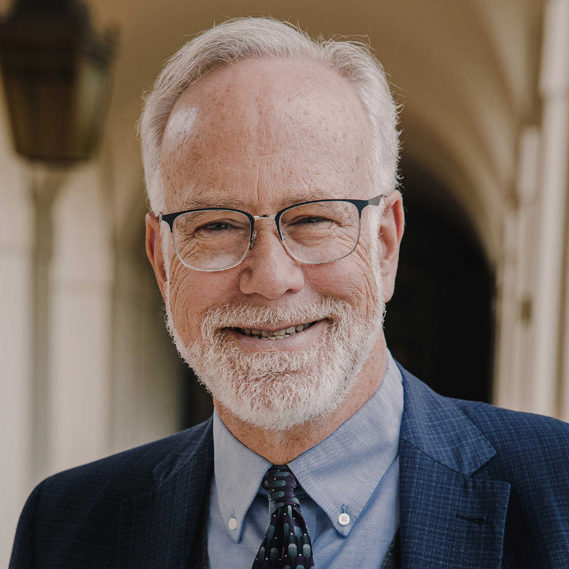 Dr. Mark D. Roberts is a Senior Strategist for Fuller's Max De Pree Center for Leadership, where he focuses on the spiritual development and thriving of leaders. He is the principal writer of the daily devotional, Life for Leaders, and the founder of the De Pree Center's Flourishing in the Third Third of Life Initiative. Previously, Mark was the Executive Director of the De Pree Center, the lead pastor of a church in Southern California, and the Senior Director of Laity Lodge in Texas. He has written eight books, dozens of articles, and over 2,500 devotions that help people discover the difference God makes in their daily life and leadership. With a Ph.D. in New Testament from Harvard, Mark teaches at Fuller Seminary, most recently in his D.Min. cohort on "Faith, Work, Economics, and Vocation." Mark is married to Linda, a marriage and family counselor, spiritual director, and executive coach. Their two grown children are educators on the high school and college level.