Pray also for me, that whenever I speak, words may be given me so that I will fearlessly make known the mystery of the gospel, for which I am an ambassador in chains. Pray that I may declare it fearlessly, as I should.
After urging the recipients of Ephesians to pray "for all the Lord's people," Paul asks that they pray for him. In the NIV, he asks specifically and twice that he proclaim the gospel "fearlessly." I must confess that I find this translation inadequate. The original Greek uses the word parresia and the related verb parresiazo. Parresia means "boldness, frankness, outspokenness." If you were to translate this passage literally, you'd get something like: "Pray also for me, that when I open my mouth, a word would be given to me, that I might make known the mystery of the gospel with boldness, for which gospel I am an ambassador in chains, in order that I might be bold in proclaiming it, as it is necessary for me to speak." Yes, we need to be fearless. But, more to the point, we need to be bold.
Paul's request for prayer related to boldness may come as a bit of a surprise. After all, Paul was one of the leading evangelists in the first century. He preached across the width of the Roman Empire, often in the face of opposition and persecution. When you think of Paul the preacher, you naturally and rightly envision his boldness.
Yet he asks for prayer for this very thing. This suggests that Paul did not take for granted his ability to be bold. Perhaps at times he felt timid. Perhaps he was (wisely) worried that bold preaching would get him in a mess of trouble, as it often did. Perhaps Paul got tired of criticism and rejection, especially from his own Jewish people. We don't know any of this for sure. But what we do know is that Paul prayed for what he needed, not taking for granted God's provision in the past. Paul knew how much he relied on God—even for boldness, that which he had previously been given in abundance.
Paul's example encourages us to pray for what we really need, even if it's something we've received many times before. For example, in the last dozen years I've written over 2,400 devotions (1,400 for Laity Lodge and 1,000 and counting for the De Pree Center). This is something with which I'm quite familiar. Yet I do not presume to be able to write what God wants in my own strength. I have Scripture as my foundation, which gives me a great starting point. But I consistently ask God for insight into the text, for discernment concerning what I should write, and for the ability to address the deep needs of readers, most of whom I do not know personally. To be sure, I need boldness. But I also need wisdom from the Lord. If these devotions speak to you, it's because of God's grace given to me as I write. And this grace is a result, in part, of my prayers and those of others for what I really need.
So, let me encourage you to ask God for what you really need in life as a worker, a colleague, perhaps a boss or a subordinate. Ask God for what you need as a wife or a husband, a son or a daughter, a friend or a neighbor. Ask God for what he has given in the past. Ask God to guide you and direct you, to use you for his kingdom purposes in every segment of your life. Don't hold back. Scripture urges us to approach God with boldness (parresia), confident in his abundant mercy and grace (Hebrews 4:16).
Something to Think About:
What do you need from God on a regular basis?
What does God supply to you that you might be apt to take for granted?
What do you really need from God today?
Something to Do:
Following Paul's example, I'd ask you to pray for me today. Yes, I do need boldness in my writing. But what I seek most of all is insight and wisdom from the Lord. I want to rightly discern the meaning of God's Word and wisely share it with you. So, please pray for me today. And I'd be glad to receive your prayers in the future as well.
Prayer:
Gracious God, thank you for meeting all our needs. Thank you for seeing us and caring for us. Thank you for providing so richly and graciously.
I ask that you give what I really need today. Help me not to take your gifts for granted, but to ask you both humbly and boldly. May I see and be grateful for all of your good gifts to me. Amen.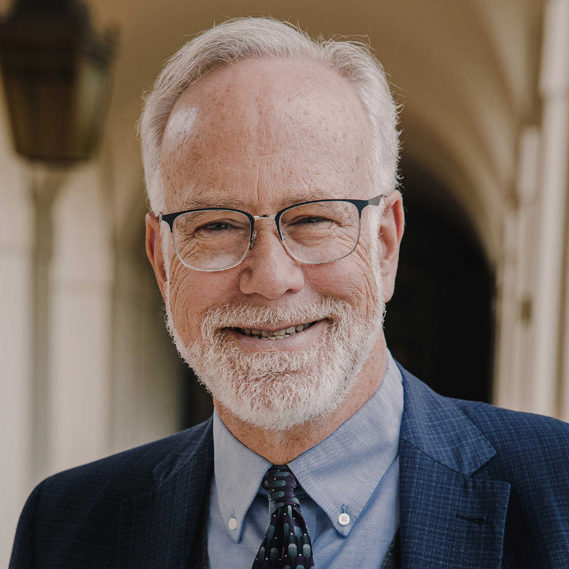 Dr. Mark D. Roberts is a Senior Strategist for Fuller's Max De Pree Center for Leadership, where he focuses on the spiritual development and thriving of leaders. He is the principal writer of the daily devotional, Life for Leaders, and the founder of the De Pree Center's Flourishing in the Third Third of Life Initiative. Previously, Mark was the Executive Director of the De Pree Center, the lead pastor of a church in Southern California, and the Senior Director of Laity Lodge in Texas. He has written eight books, dozens of articles, and over 2,500 devotions that help people discover the difference God makes in their daily life and leadership. With a Ph.D. in New Testament from Harvard, Mark teaches at Fuller Seminary, most recently in his D.Min. cohort on "Faith, Work, Economics, and Vocation." Mark is married to Linda, a marriage and family counselor, spiritual director, and executive coach. Their two grown children are educators on the high school and college level.