Husbands, love your wives, just as Christ loved the church and gave himself up for her.
Before we move on from the instructions on marriage in Ephesians 5, I want to reflect with you on a verse that we might take for granted—though it would have been completely surprising in its own context. I'm talking about the imperative in verse 25: "Husbands, love your wives."
Roman society was one of the most stratified and hierarchical societies in all of human history. Members of this society knew their place and stayed in that place if they knew what was good for them. This meant, among other thing, that they accepted submission to authority as a given. Virtually every person in the first-century Roman world submitted to higher authorities.
Within Greco-Roman families, the submission of all members to the male head of household was foundational to the social order. Fathers had supreme authority over their children—even after they were grown, in many cases. Husbands exercised similar authority over their wives, who were to obey their husbands in all things. In many writings of the Greco-Roman philosophers, husbands are expected and exhorted to wield this authority for the order and benefit of the family.
Thus, the first-century recipients of Ephesians surely anticipated what was to come next after Paul's instruction to wives to submit to their husbands. Husbands would, of course, be told to exercise authority over their wives. Right? Wrong! Oddly enough, Ephesians 5 does not contain this command. Husbands are not told to wield authority over their wives, but to love them. The Christians who first heard Ephesians read in their corporate gatherings would have been stunned. Where was the common command to husbands to rule their households? Where in the world did this utterly uncommon command to love come from?
The source of this unexpected command is none other than Jesus Christ. Ephesians says: "Husbands, love your wives, just as Christ loved the church and gave himself up for her" (Ephesians 5:25). Christ's love for the church is revealed, most clearly, in his sacrifice on the cross. This sets a very high bar for husbands, to say the least. A wife, at the same time, is to submit to a husband as he loves her and gives up himself for her. The husband who loves as Christ loves will never dominate or abuse his wife. Rather, he will honor, respect, and serve her, and she will submit by receiving his loving service.
In our day, we can take for granted the command to husbands to love their wives. It doesn't sound shocking to us. Yet, if we who are husbands really take to heart the fact that we are to love our wives "just as Christ loved the church and gave himself up for her," I'd suggest we will find this to be one of the most challenging of the biblical imperatives and, I might add, one of the most rewarding.
Something to Think About:
If you are a husband, do you love your wife just as Christ loved the church and gave himself up for her? (Hint: If your answer is a simple "yes," you might want to think again.)
When in your marriage have you loved your wife in a sacrificial way? How might your wife answer this question?
What helps you to give up yourself out of love for your wife?
If you are not a husband, remember that an earlier portion of Ephesians 5 called all of us to "walk in the way of love, just as Christ loved us and gave himself up for us" (Ephesians 5:2). In what ways are you loving your sisters and brothers in Christ sacrificially?
Something to Do:
If you are a husband, choose today to do something to love your wife even as Christ loved the church.
If you are not a husband, choose to love someone in your life in imitation of the self-giving love of Christ.
Prayer:
Lord Jesus Christ, Head and Savior of the church, thank you for loving us. Thank you for loving us by giving up yourself for us. Thank you for offering your life, for taking our place, for bearing our guilt, and for breaking the power of sin and death through your faithfulness. Thank you for cleansing us and nourishing us. Thank you for never letting go of us.
Today, Lord, I pray for husbands, that you might help them to love their wives as you loved (and still love) the church. We will never be able to match your love, of course. But husbands can imitate you, by your grace. May it be so today.
I also pray for myself and all who follow you, Jesus, that we might imitate your love this very day. Help me to walk in the way of love at work and at school, in church and in my community, in all I say and all I do. Amen.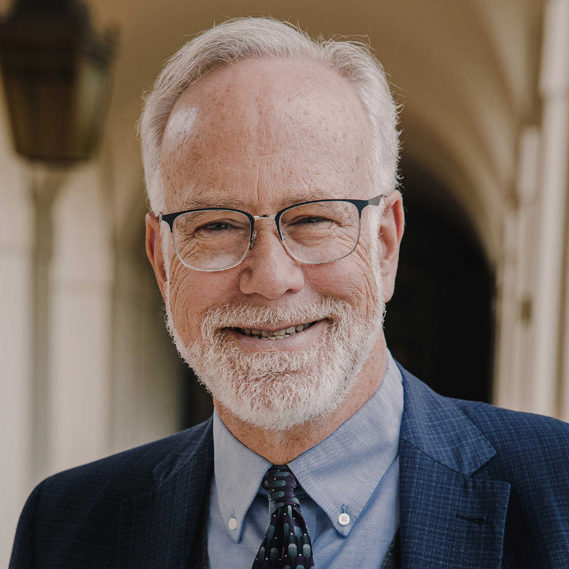 Dr. Mark D. Roberts is a Senior Strategist for Fuller's Max De Pree Center for Leadership, where he focuses on the spiritual development and thriving of leaders. He is the principal writer of the daily devotional, Life for Leaders, and the founder of the De Pree Center's Flourishing in the Third Third of Life Initiative. Previously, Mark was the Executive Director of the De Pree Center, the lead pastor of a church in Southern California, and the Senior Director of Laity Lodge in Texas. He has written eight books, dozens of articles, and over 2,500 devotions that help people discover the difference God makes in their daily life and leadership. With a Ph.D. in New Testament from Harvard, Mark teaches at Fuller Seminary, most recently in his D.Min. cohort on "Faith, Work, Economics, and Vocation." Mark is married to Linda, a marriage and family counselor, spiritual director, and executive coach. Their two grown children are educators on the high school and college level.