Trust in the LORD with all your heart, and do not rely on your own insight.
In all your ways acknowledge him, and he will make straight your paths."

As you probably know, on Sundays the Life for Leaders devotions are usually based on the Psalms. But, every now and then, I reserve the right to break my tradition and share with you something I am especially excited about. Today, my enthusiasm is focused on Proverbs 3:5-6.
Here's the backstory. Last week, I was up in Portland facilitating a workshop for pastors and other leaders, in partnership with The Washington Institute. We were working together on the question of how the church can encourage all of its people to see that they are all called into the ministry of Christ and to live out this calling in every part of life. In the course of that conversation on vocation and vocations, one of the members of the group shared her "life verse" from Proverbs: "Trust in the LORD will all your heart, and do not rely on your own insight. In all your ways acknowledge him, and he will make straight your paths (Prov 3:5-6).
As we considered that verse, something struck me that I had never seen before. It's so obvious that I'm rather embarrassed admitting that I just saw it. After all, I'm a pastor and Bible teacher; surely I must have seen this before. Well, not that I can remember.
So, what is this new insight? It's the first phrase of verse 6, "In all your ways acknowledge him." There! Isn't that amazing? Perhaps I need to explain a bit further.
What struck me was the command to acknowledge God "in all your ways," in every part of life, in everything you do. "Ways" and "paths" are Hebraic idioms that speak of our actions and behaviors. A prosaic version would read, "Acknowledge God in everything you do." What excites me about this is the assumption that God cares about all of life and everything we do. Should you acknowledge God in your prayers? Yes. In church? Yes? In your family matters? Yes. In your relationships with your friends? Yes? In dating? Yes? In working? Yes. In spending money? Yes. In spending time? Yes. In loving, voting, creating, resting, eating, drinking, and riding on the subway? Yes. Yes. Yes. Yes. Yes. Yes. Yes. Yes.
Sometimes we talk about the problem in our worldview that distinguishes between the sacred and the secular. Our culture and often even our churches teach us to think of life in terms of God's part (the sacred) and the other part, sometimes called real life (the secular). From this perspective, we should acknowledge God, not in all our ways, but only in the ways God cares about, the sacred ways. What we do in the rest of life really doesn't matter much to God.
But Proverbs 3:5-6 reminds us of something that is taught from the first chapter of Genesis to the last chapter of Revelation, namely, that God cares about all of life, that there is no fundamental distinction between the sacred and the secular.
So, do you want to be wise? Do you want your paths to run in the right direction? Then acknowledge God in all your ways. Seek God in all that you do and he will indeed guide you in the best ways and bless you abundantly.
QUESTIONS TO CONSIDER:
Are there "ways" in your life in which you are not inclined to acknowledge God? Why do you keep these "ways" from the Lord?
How might you begin to acknowledge God in and his sovereignty over all your ways?
PRAYER:
Gracious God, thank you for how your Word continues to teach us, how your Spirit shows us things in it that we have never seen before. Thank you for the assumption behind Proverbs 3:6, for the truth that you care about all of life, that all of our "ways" matter to you.
O Lord, help me to learn to acknowledge you in everything I do. Help me to seek your guidance for every part of life. Teach me to think not in terms of the sacred versus the secular, but rather in light of your creation and care for everything. May I learn to honor you in all my ways, every day.
To you be all the glory. Amen.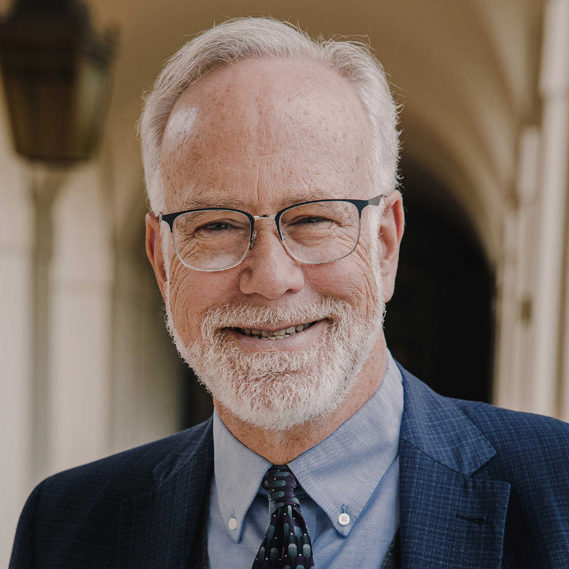 Dr. Mark D. Roberts is a Senior Strategist for Fuller's Max De Pree Center for Leadership, where he focuses on the spiritual development and thriving of leaders. He is the principal writer of the daily devotional, Life for Leaders, and the founder of the De Pree Center's Flourishing in the Third Third of Life Initiative. Previously, Mark was the Executive Director of the De Pree Center, the lead pastor of a church in Southern California, and the Senior Director of Laity Lodge in Texas. He has written eight books, dozens of articles, and over 2,500 devotions that help people discover the difference God makes in their daily life and leadership. With a Ph.D. in New Testament from Harvard, Mark teaches at Fuller Seminary, most recently in his D.Min. cohort on "Faith, Work, Economics, and Vocation." Mark is married to Linda, a marriage and family counselor, spiritual director, and executive coach. Their two grown children are educators on the high school and college level.