Meanwhile, standing near the cross of Jesus were his mother, and his mother's sister, Mary the wife of Clopas, and Mary Magdalene. When Jesus saw his mother and the disciple whom he loved standing beside her, he said to his mother, "Woman, here is your son." Then he said to the disciple, "Here is your mother." And from that hour the disciple took her into his own home.
Focus
As Jesus was crucified, he experienced profound aloneness. But he wasn't completely alone. Several of his followers – mainly a number of women – stayed with him and even drew near to him as he was saying. This reminds us that we need others with us when we suffer. It also encourages us to be with people in their pain. As it says in Romans, "Weep with those who weep."
Today's devotion is part of the Life for Leaders series: Can't Do It Alone.
Devotion
When I picture Jesus being crucified, I imagine him as profoundly alone. There is a sense in which this is true. I'll have more to say about that tomorrow. But, from a different perspective, Jesus was not completely alone as he suffered and died.
Of course, he had near him the soldiers who crucified him and the thieves who died alongside him. But, if anything, their presence accentuates the aloneness of Jesus. So does the absence of most of Jesus's closest disciples. The Gospel of Mark reports that when Jesus was arrested, "All of them deserted him and fled" (Mark 14:50). Luke suggests that some of them might have watched the crucifixion from a distance (Luke 23:49), but among the inner circle of the male disciples, no one drew near to Jesus other than "the disciple whom Jesus loved," who is traditionally assumed to be John, one of the sons of Zebedee (John 19:26).
It was different with the women who followed Jesus. All of the New Testament gospels report specifically that several women remained near Jesus as he was crucified (Matthew 27:55-56; Mark 15:40-41; Luke 23:49; John 19:25). A few of these women are named, including Mary Magdalene and Mary, Jesus's mother. Some of these women kept their distance, but Mary and Mary stood "near the cross of Jesus" and even conversed with him briefly (John 19:25-27).
As I reflect on the gospel accounts of the crucifixion of Jesus, I can certainly understand why his followers would have kept their distance. Crucifixion was one of the most horrible of all human inventions, bloody and sadistic beyond almost anything we might imagine. It would be natural to retreat from such a gruesome thing. Moreover, given that Jesus was being killed as a threat to Rome, the followers of Jesus would have taken on a significant risk if, by coming close to Jesus, the authorities were to associate them with him. They might end up with the same fate as Jesus.
But I'm also aware that people often don't know how to be with others in their suffering. When, for example, a person loses a spouse, friends draw near for a season—but after a few weeks they often feel helpless, awkward, and confused, so they keep their distance from the one who is grieving. They'll say things like, "I don't want to intrude" or "I don't know what to say." As a pastor, I've seen this sort of thing play out time and again. The people who stay away aren't intending to be unkind. But they just don't know what to do or say when they're near someone in unceasing pain.
I've witnessed distancing of this sort in my own family. When my dad died at the young age of 54, my mother was, of course, deeply sad. Her intense sadness continued for many months. Her mother, my grandmother, also felt the loss of my dad and felt empathy for my mom. But my grandmother seemed unable to be with my mom in her grief. She just didn't know what to say. So, consequently, she said nothing. She never once said to my mom, "Oh, you must miss Dave so much. I'm very sorry" even though she knew my mom missed my dad so much and was truly very sorry.
As you probably know, today's devotion is part of the series I've called "Can't Do It Alone." For the most part, "it" means something like "live the Christian life" or "be an effective disciple of Jesus" or "live fully and fruitfully" or "faithfully respond to God's callings in your life." Today, however, I'm reminded of the fact that we cannot grieve fully and fruitfully if we're alone. This means that when we're experiencing sorrow and suffering, we need to share it with our sisters and brothers in Christ. Moreover, it also means that we need to be with those who are going through painful times, even if we feel uncertain, hesitant, or unprepared. Paul's counsel in Romans 12:15 – "weep with those who weep" – underscores the importance of sharing in the pain of others, which often means being physically present with them (or, these days, present electronically).
Sometimes we won't have words to say and that's okay. When my dad was dying of cancer, his friend Bob came to visit him in the hospital. I was with them during that visit. After greeting my dad and holding his hand for several seconds, Bob tried to speak, but he couldn't get out the words. He was too choked up to see his friend suffering. So he sat with my dad in quiet, spending about a half hour there. I know that meant a lot to my dad. And it did to me too.
Several months later, at my dad's memorial service, there was an opportunity for people in the congregation to share. Bob got up to say something. But when he came to the microphone, once again he was too choked up to speak. He tried to get out a few words, but he just couldn't do it. So, after several seconds, he sat down. Now, 37 years later, I can't remember who spoke at my dad's service. But I do remember Bob. I remember how in his stumbling, hesitant, open-hearted way, he shared in our suffering. He was present, yes, without words, but with a heart full of love and kindness.
Reflect
Can you think of a time when you were hurting and someone was with you in your pain? What was this like for you?
Can you relate to the awkwardness that people sometimes feel when being with people who are suffering?
Do you need to share with others the pain you're feeling right now?
Is there anyone in your life with whom you can be present to share in their pain? How might you do this?
Act
Ask the Lord if there is someone you can reach out to in the next few days to be present with them in their suffering.
Pray
Gracious God, thank you for knowing our suffering and sorrow. Thank you for taking these on in an immediate, personal way through Jesus.
Help us, Lord, to share in the suffering of others, to weep with those who weep even as we rejoice with those who rejoice. Give us the courage to be with those who are hurting, to share in their pain, and to open our hearts to them.
Most of all, I thank you, Lord Jesus, that you are a man of sorrows and acquainted with grief. When we suffer, you know what it's like. You've been there in the past and you are with us in the present. Thank you. Help us to follow your example by being there for others in their time of pain. Amen.
Find all Life for Leaders devotions here. Explore what the Bible has to say about work at the High Calling archive, hosted by the unique website of our partners, the Theology of Work Project. Reflection on today's Life for Leaders theme can be found here: The Twelfth Station: Jesus on the Cross, His Mother, and His Disciple.
---
Subscribe to Life for Leaders
Sign up to receive a Life for Leaders devotional each day in your inbox. It's free to subscribe and you can unsubscribe at any time.
---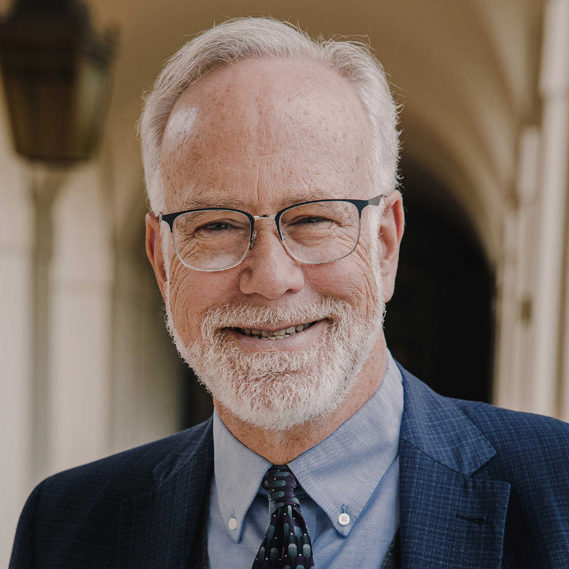 Dr. Mark D. Roberts is a Senior Strategist for Fuller's Max De Pree Center for Leadership, where he focuses on the spiritual development and thriving of leaders. He is the principal writer of the daily devotional, Life for Leaders, and the founder of the De Pree Center's Flourishing in the Third Third of Life Initiative. Previously, Mark was the Executive Director of the De Pree Center, the lead pastor of a church in Southern California, and the Senior Director of Laity Lodge in Texas. He has written eight books, dozens of articles, and over 2,500 devotions that help people discover the difference God makes in their daily life and leadership. With a Ph.D. in New Testament from Harvard, Mark teaches at Fuller Seminary, most recently in his D.Min. cohort on "Faith, Work, Economics, and Vocation." Mark is married to Linda, a marriage and family counselor, spiritual director, and executive coach. Their two grown children are educators on the high school and college level.