And let us consider how to provoke one another to love and good deeds, not neglecting to meet together, as is the habit of some, but encouraging one another, and all the more as you see the Day approaching."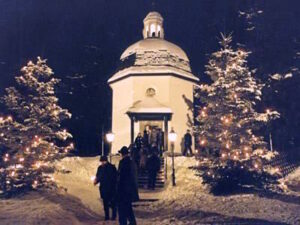 I've watched many film versions of Charles Dickens' A Christmas Carol. I've seen classics like the 1951 film starring Alastair Sim or the 1984 version with George C. Scott. I've also seen plenty of knockoffs, like Mr. Magoo's Christmas Carol (1962) Mickey's Christmas Carol (1983), Scrooged (1988, starring Bill Murray), and The Muppet Christmas Carol (with Michael Caine as Scrooge, 1992). In all of these film portrayals of Dickens' story, Scrooge (or Frank Cross in Scrooged) undergoes a magical transformation with the help of the ghosts of Christmas past, present, and future. In the final act of every film, Scrooge is beside himself with childlike joy. He demonstrates exceptional generosity and shows particular favor to Bob Cratchit and his family, especially Tiny Tim.
But, if my memory serves me correctly, there is one thing that Scrooge never does in any of these films. He does not go to church on Christmas. Yet, according to Dickens' story, Scrooge does in fact go to church as he walks the streets on Christmas morning. This event is quite wonderfully portrayed in the 1999 film version of A Christmas Carol, starring Patrick Stewart. Here, Scrooge not only goes to church, but also he joins in by enthusiastically singing the chorus of "God Rest Ye Merry, Gentlemen."
Now, there is nothing in A Christmas Carol to suggest that Ebenezer Scrooge became a frequent churchgoer after his transformation. We get the sense that Scrooge went to church on Christmas morning because that's what proper nineteenth-century Londoners did on the holiday. Yet, his example can serve to remind us that our response to the birth of Christ is something to be shared with other believers. We join together for worship. We gather to "provoke one another to love and good deeds, not neglecting to meet together, as is the habit of some" (Heb 10:24-25).
The Word of God became Incarnate in Jesus, not only to reveal God's glory to us, not only to teach us God's truth, not only to save us from our sins, but also to gather us together as the people of God. We will keep Christmas well, therefore, not simply by going to church on Christmas, like Ebenezer Scrooge, but also by investing our lives in the fellowship of Christ followers.
QUESTIONS TO CONSIDER:
Are you deeply engaged with a congregation of believers? If so, why? If not, why not?
Will you be celebrating Christmas this year by going to church? If so, what are your expectations for Christmas (or Christmas Eve) worship?
PRAYER:
Gracious God, you have called us to yourself through Jesus Christ. Yet, you have also called us into fellowship with each other. We are meant to respond to your grace, not individualistically, but as members of your body. Help us, Lord, to keep Christmas well—not only by going to special holiday services but also by living our lives in community with other believers. Amen.