When the LORD restored the fortunes of Zion, we were like those who dream. Then our mouth was filled with laughter, and our tongue with shouts of joy; . . .
Restore our fortunes, O LORD, like the watercourses in the Negeb. May those who sow in tears reap with shouts of joy."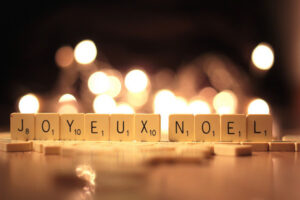 In the beginning of Charles Dickens' A Christmas Carol, Ebenezer Scrooge lives a joyless, miserly life. Yet, when he is transformed through otherworldly assistance, Scrooge becomes a new man, a joyful man, a laughing man. On Christmas morning following his transformation, as Scrooge looks around his room and remembers the events of the previous night, he exults, "It's all right, it's all true, it all happened. Ha ha ha!" About this display, the narrator comments: "Really, for a man who had been out of practice for so many years, it was a splendid laugh, a most illustrious laugh. The father of a long, long line of brilliant laughs!"
Ebenezer Scrooge kept Christmas well by laughing, and so can we. In fact, we have more cause for laughter than Scrooge because it is one of the most obvious and sensible responses to grace.
Consider Psalm 126, for example. This psalm begins with a remembrance of the time when the Lord "restored the fortunes of Zion" (v. 1). How did God's people respond? "Then our mouth was filled with laughter, and our tongue with shouts of joy" (v. 2). Laughter expresses the ebullient joy of those who have been saved.
Yet, we wonder, what if our lives are a mess? What if we're struggling and suffering? Can we laugh then? Psalm 126 speaks to these questions. The second half of the psalm reveals the tough life setting of the psalm writer. Israel is in need of restoration (v. 4). The people are "sowing in tears" and "weeping" (vv. 5-6). Yet, in their sadness, they live in anticipation of coming home "with shouts of joy" (v. 6). Laughter will come again, and for this God's people live in hope.
Advent is a season for laughter in the mode of Psalm 126. It is a time to take seriously the brokenness of our world and our need for a savior. It is a time for yearning, longing, hoping, even for mourning. Yet, in this season we prepare to celebrate with joy the coming of Christ. And we look forward to the time when he will come again, when sorrows will cease and joy will reign.
In our anticipation, we are blessed. As Jesus said, "Blessed are you who weep now, for you will laugh." With this confidence, and with the remembrance of God's grace in Christ, we can laugh even now, the beginning of a "long, long line of brilliant laughs."
QUESTIONS TO CONSIDER:
Can you remember a time when you laughed very hard?
Have you ever laughed in response to God's grace?
How can our laughter prepare our hearts for the greater rejoicing yet to come?
PRAYER:
Gracious God, thank you for the gift of laughter, for the blessing of joy. Thank you for times when, like the psalmist, our mouths have been filled with laughter because of your grace. Thank you for the promise of more laughter yet to come.
Lord, in this season of Advent, our laughter is not complete. We feel the pain of our world and the brokenness of our own lives. We feel sorrow along with hope. We remember how much we need a savior. We look forward to the unrestrained joy that is yet to come.
Help us, we pray, to be people of laughter and joy, even as we are people of longing and sorrow. Help us to delight in your salvation, even as we hope for the fullness of your kingdom yet to come.
Maranatha! Our Lord, come! Hallelujah! Amen.