So then you are no longer strangers and aliens, but you are citizens with the saints and also members of the household of God."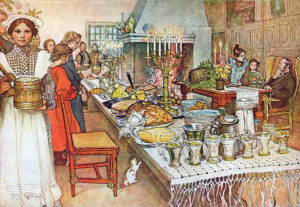 In yesterday's devotion, we saw that Ebenezer Scrooge's transformation led him to a new appreciation for and engagement with his family. Keeping Christmas well, I suggested, includes sharing life with our families, not just at Christmastime, but throughout the year.
Yet, I recognized that some of us are not able to be with our own families, even during the holidays. In times like these, we can find comfort and joy as "members of the household of God" (Eph 2:19).
I want to share with you three different snapshots of the family of God at Christmas. All of these come from my own experience. I expect that you could add your own stories to these. Perhaps my stories will even inspire you to become more deeply engaged with your Christian family—not just at Christmastime but also throughout the year.
The first snapshot comes from around 1972. My dad had been out of work for a more than a year. My parents had used up most of their savings and had little left for Christmas presents for me and my three siblings. We knew that this Christmas would be different from what we had experienced in the past and we felt sad about this. However, a couple of days before Christmas, some of my parents' friends from church showed up at our house with stacks of Christmas gifts. Many had my name on them, which was surprise #1. Surprise #2 came on Christmas morning, when I unwrapped these gifts and found things that I really wanted. Perhaps more importantly, for the first time in my life, I experienced the exceptional love of the family of God. (Fun fact: a couple of weeks ago in church, I sat very near to those who had been so generous to my family 44 years ago! I remember their kindness with gratitude.)
The second snapshot comes from around 2000. I was pastor of Irvine Presbyterian Church at that time. As Christmas approached, several church members became concerned about those in our congregation who didn't have family with whom to gather on Christmas Day. So, these members arranged it so that families in the church opened their homes to those who would otherwise be alone on Christmas. Families and the family of God were all mixed up in joyful community that year and in the years that followed as well.
The final snapshot also comes from my time at Irvine Pres. For years, many church members put on a festive Christmas party for children in an orphanage in Mexico. The congregation contributed gifts that included both fun toys and necessities like clothing and school items. Those of us who were unable to go to the party prayed specifically for one child to whom we gave a gift. I knew folks at church for whom the Christmas party in Tijuana was the highlight of their own holiday celebrations.
Keeping Christmas well can surely involve getting together with our relatives to enjoy seasonal delights. But it also is a time to join with our sisters and brothers in Christ, to celebrate the fact that the birth of Christ was part of God's plan to form us into a family. Our family life in Christ isn't limited to the holidays, however. It's something to be lived each and every day throughout the year.
QUESTIONS TO CONSIDER:
Have you experienced something like the snapshots I described above?
How can we, as the family of God, be more of a family together—not just at Christmastime but throughout the year?
PRAYER:
Heavenly Father, thank you for making us members of your household, your family. Thank you for our brothers and sisters in Christ, for the privilege of sharing life with them. Help us, Lord, to live truly as your family, to open our lives, our homes, and our hearts to each other throughout the year. Amen.