See to it that no one takes you captive through philosophy and empty deceit, according to human tradition, according to the elemental spirits of the universe, and not according to Christ. . . . And when you were dead in trespasses and the uncircumcision of your flesh, God made you alive together with him, when he forgave us all our trespasses, erasing the record that stood against us with its legal demands. He set this aside, nailing it to the cross. He disarmed the rulers and authorities and made a public example of them, triumphing over them in it.
Focus
Paul was very aware that he was competing in a marketplace of ideas in the first-century Greco-Roman world. His problem with secular philosophy wasn't that it was philosophy; it was that it was secular. It was thinking that did not take God into account.
Devotion
Have you ever had this passage quoted to you as a warning? I don't know if it still makes the rounds on college and university campuses, but when I was in college—a church-related college, but not a "Christian college" in the way we usually think of the term—it cropped up more than once in the evening Christian discipleship group I attended. As we went through our daily round of classes and academic assignments, we were always supposed to be watching out to see if someone took us captive through philosophy, deceit, and human tradition. Learning, at least from the perspective of some members of the discipleship group, was the enemy of faith.
I look back now at my 19-year-old self and realize that I was unnecessarily suspicious. Although it's been going through some tough times lately, post-secondary learning itself—especially the liberal-arts degree I was pursuing in a broadly religious setting—began as a Christian project. (You can read more about that here, in a magazine issue I edited with one of my other hats on.) Medieval church leaders and theologians thought it would be a good idea to bring young people together with educated and wise mentors and have them ask the great questions of life. They believed that theology was the "queen of the sciences" and that all true contemplation of the meaning of life would lead us back to the God who was the source of all life.
In all honesty, I don't think they were that far off from what Paul had in mind here. As Mark Roberts has been explaining in his recent devotional series on 1 Thessalonians, Paul was very aware that he was competing in a marketplace of ideas in the first-century Greco-Roman world. His problem with secular philosophy wasn't that it was philosophy; it was that it was secular. It was thinking that did not take God into account.
As we discover a little bit further on in the chapter (Colossians 2:16-23), the false teachers that Paul is worried about are telling the Colossians that they can accomplish what they need to accomplish in their spiritual journey on their own—as long as they follow the "regulations" and rituals, the empty philosophies and secret knowledge, that the false teachers are peddling. Paul knows, and proclaims, that the only thing that accomplishes our salvation is Christ nailed to the cross, triumphing over every physical and spiritual ruler and every authority. If we start there, and if we seek truth, we have nothing to fear.
It is possible to pursue learning as an indoctrination into secret knowledge that makes us better than other people. If we do that, it will take us captive through empty deceit. It is also possible to pursue learning, philosophy, science, and the great questions of life in order to understand more about God and the amazing world he made. Start there, and seek truth, and you will have nothing to fear.
Reflect
What questions have I been asking?
What answers am I afraid of?
Act
I grew up in the Methodist tradition and often heard words by Charles Wesley quoted:
"United the two so long disjoined,
Knowledge and vital piety;
Learning and holiness combined
And truth and love; let all men see. . ."
These verses are from a longer hymn written for the opening of a school. The hymn talks about the things parents want for their children in their education and spiritual journeys, and as such is perfect for concluding our reflections today. Feel free to ponder all of the words; I couldn't find anyone singing it, but it's often set to ST. CATHERINE, a tune you may be more familiar with as "Faith of Our Fathers," and here's a beautiful organ setting of that tune for contemplation.
Pray
Lord, nail everything to the cross but you. Amen.
Find all Life for Leaders devotions here. Explore what the Bible has to say about work at the unique website of our partners, the Theology of Work Project. Commentary on today's Life for Leaders theme can be found here: "I'm Doing Alright by Myself" (Colossians 2:1–23)

---
Subscribe to Life for Leaders
Sign up to receive a Life for Leaders devotional each day in your inbox. It's free to subscribe and you can unsubscribe at any time.
---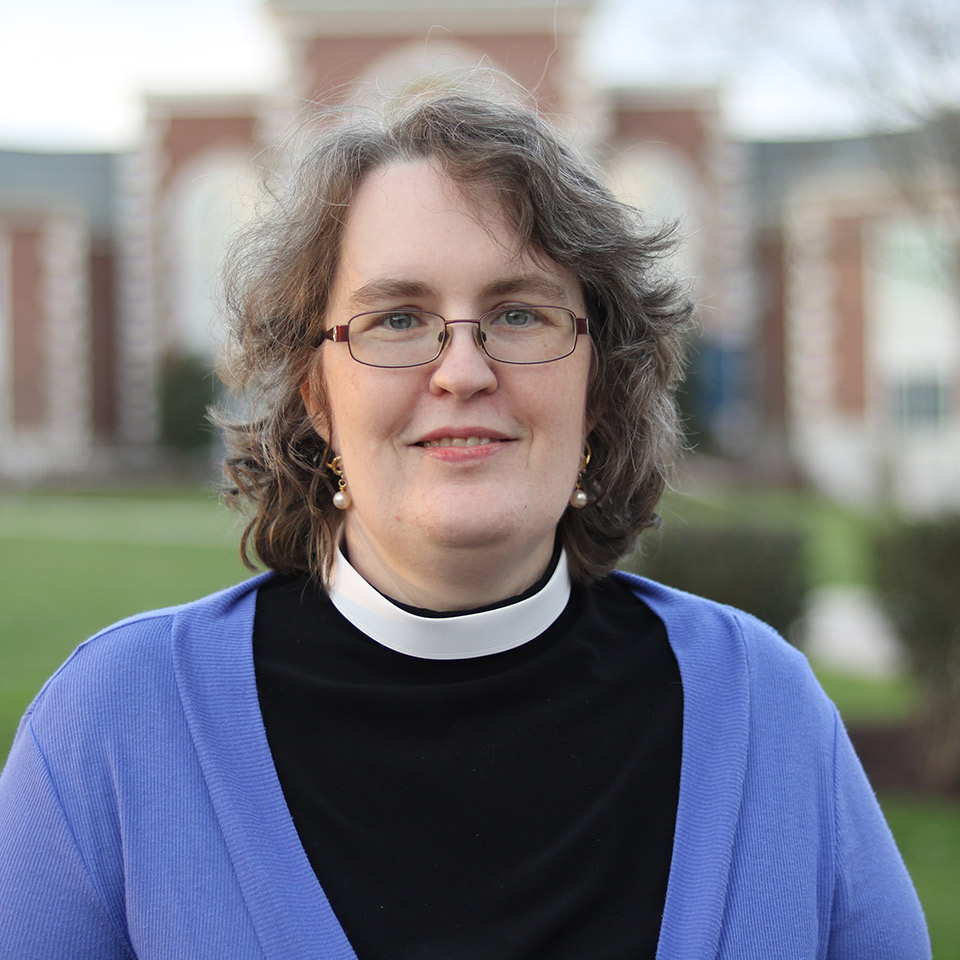 Jennifer Woodruff Tait (PhD, Duke University) is the editor of and frequent contributor to Life for Leaders. She is also the managing editor of Christian History magazine and web editor for the Theology of Work Project, and a priest in the Episcopal Church. She has written a book of poetry, Histories of Us. Jennifer lives in Berea, Kentucky, with her husband, Edwin, and their two daughters.
Click here to view Jennifer's profile.