The Spirit gives life; the flesh counts for nothing. The words I have spoken to you—they are full of the Spirit and life.
Dear Life for Leaders Subscribers:
As we begin a new year, it seems like a good time for me to share with you a few things about Life for Leaders, including why we produce these devotions and how you can help us in our work.
I expect you already know that Life for Leaders is a daily email devotional that helps Christians make connections between their work, leadership, and God. Based on the biblical text, each devotion includes brief exposition of Scripture, questions for reflection, and a model prayer that guides and, we hope, inspires your own prayers. I am the usual weekday writer. On the weekends we have a team of gifted people who write from their unique perspectives. I am thankful for those who work with me in this endeavor, including our writers and our staff who take care of the details of editing, putting up devotions on our website, mailing them out, and so forth.
I am also very thankful for you, for those who receive Life for Leaders. Each day we email a devotion to over 7,500 people. Of course I don't know what happens with most of these. But I do hear from many of you over the course of the year. You let me know when a particular devotion has touched your heart, or when you have shared it with your colleagues, or used it in your classes, or emailed it to one of your children. Thanks for your encouragement. It keeps us going, day after day, week after week, year after year.
Why do we produce Life for Leaders? If you've been a subscriber for a while, you already know. We do this to help you discover God's presence in and care for your daily work. We do this so that you might be a disciple of Jesus in every part of life. Underlying this "why" is our conviction that the words of Jesus, and the words of God throughout Scripture, are "full of the Spirit and life" (John 6:63). They're not just for private life, family life, and church life, but for every facet of life, including our daily work. We want you to experience the abundant life offered by Jesus in every moment of every day.
How can you help us in our work? Well, since our desire is to make a difference in your faith and practice, you help us by reading Life for Leaders. That's the main way we need your help! You also help us with your feedback, your affirmations, concerns, questions, and suggestions. These matter to me and the other writers. Some of you help us through your financial contributions to Fuller's Max De Pree Center for Leadership. Your generosity allows us to offer Life for Leaders without charge.
There is one more way you can help us. Some of you are already doing this. Simply put, you can help us grow the number of subscribers to Life for Leaders. You can tell your friends about us, forward particularly meaningful emails, read Life for Leaders prayers in small groups, etc. Increasingly, leaders in churches and other organizations are adopting Life for Leaders as the "official" devotion for their people. Just a couple of weeks ago I heard from a pastor who got 75 of his congregants to sign up.
As I ask for your help, let me be clear. There is no pressure here. If you can help, great. If you already have more on your plate than you can handle, I understand, believe me. I'm glad to be able to serve you through Life for Leaders and to offer this daily devotion as a gift from the De Pree Center.
Tomorrow we'll get back to the typical Friday devotion. You may have noticed, by the way, that Fridays are somewhat special. Rather than the usual format, my Friday devotions are prayers for workers. Each of these prayers is based on a psalm. I hoping to help you and our other subscribers talk with God throughout your work day—in good times and hard times, when thinking strategically or conversing with a client, when you're happy in your job or wondering if it's time for a change.
May God bless you richly in this New Year in every part of life . . . including your daily work.
Grace and Peace,
Mark
Something to Think About:
How has God made a difference in your life through Life for Leaders?
Something to Do:
Tell others about Life for Leaders.
Prayer:
Gracious God, indeed, your words are "full of the Spirit and life." As we read Scripture, as we reflect, and as we pray, your life flows in and through us. Thank you!
In this year, Lord, may I be consistently attentive to your words. May your words remain in my heart and mind throughout the day. May my work reflect your truth, grace, and love. Amen.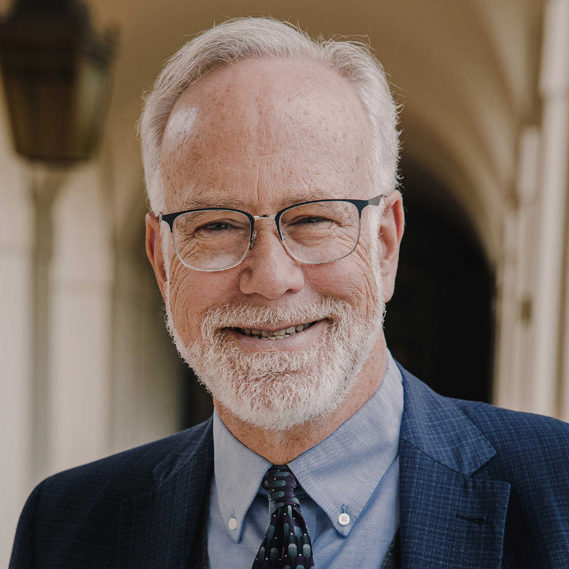 Dr. Mark D. Roberts is a Senior Strategist for Fuller's Max De Pree Center for Leadership, where he focuses on the spiritual development and thriving of leaders. He is the principal writer of the daily devotional, Life for Leaders, and the founder of the De Pree Center's Flourishing in the Third Third of Life Initiative. Previously, Mark was the Executive Director of the De Pree Center, the lead pastor of a church in Southern California, and the Senior Director of Laity Lodge in Texas. He has written eight books, dozens of articles, and over 2,500 devotions that help people discover the difference God makes in their daily life and leadership. With a Ph.D. in New Testament from Harvard, Mark teaches at Fuller Seminary, most recently in his D.Min. cohort on "Faith, Work, Economics, and Vocation." Mark is married to Linda, a marriage and family counselor, spiritual director, and executive coach. Their two grown children are educators on the high school and college level.