The "Making it Work" Podcast
Featuring Sam Thevanayagam
Hosted by Leah Archibald and Mark Roberts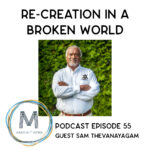 Sam Thevanayagam is the president and CEO of three companies—Parts Life, Inc., DeVal Lifecycle Support, and LC Engineers—focused on aerospace and defense systems used with domestic and international platforms. Sam is a TEDx speaker and the author of The First 10 Runs in Singles: Life Lessons from the Game of Cricket. Sam is devoted to empowering, mentoring, and developing people within his sphere of influence, and is deeply involved in his community and church. He's here today to talk about God's work of re-creation and "making all things new" through our everyday work.
Podcast Episode originally hosted HERE by the Theology of Work.
Banner image by Photo by Greg Rakozy on Unsplash.
---
Subscribe to Our "Making It Work" Podcast
Apple Podcast | Spotify | Stitcher | RadioPublic | Google Music | RSS
---