The "Making it Work" Podcast
Featuring Grant Hoffecker
Hosted by Leah Archibald and Mark Roberts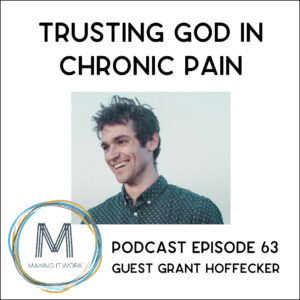 Studies suggest that up to 40% of American workers experience chronic pain – pain that persists for more than 3 months – sometimes unbeknownst to managers and co-workers. For workers, chronic pain can be debilitating and discouraging. If you're a follower of Jesus suffering from chronic pain, you may find yourself asking, where is God when I'm in pain? Guest Grant Hoffecker has lived and worked with chronic pain for the past 3 years, seeking God in the midst of pain.
Podcast episode originally hosted HERE by the Theology of Work.
Banner image by Anthony Tran on Unsplash.
---
Subscribe to Our "Making It Work" Podcast
Apple Podcast | Spotify | Stitcher | RadioPublic | Google Music | RSS
---