Then the LORD said, "I have observed the misery of my people who are in Egypt; I have heard their cry on account of their taskmasters. Indeed, I know their sufferings, and I have come down to deliver them from the Egyptians, and to bring them up out of that land to a good and broad land, a land flowing with milk and honey, to the country of the Canaanites, the Hittites, the Amorites, the Perizzites, the Hivites, and the Jebusites. The cry of the Israelites has now come to me; I have also seen how the Egyptians oppress them. So come, I will send you to Pharaoh to bring my people, the Israelites, out of Egypt." But Moses said to God, "Who am I that I should go to Pharaoh, and bring the Israelites out of Egypt?" He said, "I will be with you; and this shall be the sign for you that it is I who sent you: when you have brought the people out of Egypt, you shall worship God on this mountain."
Focus
When God told Moses to go to Egypt to set God's people free, Moses asked, "Who am I?" God's answer pointed, not to Moses's talents or background, but rather to God's own presence. "I will be with you," God said. What God once said to Moses God also says to us. When we wonder if we can make it, when we feel exhausted or overwhelmed, when we worry that our resources are too few, God says, "I am with you." What could be better than having the God of the Universe with us?
Today's devotion is part of the Life for Leaders series: Can't Do It Alone.
Devotion
Sometimes we are alone when God meets us and radically changes the course of our lives. That was certainly true of Moses. After growing up in the community of the king of Egypt, Moses ran away by himself into the wilderness in order to avoid the consequences of his having acted unwisely in anger. Though he attached himself to a family in a "foreign land" (Exod 2:22), Moses's work took him further out into the wilderness. There, while he was alone one day (except, I suppose, for some sheep), God spoke to Moses from a burning bush (3:1-4). God told Moses to go to Pharoah and bring God's own people out of Egypt.
Understandably, Moses was dubious about this assignment. "Who am I," he said, "that I should go to Pharaoh, and bring the Israelites out of Egypt?" (3:11). Moses was no longer a person of influence in the Egyptian court, but rather a fugitive from Egyptian justice. He wasn't a leader of people, only of sheep. He could not imagine himself as someone who could lead God's people out of slavery in Egypt. What in the world was God thinking?
God, of course, saw Moses quite differently from how he saw himself. But God's response to Moses's question, "Who am I?" wasn't to tell Moses about all of his excellent leadership potential. God didn't explain that Moses's history in the Egyptian court would be an asset for him or anything else like this. Rather, God responded to the "Who am I?" question by making a statement about God and God's relationship to Moses: "I will be with you; and this shall be the sign for you that it is I who sent you: when you have brought the people out of Egypt, you shall worship God on this mountain" (3:12). Moses asked, "Who am I?" God answered, in effect, "You are someone I will be with. That's who you are, Moses."
Though in future devotions we'll see that Moses didn't do what God told him to do by himself, before we get to Moses's relationships with other partners we must underscore his most important relationship with his most important partner, namely God. Of course, God and Moses were not equal partners. God was the senior partner you might say, by a long shot. But at the burning bush, God emphasizes not so much divine authority as divine presence. "Who am I?" asks Moses. But that's not the most important question. Rather, God's answer "I will be with you" points to the most important question. "Who will be with me so that I am not alone?" God's answer, "I will be with you" makes all the difference in the world.
This devotional series, Can't Do It Alone, emphasizes the crucial role of relationships with other people if we are going to flourish in our lives. We can't live well, work well, play well, grow well, serve well, worship well, or even rest well by ourselves. But having people with us, as essential as this is, does not count more than having God with us. In fact, having people with us is one way God is with us.
Here's some wonderfully good news: What God once said to Moses, God says now to you: "I am with you." How is God with you? In so many ways. God is with you through Jesus, who is fully God and fully human. God is with you through the written Word of God. God is with you through the indwelling presence and power of the Holy Spirit. God is with you through the community of God's people as you worship, serve, and grow together. Yes, even our human relationships can be ways in which we experience the good news that God is with us. And this good news can embolden us to serve God in all of life with courage and vigor.
Moses needed even more reassurance than the fact that God was with him, however. We'll look at this more closely tomorrow. For now, let me encourage you to reflect upon the following questions.
Reflect
When in your life have you felt God's presence most profoundly?
What difference did this experience make in your life?
These days, when are you most aware of God's presence with you? How does this impact the way you think, feel, and act?
Act
Ask the Lord to help you be aware of his presence in your life. Be hopeful to how the Lord might respond.
Pray
Gracious God, sometimes I wish I could hear your voice speaking audibly to me. I'd love to be like Moses, hearing "I am with you" ringing in my ears. Yet, even without hearing an audible voice, I am reminded today of the truth that you are with me. You are with me in my waking and sleeping, in my work and rest. You are with me when I'm at home or out in the community. You are with me when I'm rejoicing and when I'm sorrowing. Thank you, dear Lord, for being Emmanuel, God with us, God with me.
Help me, Lord, to be aware of your presence. Teach me to hear the still, small voice of your Spirit. May I learn to be available to you, always and in any way. Do your work in me and through me, for your purposes and glory. Amen.
Banner image by Andy Watkins on Unsplash.
Find all Life for Leaders devotions here. Explore what the Bible has to say about work at the unique website of our partners, the Theology of Work Project's online commentary. Reflection on today's Life for Leaders theme can be found here: God's Call to Moses (Exodus 2:11-3:22).
---
Subscribe to Life for Leaders
Sign up to receive a Life for Leaders devotional each day in your inbox. It's free to subscribe and you can unsubscribe at any time.
---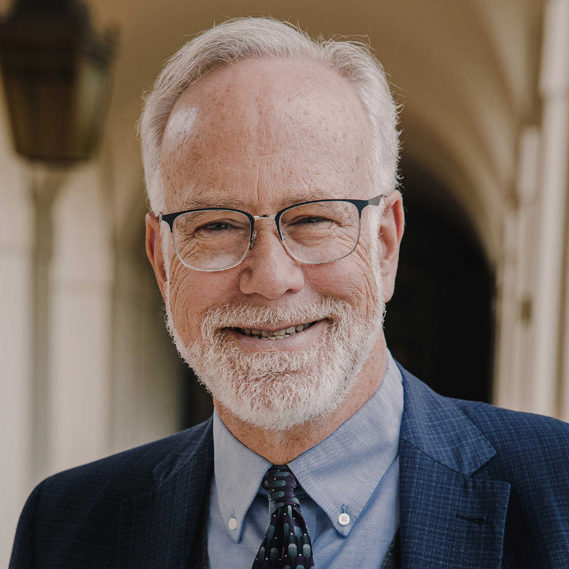 Dr. Mark D. Roberts is a Senior Strategist for Fuller's Max De Pree Center for Leadership, where he focuses on the spiritual development and thriving of leaders. He is the principal writer of the daily devotional, Life for Leaders, and the founder of the De Pree Center's Flourishing in the Third Third of Life Initiative. Previously, Mark was the Executive Director of the De Pree Center, the lead pastor of a church in Southern California, and the Senior Director of Laity Lodge in Texas. He has written eight books, dozens of articles, and over 2,500 devotions that help people discover the difference God makes in their daily life and leadership. With a Ph.D. in New Testament from Harvard, Mark teaches at Fuller Seminary, most recently in his D.Min. cohort on "Faith, Work, Economics, and Vocation." Mark is married to Linda, a marriage and family counselor, spiritual director, and executive coach. Their two grown children are educators on the high school and college level.