Then the prophet Miriam, Aaron's sister, took a tambourine in her hand; and all the women went out after her with tambourines and with dancing. And Miriam sang to them: "Sing to the LORD, for he has triumphed gloriously; horse and rider he has thrown into the sea."
"For I brought you up from the land of Egypt, and redeemed you from the house of slavery; and I sent before you Moses, Aaron, and Miriam."
Focus
Though Moses was the main leader of the exodus of Israel from Egypt, he had crucial partners in his brother, Aaron, and sister, Miriam. Through the prophet Micah, the Lord once said to the Israelites, "For I brought you up from the land of Egypt, and redeemed you from the house of slavery; and I sent before you Moses, Aaron, and Miriam" (Micah 6:4). Moses was not alone as he exercised leadership.
Today's devotion is part of the Life for Leaders series: Can't Do It Alone.
Devotion
In yesterday's Life for Leaders devotion, we were with Moses at the burning bush. God was calling Moses to lead the Israelites out of Egypt, but Moses was hesitant to accept this overwhelming responsibility. Finally, as I expect you know, God prevailed. Moses obeyed. God used Moses, with the help of his brother Aaron, to lead the people of Israel out of bondage.
In today's devotion, we pick up the story right after God miraculously led the Israelites through the Red Sea and into freedom. Once the people made it to dry land, the sea closed in on the pursuing Egyptians, destroying their chariots and their charioteers, thus removing the threat they posed to the newly freed Israelites.
Once he and his people were safe and free, Moses offered a sung prayer of praise to God (Exodus 15:1-18). Though he was the leader of the song, Moses did not sing alone. Rather, "Moses and the Israelites sang this song to the LORD" (15:1, italics added). The example of Moses reminds us that while it's certainly appropriate for us to worship God when we're by ourselves, worship is something to be shared with others. You can worship alone sometimes, but you are meant to worship with others as well.
After Moses had finished leading the song, his sister, Miriam, who was also a prophet, led the women in a celebrative worship song and dance (Exodus 15:20-21). In this crucial moment, Moses was willing to share his leadership with another person. We see here that both worship and leadership are things to be done in relationships with others. Sometimes these relationships are well-defined. At other times, sharing together in leadership can be more spontaneous, as is the case in Exodus 15.
I wish we knew more about Miriam's role as a partner to Moses. Numbers 12 describes a time when Miriam and Aaron were unhappy with Moses. It's not surprising that human beings sharing in work and leadership together would have conflict at times. Numbers 12, though emphasizing the primary leadership of Moses, ironically testifies to the ongoing importance of Miriam. Later in the Bible, her participation in the work of setting the Israelites free from Egypt is underscored by God's own word through the prophet Micah: "For I brought you up from the land of Egypt, and redeemed you from the house of slavery; and I sent before you Moses, Aaron, and Miriam" (Micah 6:4). How significant that God included Aaron and Miriam as partners of Moses in describing the exodus of the Israelites from Egypt. Moses was the main leader, but he did not do it alone as far as God is concerned.
In tomorrow's devotion we will consider another occasion in which Moses could not do it alone. For now, I'd encourage you to consider the following questions.
Reflect
Do you ever worship God when you are alone? If so, how is this experience different from what you experienced in corporate worship?
Who are your partners in the work you do, either paid or unpaid or both? How would you describe your relationships with these partners? In what ways do they help you to be even more fruitful in your work?
Sharing leadership with others will inevitably lead to disagreements and even conflict. What do you do when this happens? How do you work with people so as to experience reconciliation?
Act
Take time in the next day or so to express your gratitude for one of your partners in work.
Pray
Gracious God, thank you for the ways in which Exodus 15 inspires and teaches us. Thank you for how Moses and the Israelites remind us of the importance of worship, especially in response to your grace at work in our lives. When you rescue us from trouble, may we always take time to express our gratitude and praise to you.
Thank you for the way Moses shared leadership with his sister, Miriam. Thank you for the partners you give us in life, those who complement us and lead in ways in which we are not strong. Help us to discover even more the joys and benefits of collaboration.
When we come upon times of disagreement and conflict with our partners, help us to deal with issues and relationships in ways that honor you. May we seek to reconcile and to learn from our differences so that we might be stronger in leadership together. Amen.
Find all Life for Leaders devotions here. Explore what the Bible has to say about work at the unique website of our partners, the Theology of Work Project's online commentary. Reflection on today's Life for Leaders theme can be found here: Israel at the Red Sea and on the Way to Sinai (Exodus 13:17-18:27).
---
Subscribe to Life for Leaders
Sign up to receive a Life for Leaders devotional each day in your inbox. It's free to subscribe and you can unsubscribe at any time.
---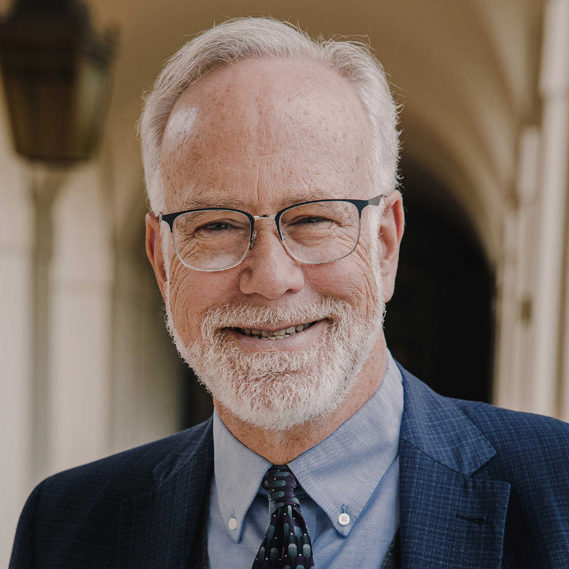 Dr. Mark D. Roberts is a Senior Strategist for Fuller's Max De Pree Center for Leadership, where he focuses on the spiritual development and thriving of leaders. He is the principal writer of the daily devotional, Life for Leaders, and the founder of the De Pree Center's Flourishing in the Third Third of Life Initiative. Previously, Mark was the Executive Director of the De Pree Center, the lead pastor of a church in Southern California, and the Senior Director of Laity Lodge in Texas. He has written eight books, dozens of articles, and over 2,500 devotions that help people discover the difference God makes in their daily life and leadership. With a Ph.D. in New Testament from Harvard, Mark teaches at Fuller Seminary, most recently in his D.Min. cohort on "Faith, Work, Economics, and Vocation." Mark is married to Linda, a marriage and family counselor, spiritual director, and executive coach. Their two grown children are educators on the high school and college level.