Then Amalek came and fought with Israel at Rephidim. Moses said to Joshua, "Choose some men for us and go out, fight with Amalek. Tomorrow I will stand on the top of the hill with the staff of God in my hand." So Joshua did as Moses told him, and fought with Amalek, while Moses, Aaron, and Hur went up to the top of the hill. Whenever Moses held up his hand, Israel prevailed; and whenever he lowered his hand, Amalek prevailed. But Moses' hands grew weary; so they took a stone and put it under him, and he sat on it. Aaron and Hur held up his hands, one on one side, and the other on the other side; so his hands were steady until the sun set. And Joshua defeated Amalek and his people with the sword.
Focus
A story in Exodus illustrates powerfully the fact that we "can't do it alone" when it comes to our work and leadership. God set things up so that Moses had to rely on the help of Aaron and Hur if the Israelites were going to prevail in battle. You and I need our own "Aarons and Hurs," those who support us in our work. Plus, we have the opportunity to be for others an Aaron or a Hur. As you go through this day, find a way to support someone who is working hard and needs your encouragement.
Today's devotion is part of the Life for Leaders series: Can't Do It Alone.
Devotion
I have loved this story from Exodus 17 since I was a boy. Back then, I enjoyed any action story, especially one in which the "good guys" prevailed over the "bad guys." But my love for Exodus 17:8-13 had to do with more than this. I was fascinated by the miraculous effect of Moses raising up his staff and I was especially moved by how Aaron and Hur helped Moses by holding up his hands.
Even though I'm no longer young in years, I still love this story. Though I'm less enamored by the thrill of battle and the miracle of the staff, I'm even more moved by the actions of Aaron and Hur than I was decades ago. Now I can feel the exhaustion of Moses more viscerally. I know what that's like. I can imagine his concern when he could no longer hold up his staff by himself. I know what it's like to realize that I can't do it alone! I can sense Moses's relief when Aaron and Hur came to help him. I can imagine their conversation as they shared in this powerful experience of collaboration.
I also love this story because it reminds me of the Aarons and Hurs in my life. For example, I remember a time when I was pastoring a church in Irvine. I confronted an excruciating personnel issue and faced lots of criticism from church members who didn't know what was really going on. That was the only time in my 20-plus years as a parish pastor that I seriously considering quitting, feeling that I simply didn't have what it took to be a good pastor. I got through that difficult time because of many Aarons and Hurs who "held up my hands" by encouraging me, supporting me, and praying for me. To this day, I remember clearly how it felt when one man took me out for coffee and spent at least twenty minutes telling me about lots of good things at church and how my leadership was making a difference there. So many others "held up my hands" as well.
In my almost eight years at the De Pree Center, God has supplied many more Aarons and Hurs. I've been blessed with wonderful staff colleagues who support me in both technical and personal ways. The folks on the De Pree Center board have been consistent encouragers as well as financial supporters. Many of my Aarons and Hurs have been Life for Leaders readers, folks who send a note of appreciation or make a donation to the De Pree Center in support of our work. I can't tell you how many times, when I have felt worn out, some reader sends an email that lifts my spirits and helps me to keep on writing. In all that I do for the De Pree Center, it's so very true that I can't do it alone. I need my own versions of Aaron and Hur.
Aware how much I appreciate those who hold up my hands as I work, I also try to be Aaron and Hur to others. I look for chances to affirm others in their work, to help carry the load if that makes sense, and to offer consistent words of encouragement. It helps that I feel such genuine gratitude for my colleagues. When I was younger, I had a tendency to take people for granted because I was so focused on my own labors. Now, in this season of life, I'm much more able to see the good work of others and feel glad for it. This easily leads into expressions of gratitude, both to God and to people. I still have a long way to go when it comes to being Aaron and Hur to others, but God is teaching me. For this I am quite grateful.
As you take time to reflect on this short story from Exodus 17, I'll suggest some questions that might help you with this task.
Reflect
Who have been your "Aarons and Hurs" in your life? What did they do to "hold up your hands"? How did this feel to you?
Have you ever been an Aaron or a Hur for someone else? When? What happened? How did this feel to you?
Can you think of someone for whom you could be Aaron or Hur today, someone who could use your moral support if not your actual help?
Act
Do something today as an Aaron or Hur in support of some other person and their work.
Pray
Gracious God, thank you for this short story in Exodus. Thank you for Aaron and Hur, for their example of collaboration and servanthood. Thank you for all of the Aarons and Hurs in my life, both past and present.
Help me, Lord, to look for opportunities to be an Aaron or a Hur to someone else. May I regularly support and encourage my colleagues at work, my family and friends, those who serve me in the local stores, and so many others.
Thank you for one more reminder that we can't do it alone, and for the extra incentive to help others not to be alone in their life and work. Amen.
Banner image by Sierra Koder on Unsplash.
Find all Life for Leaders devotions here. Explore what the Bible has to say about work at the High Calling archive, hosted by the unique website of our partners, the Theology of Work Project. Reflection on today's Life for Leaders theme can be found here: Stick 'Em Up!.
---
Subscribe to Life for Leaders
Sign up to receive a Life for Leaders devotional each day in your inbox. It's free to subscribe and you can unsubscribe at any time.
---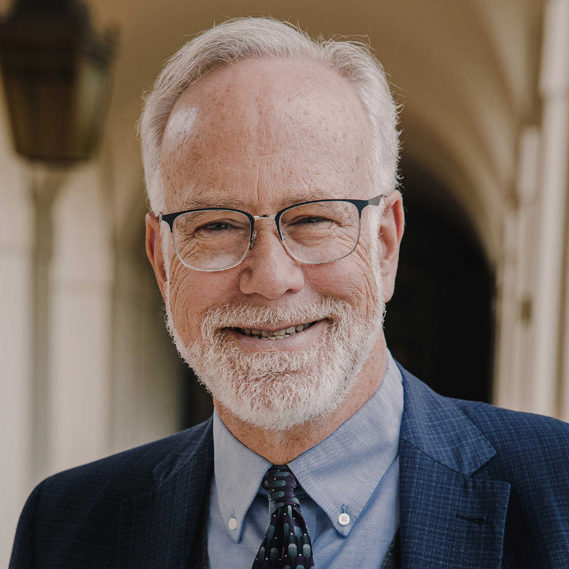 Dr. Mark D. Roberts is a Senior Strategist for Fuller's Max De Pree Center for Leadership, where he focuses on the spiritual development and thriving of leaders. He is the principal writer of the daily devotional, Life for Leaders, and the founder of the De Pree Center's Flourishing in the Third Third of Life Initiative. Previously, Mark was the Executive Director of the De Pree Center, the lead pastor of a church in Southern California, and the Senior Director of Laity Lodge in Texas. He has written eight books, dozens of articles, and over 2,500 devotions that help people discover the difference God makes in their daily life and leadership. With a Ph.D. in New Testament from Harvard, Mark teaches at Fuller Seminary, most recently in his D.Min. cohort on "Faith, Work, Economics, and Vocation." Mark is married to Linda, a marriage and family counselor, spiritual director, and executive coach. Their two grown children are educators on the high school and college level.