Moses' father-in-law said to him, "What you are doing is not good. You will surely wear yourself out, both you and these people with you. For the task is too heavy for you; you cannot do it alone. Now listen to me. I will give you counsel, and God be with you! You should represent the people before God, and you should bring their cases before God; teach them the statutes and instructions and make known to them the way they are to go and the things they are to do. You should also look for able men among all the people, men who fear God, are trustworthy, and hate dishonest gain; set such men over them as officers over thousands, hundreds, fifties and tens. Let them sit as judges for the people at all times; let them bring every important case to you, but decide every minor case themselves. So it will be easier for you, and they will bear the burden with you. If you do this, and God so commands you, then you will be able to endure, and all these people will go to their home in peace." So Moses listened to his father-in-law and did all that he had said.
Focus
After leading the Israelites out of Egypt, Moses sought to govern them. But that task was more than he could handle. His father-in-law, out of care for Moses, encouraged him to delegate substantial portions of his work. Moses listened to his father-in-law and gave many of his responsibilities to others. Moses was able to receive criticism from his father-in-law because of his obvious care for Moses and his commitment to the work Moses was doing.
Today's devotion is part of the Life for Leaders series: Can't Do It Alone.
Devotion
Sometimes advice-giving within families is deeply appreciated. Then again, sometimes it isn't. It can be especially tricky for fathers-in-law and mothers-in-law to give advice to their children's spouses. Those on the receiving end can feel threatened, criticized, or devalued. Those on the giving end can feel unappreciated or unfairly dismissed if their advice is ignored.
But there are times when the counsel of an in-law is both valued and embraced, times when the wisdom of an older person helps the younger person to live and lead more beneficially.
We see a positive example of family advice giving in Exodus 18. This story begins by introducing Jethro, Moses's father-in-law. When Jethro came to visit Moses, he told his father-in-law all that had happened as God was delivering the Israelites from bondage in Egypt (Exodus 18:8). Jethro rejoiced over God's goodness and recognized the Lord as the greatest of all gods (18:9-12).
The next day, Jethro watched as Moses worked a long, hard day as judge for the Israelites. Jethro was concerned about what Moses had done. He pulled no punches in telling Moses exactly what he observed and why it worried him. Jethro was afraid that Moses was going to wear himself out if he was the only functioning leader/judge among the Israelites (Exodus 18:17-18). He said to his son-in-law, "For the task is too heavy for you; you cannot do it alone" (18:17). (This is, by the way, the one place where Scripture almost uses the title of this series, Can't Do It Alone. The CEB actually reads, "You can't do it alone.")
But Jethro didn't stop when he told Moses that he couldn't do it alone. Rather, Jethro gave specific advice concerning what he believed Moses should do. First, Moses should teach the Israelites the laws of God so they would know what's right and wrong (Exodus 18:20). Second, Moses should assign men of integrity to be officers and judges of the people. They would bring to Moses only the most important issues and cases (18:21-22). Jethro concludes by saying: "So it will be easier for you, and they will bear the burden with you. If you do this, and God so commands you, then you will be able to endure, and all these people will go to their home in peace" (18:22-23).
There is so much in this story that informs our reflections on Can't Do It Alone. In the concluding part of today's devotion, I'll share a couple of thoughts. I'll finish up in next Monday's devotion.
First, in this story we see that Moses was trying to govern and judge the people alone. Leaders often do this sort of thing, not necessarily because we are too full of ourselves, but rather because we're wired to get going, work hard, and solve problems. We sometimes do things ourselves without really thinking clearly about collaborative options. Then we, like Moses, get in over our heads and start drowning in too much work. I can't tell you how many times in life I have done this very thing. Getting exhausted from trying to do it alone is one of my superpowers, or I guess you could say my "superweaknesses."
Second, I'm struck by the directness of Jethro, who begins his counsel to Moses by saying, "What you are doing is not good" (Exodus 18:17). Usually, it's better to start off a little more gently, perhaps with genuine words of affirmation. But there are times when direct speech is best. Why does this work in the case of Jethro and Moses? We find an answer in several things Jethro says, "You will surely wear yourself out . . . . The task is too heavy for you; you cannot do it alone. . . . So it will be easier for you, and they will bear the burden with you. If you do this, and God so commands you, then you will be able to endure" (18:18-23). It's clear that Jethro is motivated by his desire for Moses's well-being and success. He wants his son-in-law to endure and to thrive. If someone whom you know has your best in mind and at heart, then you're much more likely to receive their criticism, even when it is direct.
I think, for example, of a pastor-friend of mine named Steve. He and I have collaborated on a number of projects related to the De Pree Center's Flourishing in the Third Third of Life Initiative. Steve is someone who has not held back when it comes to offering critical counsel. He's doing this, in part, because I have asked him to do it. But Steve is also being honest about our shortcomings because he wants our work to be the very best. He wants us to serve folks in the third third with excellence and life-changing relevance. I can receive Steve's straightforward criticism for this reason. But I should add that Steve is also exceptionally affirming and encouraging. He doesn't just tell me what's wrong. Rather, he is generous in telling me what's right. Plus, as in the case of Jethro, Steve's critical comments are followed by practical suggestions which I have found to be extremely helpful.
So, the story of Jethro and Moses illustrates the truth that we can't do it alone. This is an important reminder for those of us who are inclined to do things by ourselves when we clearly need help. Jethro's example shows us that working with others will sometimes require critical communication. For this to happen well, the one dispensing criticism must care deeply for the receiver and for their common work. If we're called upon to deliver a critical word, we must do it out of care for and commitment to the person we're counseling. And we must both care about the work itself most of all.
Next week I'll share two further reflections based on the story of Jethro and Moses. Today, you may wish to consider the following questions.
Reflect
How inclined are you to overwork because you take on more than you can handle? If this is a problem for you, why do you do too much? What is motivating you?
If you're in a position to offer criticism to someone else, perhaps an employee or a colleague or even a family member, what do you do? How comfortable are you doing this sort of thing? In general, how effective are you? Why do you think this is the case?
How do you respond when others share criticism of you with you? What do you tend to feel? Why? How receptive are you? Why?
Act
As you reflect on the story of Jethro and Moses, what strikes your heart? See if you can discern what God is saying to you through this story. Is there anything you might do in response to what you're learning?
Pray
Gracious God, thank you for this story of Jethro and Moses. Thank you for Moses's commitment to the work you had given him, even if he got in over his head.
Thank you for Jethro's care for Moses and his willingness to try and help. Thanks for his obvious concern for Moses and his wellbeing.
Thanks for the people you have brought into my life who care enough about me and my work to share their concerns and criticisms.
Teach me to care for others in the way of Jethro, mixing directness with kindness, always wanting what is best for the other and their work. Amen.
Banner image by Amy Hirschi on Unsplash.
Find all Life for Leaders devotions here. Explore what the Bible has to say about work at the unique website of our partners, the Theology of Work Project's online commentary. Reflection on today's Life for Leaders theme can be found here: The Work of Justice among the People of Israel (Exodus 18:1-27).
---
Subscribe to Life for Leaders
Sign up to receive a Life for Leaders devotional each day in your inbox. It's free to subscribe and you can unsubscribe at any time.
---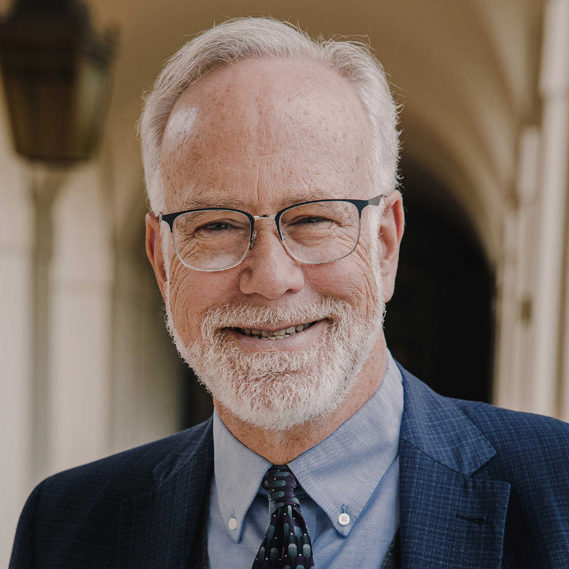 Dr. Mark D. Roberts is a Senior Strategist for Fuller's Max De Pree Center for Leadership, where he focuses on the spiritual development and thriving of leaders. He is the principal writer of the daily devotional, Life for Leaders, and the founder of the De Pree Center's Flourishing in the Third Third of Life Initiative. Previously, Mark was the Executive Director of the De Pree Center, the lead pastor of a church in Southern California, and the Senior Director of Laity Lodge in Texas. He has written eight books, dozens of articles, and over 2,500 devotions that help people discover the difference God makes in their daily life and leadership. With a Ph.D. in New Testament from Harvard, Mark teaches at Fuller Seminary, most recently in his D.Min. cohort on "Faith, Work, Economics, and Vocation." Mark is married to Linda, a marriage and family counselor, spiritual director, and executive coach. Their two grown children are educators on the high school and college level.