Then Moses went up to God; the LORD called to him from the mountain, saying, "Thus you shall say to the house of Jacob, and tell the Israelites: You have seen what I did to the Egyptians, and how I bore you on eagles' wings and brought you to myself. Now therefore, if you obey my voice and keep my covenant, you shall be my treasured possession out of all the peoples. Indeed, the whole earth is mine, but you shall be for me a priestly kingdom and a holy nation. These are the words that you shall speak to the Israelites."
Focus
Exodus 19 shows us that God set the Israelites free from Egypt, not only so that individuals might enjoy a fruitful life, but also so that the people of Israel would enter into a covenant relationship with God and with each other. We will experience the abundant life God has for us when we live in a deep, committed relationship with God and God's people.
Today's devotion is part of the Life for Leaders series: Can't Do It Alone.
Devotion
As we saw in yesterday's devotion based on Exodus 18, Moses received wise counsel from his father-in-law, who encouraged Moses to delegate some of his work to others. Moses acted on this advice, which led to more effective leadership of the Israelites and a more balanced, healthier life for Moses.
In Exodus 19, Moses and the Israelites finally reached Mount Sinai, the first major destination of their journey away from Egypt. Moses ascended the mountain in order to receive instructions from God. Here's what he heard and passed on to the people: "Thus you shall say to the house of Jacob, and tell the Israelites: You have seen what I did to the Egyptians, and how I bore you on eagles' wings and brought you to myself. Now therefore, if you obey my voice and keep my covenant, you shall be my treasured possession out of all the peoples. Indeed, the whole earth is mine, but you shall be for me a priestly kingdom and a holy nation. These are the words that you shall speak to the Israelites" (Exodus 19:3-6).
I'd like to highlight two features of this encounter between Moses and the Lord. First, you may have noticed that Moses was alone on Mount Sinai. This was part of his unique leadership role. His example suggests that there will be times in our lives when we will do certain things alone. The "can't do it alone" theme doesn't mean it is never appropriate to do anything by ourselves. Sometimes this is required of us, and that's fine. But if we live and work consistently on our own, if we regularly avoid the fellowship and partnership of others, we will miss out on the blessing and fruitfulness that God intends for us. (You will remember that Jesus, though doing his messianic ministry along with his disciples, did take time away so he could pray by himself.)
The second feature of this story from Exodus 19 to which I wish to draw your attention is the substance of what God said to Moses. God made clear that the purpose of delivering the Israelites from Egypt wasn't only to save them from slavery and oppression. Rather, God was also preparing the people of Israel for a new kind of relationship with God and each other, and therefore with the world. The Israelites would become God's "treasured possession" (Exodus 19:5). They would be for God "a priestly kingdom and a holy nation" (19:6). Notice that God was not making a separate covenant with each individual person. Rather God was binding all the people together in covenant relationship with God and each other.
What Moses and his co-leaders accomplished, therefore, was not the salvation of a bunch of disconnected individuals. Rather, God used them to make ready the people of Israel for deeper, truer, and more intimate relationships with God and God's people. This would allow Israel to bear witness to God to the entire earth. The result of Moses's work was a God-inspired network of lifelong covenantal relationships. It was as if God were saying to the Israelites: "You can't do it alone. You need me and my guidance. And you need each other."
We see striking confirmation of the relational essence of God's actions through Moses in the next chapter of Exodus. There, for the first time in the Bible, we encounter the Ten Commandments. All ten of these commandments are profoundly relational in nature. All of them address how the people of Israel are to relate to God or to each other. The Ten Commandments reiterate the point that if we are going to live in the way God intends for us, we must do so in right relationship with God and other people. We can't do it alone.
As I reflect on my experience as a Christian, which now spans almost 6 decades (!), I am grateful that I grew up in a church that emphasized having a personal relationship with Jesus. Being a Christian wasn't a matter of simply obeying the Bible or believing its truth. Rather, being a Christian was a much more intimate relational experience with Jesus as Savior and Lord.
Though I am deeply grateful for the way my church emphasized my personal relationship with Christ, however, I recognize now that God had intended more for me. Yes, I needed to have a relationship with God first and foremost. But living as a biblically-guided Christian also meant that I needed to have essential relationships with other Christians. Sometimes this dimension of the Christian life was downplayed. We got half of the "can't do it alone" reality right. You can't do it without God. But we overlooked the other half of this reality. You can't do it without the people of God.
If you need further evidence of the personal and relational nature of faith, may I remind you of what Jesus said when he was asked which commandment is the greatest of all: "'You shall love the Lord your God with all your heart, and with all your soul, and with all your mind.' This is the greatest and first commandment. And a second is like it: 'You shall love your neighbor as yourself'" (Matthew 22:37-39).  When it comes to love, we can't do it alone. We need both God and our neighbor.
Reflect
When you hear the phrase "covenant relationship," what comes to mind?
Do you think of yourself as having a covenant relationship with God? If so, what difference does this make?
Do you think of yourself as having a covenant relationship with the people of God? If so, what difference does this make?
Act
Set aside some time to reflect on your life. Does your relationship with God reflect God's covenant with you through Christ? What about your relationships with other people?
Pray
Gracious God, thank you for setting free your people from Egypt, not only to deliver them from oppression, but also to gather them as your special people. Thank you for the covenant you made with them at Sinai.
Today I thank you, God, for the covenant you made with me through Christ. His life, death, and resurrection have invited me into a deep, committed, forever relationship with you. How grateful I am for the gift of knowing you and living my life with you.
I also thank you for joining me with your people on earth. There's no way I could live the life you intend for me by myself. I need the support, encouragement, admonishment, and love of others. So I thank you for the gift of Christian community. In particular, thanks for my church and the joy of sharing in worship and discipleship with others.
Help me, I pray, to be faithful in covenant living as I grow in relationship with you and your people each day. Amen.
Banner image by Matheus Ferrero on Unsplash. 
Find all Life for Leaders devotions here. Explore what the Bible has to say about work at the unique website of our partners, the Theology of Work Project's online commentary. Reflection on today's Life for Leaders theme can be found here: The Ten Commandments (Exodus 20:1-17).
---
Subscribe to Life for Leaders
Sign up to receive a Life for Leaders devotional each day in your inbox. It's free to subscribe and you can unsubscribe at any time.
---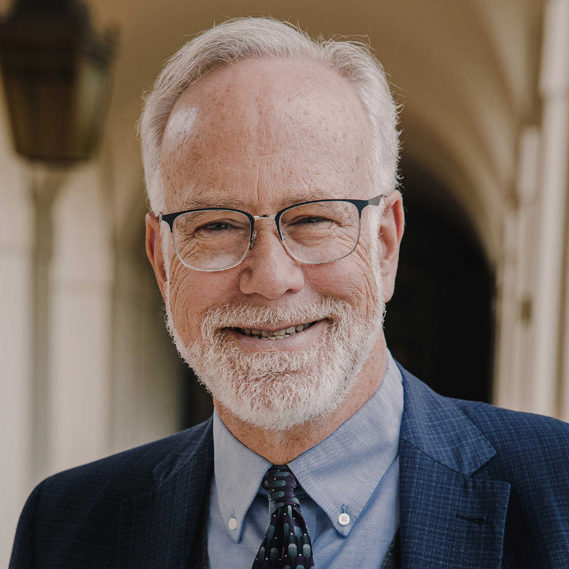 Dr. Mark D. Roberts is a Senior Strategist for Fuller's Max De Pree Center for Leadership, where he focuses on the spiritual development and thriving of leaders. He is the principal writer of the daily devotional, Life for Leaders, and the founder of the De Pree Center's Flourishing in the Third Third of Life Initiative. Previously, Mark was the Executive Director of the De Pree Center, the lead pastor of a church in Southern California, and the Senior Director of Laity Lodge in Texas. He has written eight books, dozens of articles, and over 2,500 devotions that help people discover the difference God makes in their daily life and leadership. With a Ph.D. in New Testament from Harvard, Mark teaches at Fuller Seminary, most recently in his D.Min. cohort on "Faith, Work, Economics, and Vocation." Mark is married to Linda, a marriage and family counselor, spiritual director, and executive coach. Their two grown children are educators on the high school and college level.