Joseph named the firstborn Manasseh, "For," he said, "God has made me forget all my hardship and all my father's house." The second he named Ephraim, "For God has made me fruitful in the land of my misfortunes."
In yesterday's devotion, we looked at how the name "Manasseh" represented God's grace to Joseph. A name that meant something like "made me forget" pointed to God's grace that enabled Joseph to "forget" the suffering of his youth. He could still remember the facts, but he remembered them without bitterness or hatred.
On Monday, we'll look at Ephraim, the name of Joseph's other son, and its particular representation of grace. Today, I thought I'd share with you how the name of my own firstborn represents God's grace to my wife and me.
When Linda and I had been married for a few years, we decided it was time to start our family. Yet, after a couple more years, Linda was unable to get pregnant. Confronting the shame associated with infertility, we sought medical attention. What we experienced was often humiliating, but we pressed on because we desperately wanted to have a child. With plenty of medical help, we felt sure that we'd soon have a baby, but time after time we were left with disappointment and dwindling hope. We'd pour our hearts out to God, but God seemed to be oddly silent.
Then, one day, after several years of discouragement, we heard astounding news. Linda was pregnant. Our doctor carefully monitored her pregnancy to make sure all went well and, by God's grace, it did.
We learned in advance that our baby was a boy. Even before our son was born, we knew exactly what we would name him: Nathan. This is a Hebrew name which means "he has given." It is a shorter version of the name "Nathanael," which means "gift of God." Though we had something to do with our son's conception, the fact that he was conceived seemed to Linda and me like an utter gift of God. Nathan was the perfect name for our first child.
In a way, we could have named our firstborn Manasseh, like Joseph did, because our son helped us "forget" the pain of infertility. Yes, I can still remember some of what Linda and I went through during our years of childlessness. This gives me particular compassion for those who are walking a similar road. Yet, Nathan's existence allows me to remember those difficult years differently. I expect this is something like what happened to Joseph with the birth of his son Manasseh.
Now Nathan is twenty-five years old and living on his own across the country, Linda and I don't get to see him that much. Yet he is still a gift to us. I don't think of this every time I say his name. But, several times a year, especially on his birthday or on the day after he leaves home for school, I think of his name and how appropriate it is. Nathan is indeed a gift of God. His name and his person represent God's grace to me.
Something to Think About:
Are there things in your life—people, names, places, things, experiences—that remind you of God's grace to you?
When you think of hard times in your past, do you think about and remember these times differently because of God's grace in your life?
Prayer:
Gracious God, thank you for your grace, given freely to us in so many ways. Thank you for how your grace can redeem our suffering and give us new perspective on our lives.
Lord, I personally thank you for my son, Nathan, who is indeed a gift from you. Thank you for entrusting this wonderful boy to Linda and me.
As I say this, my heart goes out to people who have not yet been gifted with a child. Or I think of those who have such difficult relationships with their children. Or I remember those who have lost their children. What can I do, Lord, but ask you to pour out your grace upon them, to bring healing where there is brokenness, hope where there is despair.
O Lord, thank you most of all for your grace given to us in your Son, named Jesus. May we remember him with deep gratitude, joy, and hope. Amen.
This post was originally published on February 5, 2016.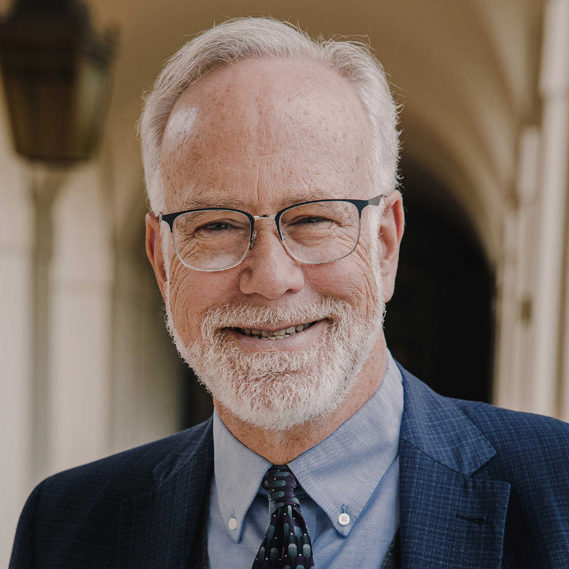 Dr. Mark D. Roberts is a Senior Strategist for Fuller's Max De Pree Center for Leadership, where he focuses on the spiritual development and thriving of leaders. He is the principal writer of the daily devotional, Life for Leaders, and the founder of the De Pree Center's Flourishing in the Third Third of Life Initiative. Previously, Mark was the Executive Director of the De Pree Center, the lead pastor of a church in Southern California, and the Senior Director of Laity Lodge in Texas. He has written eight books, dozens of articles, and over 2,500 devotions that help people discover the difference God makes in their daily life and leadership. With a Ph.D. in New Testament from Harvard, Mark teaches at Fuller Seminary, most recently in his D.Min. cohort on "Faith, Work, Economics, and Vocation." Mark is married to Linda, a marriage and family counselor, spiritual director, and executive coach. Their two grown children are educators on the high school and college level.