Then I saw a new heaven and a new earth; for the first heaven and the first earth had passed away, and the sea was no more. And I saw the holy city, the new Jerusalem, coming down out of heaven from God, prepared as a bride adorned for her husband. And I heard a loud voice from the throne saying,
"See, the home of God is among mortals.
He will dwell with them as their God;
they will be his peoples,
and God himself will be with them;
he will wipe every tear from their eyes.
Death will be no more;
mourning and crying and pain will be no more,
for the first things have passed away."
And the one who was seated on the throne said, "See, I am making all things new."
Focus
Revelation 21 gives us a glimpse of the age to come in which God wipes away every tear. In that age, there will be no more sorrow or weeping. Yet we will not be isolated on some heavenly cloud for all eternity. Rather, we will experience community with God and people in an altogether new way. We won't even be inclined to "do it alone" because we will be free to flourish in and through our relationships with God and others.
Today's devotion is part of the Life for Leaders series: Can't Do It Alone.
Devotion
In yesterday's Life for Leaders devotion, I reflected on the second half of Romans 12:15, "weep with those who weep." I shared that I was raised with a peculiar allergy to weeping and with a sense that my job in life was to cheer up sad people, not share in their sadness. Nevertheless, I have come to understand how weeping together can enrich and deepen Christian community. I believe it's essential for us to "weep with those who weep," not only out of obedience to Scripture, but also because it's so integral to authentic, caring relationships.
Nevertheless, I don't think my family's reticence about grief was altogether mistaken. It was just untimely. Let me explain what I mean.
The imperative of Romans 12:15 makes it clear that weeping is to be expected and embraced in this age. Romans affirms what we find throughout Scripture—in numerous biblical stories, in the Psalms, and, most of all, in the example of Jesus. Weeping is a natural part of living in a broken world full of pain and sorrow. It's something we are free to do when we are hurting and something we are commanded to do with others when they are hurting.
But that's not the end of the story. The end comes in the book of Revelation where we catch a glimpse of the age to come when God makes all things right. In Revelation 21 we see a vision of "a new heaven and a new earth" in which God dwells among human beings in a brand-new way (21:1-3). When this happens, God will "wipe away every tear from their eyes. Death will be no more; mourning and crying and pain will be no more" (Revelation 21:4).
Notice that the picture of God wiping away every tear implies that tears are present right up until that time. Weeping is assumed to be part of life in a world that is not yet fully restored and renewed. In no sense does Revelation 21 imply that those who are weeping are somehow wrong to do so. Yet when God makes all things new, that reality will change. Mourning, crying, and pain will be no more. We will have no occasion to weep with those who weep because there won't be any who are weeping. (As one who often cries out of gratitude and joy, I wonder if those kinds of tears will still be around in the age to come. But this sort of crying is not what Revelation is talking about, at any rate.)
So, my family's sense that weeping is somehow wrong was partly right. We intuited that God intends for us not to weep. But we wrongly judged the times and the seasons. In this age, with all of its pains, injustices, and sorrows, weeping is essential and acceptable. In the age to come, weeping as an expression of sadness won't be necessary. We won't weep with those who weep because there won't be any weepers.
But this does not imply that we will be alone in the age to come. The familiar image of a solitary individual sitting on a solitary cloud in Heaven playing a solitary harp bears no resemblance to the future envisioned in Scripture. For one thing, worship in the book of Revelation is pictured as a corporate experience (see, for example, Revelation 4:10 and 15:4). But the vision of the new heaven and earth in Revelation 21 also reaffirms the "can't do it alone" reality of our future. Notice that when God lives on earth, God lives "among_ mortals_." God "will dwell with them as their God." They will be God's "_peoples_" (Revelation 21:3). This vision of the future underscores the communal nature of our future with God. One day we will know a quality of relationship far greater and deeper than anything we experience in this age.
What we see about the future in Revelation makes perfect sense when we remember the beginning of all things in Genesis. There, as you recall, God created human beings in God's own image as "male and female" (Genesis 1:27). Not doing it alone is built into our human DNA. It's the way God made us as a reflection of God's own nature.
Of course, the fundamental unity of human community breaks down when sin enters the picture in Genesis 3. From that point on, we are tempted to do it alone, that is, to live well without either God or other people. But our individualistic efforts inevitably fail. Thanks be to God, however, we are not abandoned in our aloneness. Rather, God comes among us in Jesus, who is Immanuel, "God with us." Jesus models life in relationship with others. His death and resurrection accomplish not just individual salvation, but also the restoration of human community (Ephesians 2). Still, what Jesus accomplished for us means that, when God finally restores all things, we won't be alone. We will live in profound, lasting relationship with God and people. In that time, we won't need to hear "you can't do it alone" because we will have no inclination to try to flourish by ourselves. We will be fully and finally free to experience the fruitfulness and joy of shared life that God intended for us from the beginning.
Reflect
As you read Revelation 21:1-5, what thoughts come to mind? What feelings?
How do you respond to the picture of God wiping away every tear?
How do you envision human relationships in the age to come?
Act
Pray for people you know who are grieving, that they might sense God's presence and comfort now, even as they wait for the consummation of all things in the future.
Pray
Gracious God, thank you for the stunning and stirring picture of the future in Revelation 21. Thank you for the promise of a new heaven and a new earth. Thank you for showing us that you will one day dwell with us. Thank you for the knowledge that you will indeed wipe away every tear.
Thank you also for the fact that we will not be alone in the age to come. In fact, without sin holding us back, we'll be able to experience unity with you and with others in an altogether new way. How wonderful that will be!
In the meanwhile, Lord, help me to live in relationship with you and with others. When I am tempted to do it alone, call me back into community. Even in this age may I experience however incompletely the relational unity of your future.
To you be all the praise, glory, and honor! Amen.
Banner image by Gabe Pierce on Unsplash.
Find all Life for Leaders devotions here. Explore what the Bible has to say about work at the unique website of our partners, the Theology of Work Project's online commentary. Reflection on today's Life for Leaders theme can be found here: Babylon and the New Jerusalem: A Tale of Two Cities (Revelation 17-22).
---
Subscribe to Life for Leaders
Sign up to receive a Life for Leaders devotional each day in your inbox. It's free to subscribe and you can unsubscribe at any time.
---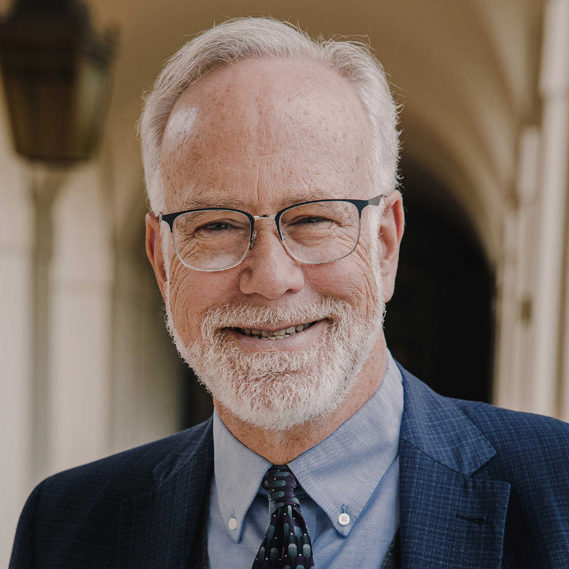 Dr. Mark D. Roberts is a Senior Strategist for Fuller's Max De Pree Center for Leadership, where he focuses on the spiritual development and thriving of leaders. He is the principal writer of the daily devotional, Life for Leaders, and the founder of the De Pree Center's Flourishing in the Third Third of Life Initiative. Previously, Mark was the Executive Director of the De Pree Center, the lead pastor of a church in Southern California, and the Senior Director of Laity Lodge in Texas. He has written eight books, dozens of articles, and over 2,500 devotions that help people discover the difference God makes in their daily life and leadership. With a Ph.D. in New Testament from Harvard, Mark teaches at Fuller Seminary, most recently in his D.Min. cohort on "Faith, Work, Economics, and Vocation." Mark is married to Linda, a marriage and family counselor, spiritual director, and executive coach. Their two grown children are educators on the high school and college level.