As God's chosen ones, holy and beloved, clothe yourselves with compassion, kindness, humility, meekness, and patience. Bear with one another and, if anyone has a complaint against another, forgive each other; just as the Lord has forgiven you, so you also must forgive.
Focus
Being part of a gracious, loving Christian community is wonderful. But sometimes it's also hard to be in relationship with others, even as it's hard for them to be in relationship with me. We need God's grace to be patient, to put up with each other, and, when we are wronged, to forgive.
Today's devotion is part of the Life for Leaders series: Can't Do It Alone. 
Devotion
In yesterday's Life for Leaders devotion, we saw that the Holy Spirit gathers Christians together in profound community. We who have received God's grace in Christ are not alone. We are members of the body of Christ. We are sisters and brothers in the family of God.
This sounds great. And sometimes it is great. But there are other times, times when it's not easy to be in fellowship with other Christians. Honestly, some of my most unhappy moments in life have been the result of conflict with my brothers and sisters in Christ. I expect they would say the same, only with me in mind.
That's one reason I love today's passage from Colossians. What it teaches is fine, of course. But what I especially love is what it assumes about Christian community. This passage doesn't idealize Christian relationships. It sees them realistically with a strong undercurrent of grace.
Colossians 3:12 starts off on a high note: "As God's chosen ones, holy and beloved." We're not just people who accidentally happened to believe in Jesus. We're people God has chosen, set apart, and loved. In light of who we are, then, we're to "clothe [ourselves] with compassion, kindness, humility, meekness, and patience." Those first four qualities are wonderful. Who wouldn't want to be in a community marked by compassion, kindness, humility, and meekness?
But then we come to the fifth trait: patience (Colossians 3:12). The Greek word underlying "patience" is makrothumia, which the KJV translates as "longsuffering." This word suggests more than momentary patience, the kind you need when you're at an overly slow stoplight. Rather, as God's chosen ones we're to clothe ourselves with ongoing, consistent, even longsuffering patience.
Why is patience so important for Christian community? Because our sisters and brothers in Christ will try our patience! They'll take a long time to grow up in Christ (and so will we, by the way). They'll do things that bug us, and not just once in a while or for brief moments. For this reason, we need not only to be patient, but also to "bear with one another" (Colossians 3:13). "Bear with" is a possible translation of the Greek verb anechō, but a better translation into common English would be "put up with." Paul says we're to put up with each other. Why? Because, inevitably, we will do things to annoy, bother, and irritate each other.
Honestly, I don't especially like to put up with people who bug me. This is not my strong suit. But, though I am challenged by Colossians to put up with others, I am gratified by the fact that they are to put up with me. It's rather nice, actually, to be in a community of people who know the bothersome things about you but accept and love you nevertheless.
We should be clear, however, on the limits of putting up with people. We do this when what people do is annoying but not sinful. When they do something morally wrong, a different imperative is relevant. Thus, Paul goes on to say, "if anyone has a complaint against another, forgive each other; just as the Lord has forgiven you, so you also must forgive" (Colossians 3:13). The complaint, in this case, comes from someone who has been genuinely wronged. That person, according to Paul, should forgive just as the Lord has forgiven them . . . a high standard, I might add!
So, behind Paul's instructions having to do with patience, forbearance, and forgiveness, there is an assumption that real Christian community will be hard. Actually sharing life with other believers requires long-suffering, tolerance, and a willingness to set aside wrongs done to you. I expect you'll agree with me that none of these are easy to do.
Yet, if we're going to be the people God has called us to be, if we're going to actually live as "God's chosen ones, holy and beloved," then we'll need to discover how God's grace at work in us enables us to be gracious to others. In this experience, we'll grow in relationship, not only with our Christian siblings but also with the Lord who has chosen us and who loves us.
Reflect
Would you say you are a patient person? Would those who know you well agree? Why are you as patient (or impatient) as you are?
Can you think of a time when you needed to put up with something happening in your church? Did you do it freely? Joyfully? Or?
Are there things about you that others put up with, things that bug people but aren't sinful? How does it feel to be put up with?
Act
Do something (or don't do something!) in direct response to the imperatives of this passage from Colossians.
Pray
Gracious God, first of all, thank you for choosing us, setting us apart, and loving us. What a wonder it is to be in relationship with you!
Thank you also for gathering us together as your special people. You have made it so we don't have to do it alone!
Help me, Lord, to be patient with others, even as you are patient with me.
Help me, Lord, to put up with things in others that are bothersome but not wrong. Teach me to love people in spite of their quirkiness.
Help me, gracious God, to forgive others as you have forgiven me.
In all of this, I rely on you power and act for your glory. Amen.
Banner image by Wylly Suhendra on Unsplash.
Find all Life for Leaders devotions here. Explore what the Bible has to say about work at the unique website of our partners, the Theology of Work Project's online commentary. Reflection on today's Life for Leaders theme can be found here: Set Your Mind on Things Above: Heavenly Living for Earthly Good (Colossians 3:1–16).
---
Subscribe to Life for Leaders
Sign up to receive a Life for Leaders devotional each day in your inbox. It's free to subscribe and you can unsubscribe at any time.
---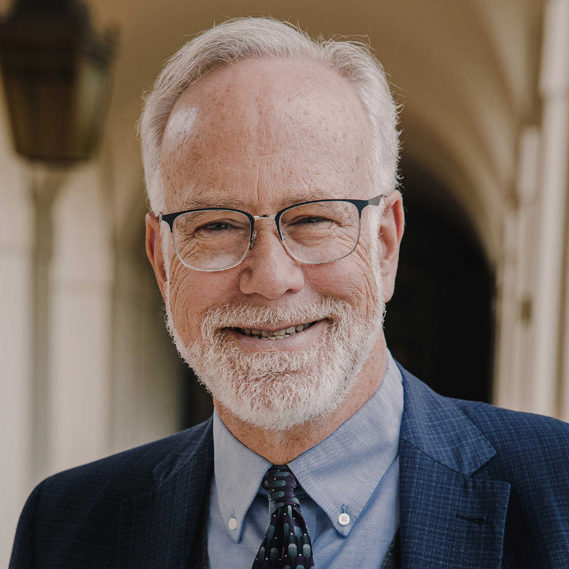 Dr. Mark D. Roberts is a Senior Strategist for Fuller's Max De Pree Center for Leadership, where he focuses on the spiritual development and thriving of leaders. He is the principal writer of the daily devotional, Life for Leaders, and the founder of the De Pree Center's Flourishing in the Third Third of Life Initiative. Previously, Mark was the Executive Director of the De Pree Center, the lead pastor of a church in Southern California, and the Senior Director of Laity Lodge in Texas. He has written eight books, dozens of articles, and over 2,500 devotions that help people discover the difference God makes in their daily life and leadership. With a Ph.D. in New Testament from Harvard, Mark teaches at Fuller Seminary, most recently in his D.Min. cohort on "Faith, Work, Economics, and Vocation." Mark is married to Linda, a marriage and family counselor, spiritual director, and executive coach. Their two grown children are educators on the high school and college level.