For you were once darkness, but now you are light in the Lord. Live as children of light.
"Once upon a time . . . ." How do you feel when you read this phrase? Excited? Intrigued? For centuries, stories have begun with this familiar phrase. "Once upon a time" suggests that we're about to visit a distant reality, a place where magic, mysteries, and morality are gloriously interwoven.
In Ephesians, "once upon a time" functions quite differently. In Ephesians 5:8, for example, we read "For you were once [pote in Greek] darkness, but now [nun in Greek] you are light in the Lord." "Once upon a time" doesn't connote goodness in this context—quite the opposite. We saw a similar use of language earlier in Ephesians. Chapter 2, as you may recall, begins with the bad news of our "once upon a time" condition: We were dead in our transgressions and sins, in which we "used to [pote] live" (Ephesians 2:1-2). We lived among those who are disobedient "at one time [pote]" (Ephesians 2:3). But God, out of his mercy and grace, saved us from our "once upon a time" condition. (In the second half of Ephesians 2, the "once . . . now" schema is even more obvious; see 2:11-13).
In Ephesians, "once" does not point to some magical, fictional long ago, but rather to our very real, non-fictional condition before God saved us by grace. Once we were really dead; but now we are really alive in Christ. Once we were really separated from God and his people; but now we have been brought near through Christ. Once we were darkness, but now we are "light in the Lord." We experienced a fundamental reality change, a genuine transformation, when we received God's grace through faith. We moved from once to now. "The old has gone, the new is here!" (2 Corinthians 5:17). For us, the now is new.
Of course, we know that our "onceness" has a way of hanging around as an uninvited guest even in our "nowness" in Christ. The good news is that God is in the business of helping us become in reality who we are now (Philippians 1:6). But, even as we acknowledge that "God isn't finished with us yet," we should also confess and celebrate the truth of our newness and nowness in Christ. And we should explore what this new life means each day as we live it out in every moment, every context, every relationship.
In future devotions we will examine the implications of our transformation from "once darkness" to "now light." For now, I invite you to consider this truth and its implications for you today.
Something to Think About:
When you think about your life, does the "once-now" schema make sense? (This can be a bit tricky if, like me, you came to faith at a very early age.)
Can you point to areas of your life where you have experienced a change from "once" to "now"?
How might you live in your newness and nowness today?
Something to Do:
With a wise friend or your small group. talk about how the "once-now" schema of Ephesians makes sense in your lives. Discover together how you might live in the newness/nowness of Christ.
Prayer:
Gracious God, how I thank you for the good news of the Gospel. Once I was dead; now I am alive in Christ. Once I was cut off from you and your people; now I am united to you and part of your family. Once I was darkness; now I am light in you. Thank you for your amazing grace that has changed me.
Help me, dear Lord, to see myself and my life from the perspective of the "once-now." And may I live in my nowness and newness as your Spirit fills me, guides me, and empowers me for serving you. Amen.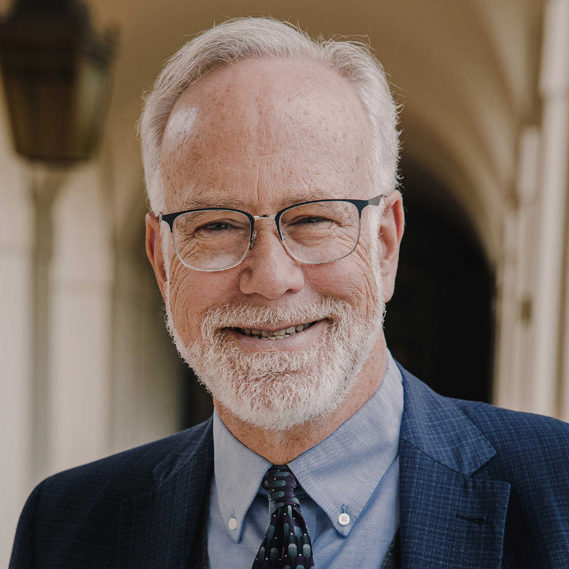 Dr. Mark D. Roberts is a Senior Strategist for Fuller's Max De Pree Center for Leadership, where he focuses on the spiritual development and thriving of leaders. He is the principal writer of the daily devotional, Life for Leaders, and the founder of the De Pree Center's Flourishing in the Third Third of Life Initiative. Previously, Mark was the Executive Director of the De Pree Center, the lead pastor of a church in Southern California, and the Senior Director of Laity Lodge in Texas. He has written eight books, dozens of articles, and over 2,500 devotions that help people discover the difference God makes in their daily life and leadership. With a Ph.D. in New Testament from Harvard, Mark teaches at Fuller Seminary, most recently in his D.Min. cohort on "Faith, Work, Economics, and Vocation." Mark is married to Linda, a marriage and family counselor, spiritual director, and executive coach. Their two grown children are educators on the high school and college level.