Therefore if you have any encouragement from being united with Christ, if any comfort from his love, if any common sharing in the Spirit, if any tenderness and compassion, then make my joy complete by being like-minded, having the same love, being one in spirit and of one mind. Do nothing out of selfish ambition or vain conceit. Rather, in humility value others above yourselves, not looking to your own interests but each of you to the interests of the others.
I grew up going to church camp. Every summer, for one week, I lived in a cabin, swam in a lake, raced against deer flies that wanted to land on my head, roasted hot dogs over a campfire on a stick, and survived on fresh air and sunshine.
At night, my ashy legs splayed out in front of me while I lounged in front of the fire, our counselor would invariably pick up a guitar (owning a guitar seemed to be a prerequisite for the job) and begin to strum a few tunes. I am sure that's where I first heard the song, "They'll Know We Are Christians."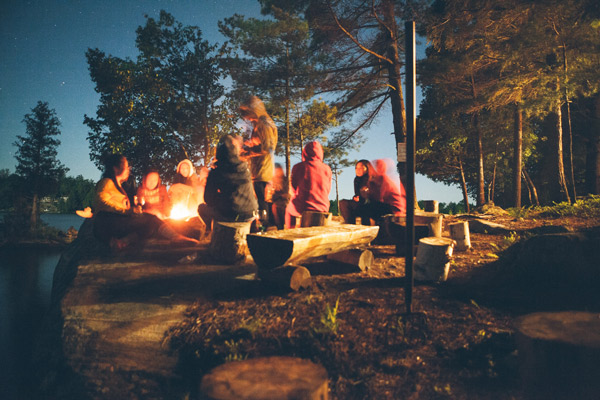 The hymn was written in the 60s, by Peter R. Scholtes. A parish priest in Chicago, Scholtes was leading a youth choir and "was looking for an appropriate song for a series of ecumenical, interracial events." Unable to find a song that worked, Scholtes wrote his own, and it has stood the test of time.
The first line of the song goes like this: "We are one in the Spirit, we are one in the Lord." I imagine Scholtes, searching for a song that would speak to people from diverse backgrounds and varied faith practices, chose to zero in on the only person who can make us one—the only one who can help us find our way to being "like-minded, having the same love, being one in spirit and of one mind" (2:2).
Today, as we make our way through the world and interact with a variety of people, let the song Scholtes wrote remind us of the power of love and the one who leads the way.
Something to Think About:
What do you think it means to be one in spirit and of one mind? How do love and humility help us achieve unity and oneness?
Something to Do:
Listen to Scholtes's song, and share it with someone you know.
Prayer:
Lord, even though it sometimes feels as if we're growing further and further apart from one another, you are always at work in us to draw us closer—to you, and to one another. Thank you for that. Keep me from resisting this work in me. Let my heart be soft in your hands. Let my love for others be radical. Make me a person who finds common ground. Amen.