"LORD Almighty, the God of Israel, enthroned between the cherubim, you alone are God over all the kingdoms of the earth. You have made heaven and earth. Give ear, LORD, and hear; open your eyes, LORD, and see; listen to all the words Sennacherib has sent to ridiculed the living God."
In yesterday's devotion based on Isaiah 36, we saw God's people in a dire situation. King Sennacherib and his menacing Assyrian army threatened to consume Jerusalem, taunting both God's people and God himself.
In Isaiah 37, King Hezekiah of Judah turned to the Lord in prayer. Though he would ask the Lord to rescue Judah (36:20), he didn't begin with this plea. Rather, Hezekiah focused first of all on God's unique and powerful nature, praising him as the only true God and creator of all things. He prayed, "LORD Almighty, the God of Israel, enthroned between the cherubim, you alone are God over all the kingdoms of the earth. You have made heaven and earth" (36:16).
Why did Hezekiah begin his prayer with such praise? To be sure, it is always right to praise God. You don't need a special reason to speak of God's glories. The fact that God deserves our praise always provides a strong rationale for honoring him in this way. But I expect that Hezekiah began his prayer with praise for another reason. It strengthened his own confidence in the Lord. When faced with apparently invincible Assyrian power, Hezekiah needed to remember who was the true King of the universe, who in fact created all things. In human terms, Sennacherib's power appeared to be unmatched. But it was nothing compared to the all-surpassing power of God.
The challenges of our lives may not be quite as dire as those of Hezekiah, but we all face apparently invincible problems in our lives. There are times when these challenges – at work, at home, in our relationships, in our own hearts – seem overwhelming. In such circumstances, we are certainly free to pour out our fears and needs to the Lord. Yet, sometimes we need to do more than ask for God's help. Sometimes we need to focus on God's glory and power. By drawing our attention to God's nature through giving him praise, our hearts are encouraged. Our minds are uplifted. We remember that no problem is too great for God and that he is with us to help and comfort us.
Moreover, when we praise God as king over all other powers in the universe, we are reminded that God is also king over us. God is sovereign over our lives, our families, our workplaces, our communities, and our leaders. When we praise God as "King of kings and Lord of lords," we surrender our presumption, our assumption that we can control our lives. As we offer ourselves to God as his servants, we are embraced as his beloved children.
QUESTIONS TO CONSIDER:
When you feel overwhelmed by life's problems and challenges, what do you do?
Do you ever pray like Hezekiah? If so, what helps you to pray this way?
Have you experienced the encouragement of praising God when life is hard?
PRAYER:
Gracious God, God of power and might, you are indeed enthroned between the mighty cherubim. The angels of heaven bow before you in joyful submission.
You alone are the God of all the kingdoms of the earth. Though not every earthly authority acknowledges you, nevertheless you alone are King of kinds and Lord of lords.
You alone created the heavens and the earth. In your creation we catch a glimpse of your power, your wisdom, your beauty. Your power exceeds anything we can imagine. Every power on earth, no matter how apparently great, shrinks in comparison to your might.
As we come before you in prayer today, we remember and celebrate your unique power and glory. May we live today remembering who you are, trusting you in all things. All praise be to you, O God. Amen.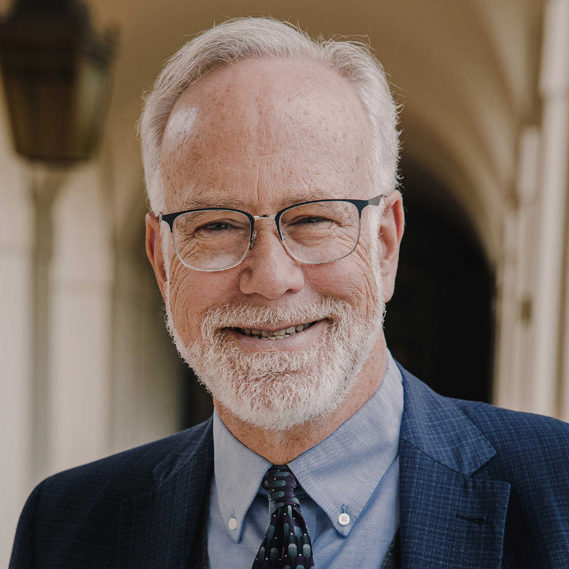 Dr. Mark D. Roberts is a Senior Strategist for Fuller's Max De Pree Center for Leadership, where he focuses on the spiritual development and thriving of leaders. He is the principal writer of the daily devotional, Life for Leaders, and the founder of the De Pree Center's Flourishing in the Third Third of Life Initiative. Previously, Mark was the Executive Director of the De Pree Center, the lead pastor of a church in Southern California, and the Senior Director of Laity Lodge in Texas. He has written eight books, dozens of articles, and over 2,500 devotions that help people discover the difference God makes in their daily life and leadership. With a Ph.D. in New Testament from Harvard, Mark teaches at Fuller Seminary, most recently in his D.Min. cohort on "Faith, Work, Economics, and Vocation." Mark is married to Linda, a marriage and family counselor, spiritual director, and executive coach. Their two grown children are educators on the high school and college level.